Interview Now - Nobuhiko Okamoto (岡本 信彦) -

February 15th (Saturday), Nobuhiko Okamoto came to Fukuoka and we at asianbeat jumped at the opportunity to interview him. This young and talented voice actor is the man that brings to life the character Ivan Karelin and his alter ego, Origami Cyclone from the "TIGER & BUNNY" franchise.

Nobuhiko Okamoto has up until now voiced main characters: Eiji Nizuma from the "Bakuman." series, Takumi Usui from "Maid-sama," Rin Okamura in "Blue Exorcist," Ippōtsūkō (Akuserarēta) of "A Certain Magical Index," and Eiji from "Patema Inverted," along with many others. In 2009 he won his third "Shinjin danyu-sho" (rookie award) and fifth consecutive "Best Supporting [Voice] Actor Award." He has made for himself a distinguished career as a voice actor with his outstanding performances.

On the day of our interview, the Kanto region was hit with heavy snow. In spite of the bad weather, he made his way down from Tokyo by bullet train (which took over 5 hours) and onto the stage of the T-Joy Riverwalk of Kitakyushu to greet fans. The Origami Rokku-Hi & Fire Emblem hero quartet banded together to give a talk that was not only enjoyable but humorously done.

In our interview we ask Nobuhiko Okamoto-san about the movie to the series "TIGER & BUNNY - The Rising," along with some of his likes and dislikes!
There are a lot of scenes in which I can fully relate to Origami Cyclone
Q.(asianbeat) In this last movie "TIGER & BUNNY - The Rising" were there any quotes or scenes that left a particularly strong impression on you?

That's a pretty difficult question. I'd have to say that all of these pessimistic quotes that make Origami cyclone who he is have left a lasting impression on me.

I particularly like it when Origami Cyclone - a true introvert - slips up and says something he usually wouldn't. Quotes like "Rokku Baison-san, you all right?" that you know he wouldn't ask anyone else, show just how close he is to Rokku (a character who always likes to make fun of other heroes by mimicking them). As the series progresses we see Origami Cyclone open up to the other heroes as well and I'd have to say those are some of the moments I enjoy most.

The scene in which he throws a dart that hits the exact center of the target I felt really showed how much effort he puts into what he does.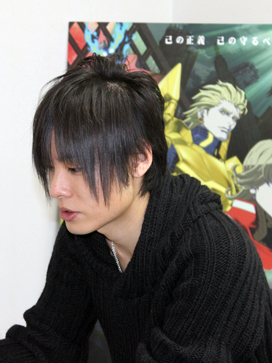 Q. Are there any similarities between you (Okamoto-san) and your character (Origami Cyclone)?

Yes! There are actually quite a few! Origami Cyclone is well-known for being quite a pessimistic character but every once in a while we see a different side of him emerge that is very firm and commanding. It's a pretty instantaneous transformation, so much so that it's almost as though he flips a switch. I'll admit am pretty guilty of these unpredictable swings, too. For example there are times I'll go from being a nervous wreck to super happy.

I'd say I like doing things at my own pace. I'm the type of person that, on a day off would rather stay home and play games than go out. In fact just today when we were coming down to Fukuoka by bullet train; I played games for nearly the whole ride here. I think I may have surprised Tsuda Kenjiro (who voices Fire Emblem) who rode all the way here with me because he kept saying, "Wow you really do play a lot of games." I could probably go three days straight without sleep, just to keep playing the whole time. Ivan (Origami Cyclone) is also the type of person that once he finds something he likes, will stick to it and continue trying to perfect it. We see evidence of this when he uses his time alone to practice with his shuriken.

Q. Who are some of the people you look up to/have inspired you?

I'd say Koyasu takehito-san (子安武人さん). We met on set and he has taught me so much.

Q. Have you ever been to any other Asian countries (outside of Japan)?

I like Singapore a lot! The first time I went was as an elementary school kid and from that point onward I fell in love with the warmth of the country. There is something about hot countries that really appeals to me, Singapore especially - and it helps that their food is great, specifically the chicken rice and chili club.

What I like most about Asia is the food. Recently, I went to Taiwan for the first time and rediscovered Xiaolongbao (dumpling soup). Up until that point I was never a big fan but it was just so delicious and now I can't get enough!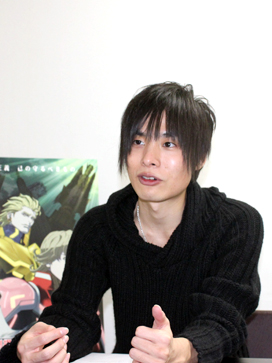 Q. In March, the single "Shunkan BEAT" will be in stores, won't it?

Yes, that's right! It's got a really catchy tune and I really hope all of you out there give it a listen. At one part it goes "don-don-don" and the lyrics are very easy so it'd be great to be able to sing it with everyone.

Q. What country would you like to visit most?

I really like world heritage sites and for that reason I'd like to someday take a look at Macu Picchu (Peru). I've always wanted to go, even more so now that there is talk of it being closed down to the public.
Q. Asianbeat is a website that focuses on introducing bits of Japanese pop culture to the rest of the world. People of all nationalities that are interested in Japanese culture, such as Origami Cyclone often take a look at our website. What is your message for them?

Recently, there are a lot of different anime series out there and every time I start a new anime or take on the persona of a character in my job as a voice actor, I come back feeling refreshed. Each story line unfolds and develops in a unique way and is the birthplace of truly riveting characters, from that cool cat guy to the kawaii girl. In the world of anime anything is possible and I hope that you can find something you can really like and enjoy it to the fullest! As the voice actor of "TIGER & BUNNY," please have a look - we'd be delighted to have you along for the ride.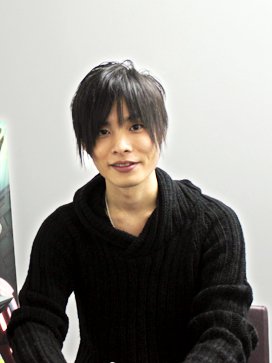 Nobuhiko Okamoto( 岡本 信彦)Profile
Voicing a great diversity of some of the most popular characters in modern anime, Nobuhiko Okamoto is undoubtedly one of the most talented voice actors on the rise. In 2009, he won the "Shinjin danyu-sho" (rookie award) for the third time, alongside "Best Supporting [Voice] Actor Award" for the fifth time in a row.

Distinguished Works:
「TIGER & BUNNY」as Origami Cyclone
「Blue Exorcist」as Rin Okamura
「A Certain Magical Index」as Ippōtsūkō (Akuserarēta)
「Bakuman.」(series) as Eiji Nizuma
「Haikyū!! 」as Nishitani Yu
PRESENTS
All the info. on asianbeat's present campaign!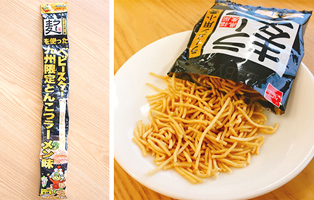 * Win a packet of "Ramugi Baby-Star (Kyushu limited edition tonkotsu ramen flavor)"!
[Details] Click
HERE
!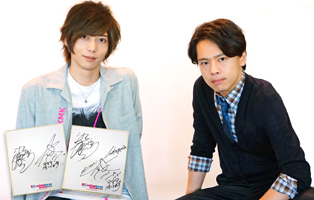 *Win a card signed by Akinori Nakagawa & Toshiyuki Someya!
[Details] Click
HERE
!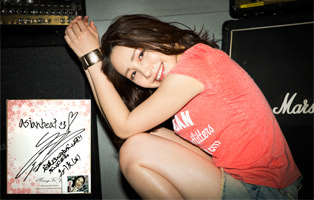 * Win a card and a cheki (photo) autographed by You Kikkawa!
[Details] Click
HERE
!