Ganso Najima-tei Canal City Hakata (元祖名島亭 キャナルシティ博多店)

The Ramen Sosenkyo 2008 Grand Prix!
As the name suggests, this restaurant was founded in Najima, Higashi-ku, Fukuoka, 29 years ago. The Najima-tei received numerous honors, including gaining recognition at the Ramen Sosenkyo 2008 Grand Prix (The Ramen General Election, 2008 Grand Prix). Then on the verge of their 30th year they rolled up their sleeves and embarked on a new challenge; setting up shop in Canal City Hakata's Ramen Stadium!
They have always stayed true to their winning formula, and their soup, which remains fresh and has continued to grow since their establishment, is still going strong! For a nostalgic taste of the good old days make sure to give them a try!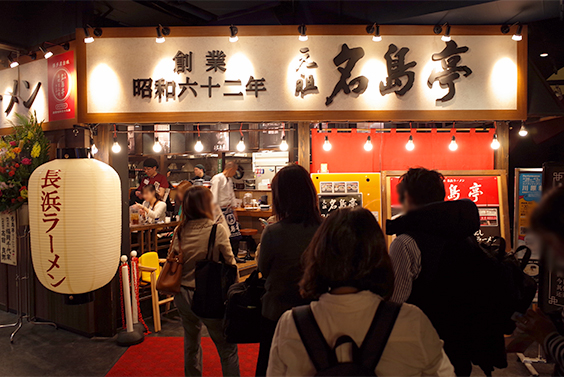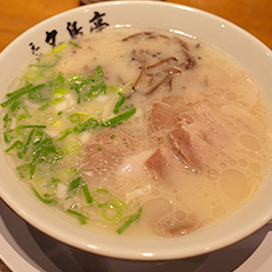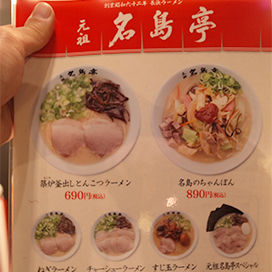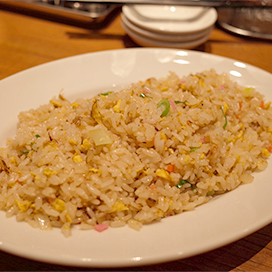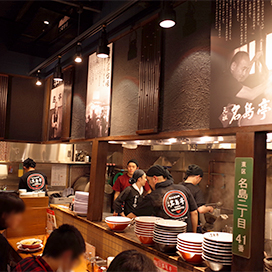 [Menu]
Chikuro-kamadashi Tonkotsu Ramen: 690 Yen
Char siu (roasted pork) Ramen: 890 Yen
Najima Champon (noodle dish): 890 Yen
Najima Yakimeshi (fried rice): 590 Yen
Najima-tei Hitokuchi Gyoza (Najima-tei bite-sized dumplings): 490 Yen (10 pieces) / 290 Yen (5pieces)
Hakata Yatai Tonkotsu Oden (dish consisting of various ingredients stewed in a soy-flavored dashi broth): 100 Yen (per peice)
Kaedama (refill/second helping of noodles): 100 Yen
Kainiku (refill/second helping of meat): 200 Yen
Ganso (Original) Najima-tei Canal City Hakata (元祖名島亭 キャナルシティ博多店)
Address: Ramen Stadium, 5th Floor, 1-2-22 Canal City Hakata, Sumiyoshi, Hakata-ku, Fukuoka-shi, Fukuoka-ken
Phone Number: 092-283-2009
Opening Hours: 11:00-23:00 (last order: 22:30)
* All information listed correct as of April 2016

Related Articles