Interview Now - Hikaru Midorikawa (緑川 光) -(1/2)

On November 30, we sat down for an interview with the voice actor famous for roles such as Kaede Rukawa ("Slam Dunk") and Heero Yuy ("Mobile Suit Gundam Wing"), Hikaru Midorikawa! We asked him about his starting point in the industry, anime overseas and some of the things he can't live without.
Gundam is in a class of it's own
Q.(asianbeat) What was your reason for pursing a career in voice acting?

It wasn't until "Mobile Suit Gundam" that I really started to perceive voice acting as a career. When I was young, all kids my age used to watch robot anime. But there was something different about "Mobile Suit Gundam" from the other robot series.
While I was trying to gather as much about Gundam as I could, I found about the Gundam anime magazines and I even started buying recordings of the TV episodes on vinyl. That's how I eventually found out about the Gundam voice actors too – through interviews that appeared in the anime magazines.

If I try an process the course of events that lead me to voice acting, once I started to recognize voice acting as a profession, I then learned that most of the voice actors of the original Gundam series belonged to the Aoni Production talent agency. Then, when I was in middle school, I found out that Aoni Production had established a voice actor training school and so I has this very vague idea that, "If I went there and became a voice actor, I could become a voice actor for Gundam," and so that's what I set my sights on.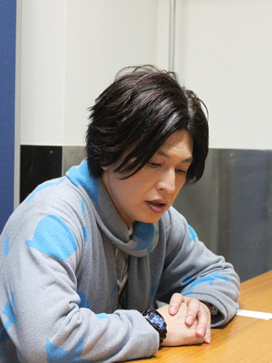 Q. Do you have a fondness for a particular character or series?
I'm fond of all of them, but Gundam is in a class of it's own. It's my childhood dream come true. I played the lead role for the series, "Mobile Suit Gundam Wing," and although it doesn't follow in line with the setting and history or the original Gundam, it did get it's own range of plastic models sets and I'm happy with it. I mean, I did get to play the lead role after all.
You can overcome it when it's for the sake of something you love
Tell us about one of the hurdles when you faced starting out.
When I was first starting out in the industry, most of the jobs I had were not anime related. The most difficult was probably the plays I performed in that went around to all the regional areas, and the work I did performing traditional Japanese dance in Yukiji Asaoka. With the regional tours, I would meet up with a particular theatre troupe in the morning, drive around to the various regional areas and put on a number of performances in any one day. Some of the places weren't even set up to host such performances. And I get carsick quite easily, so all the moving around was really quite tough.

As for Yukiji Asaoka, it was a live-in situation with two people to a room. For about one month I performed four times a day: Japanese dance, theatre, Japanese dance, theatre – changing makeup four times as well. And there was hardly any time for costume changes, so it had to be done to the side of the stage, three or four times, really fast. It was grueling.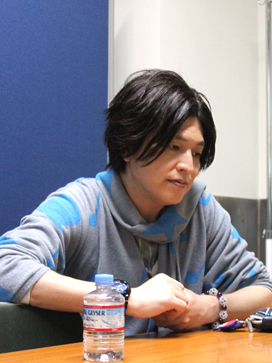 Q. There are a lot of young people trying to go straight into voice acting instead of first becoming actors and then progressing to voice acting. What do you think about that?

I think it's a tough route to take, but I just hope that they don't lose that passion that brought them here in the first place. They'll take a lot of knocks and many will think that they can't go on, but you can overcome it when it's for the sake of something you love.
When people in professions they aren't particularly fond of face problems in their work, they tend to think, "It's not like I chose this job because I like it. I should just do something else." But when it's a job that you love, even if you have more hardships, you can't help but want to overcome them because you love what you do. Overcoming hardships is no easy task, but it's doing something for the sake of something you love that gives you the power to make it possible and I hope people never lose sight of that feeling.

Q. What's your secret to a healthy throat? And what are some things you just can't live without?

When voice actors hear about something that might be even the slightest bit good for your throat, they pounce. I've tried many things myself. I've been saved by Taiwanese throat lozenges a number of times (right photo). I order them online every now and again. Also, I've heard recently that Manuka honey is supposedly good for sore throats.