Interview Now ~OLDCODEX~(1/2)

On February 23rd, the super popular band OLDCODEX performed live at Zepp Fukuoka! With a reputation that precedes them, the unique duo of vocalist and live-action painter have garnered the interest of the public eye to the point of their live concert tickets immediately being sold out wherever they go. In this interview, we ask vocalist Ta_2 and painter YORKE. about how the two of them became a unit, what their future ambitions are, and a have them tell us a bit more about their newest album. Enjoy their interview!
When I first saw YORKE. doing a live painting, as he was moving his brush across the canvas I felt that it was almost musical thing
Q.(asianbeat) How did you guys become a band?

Ta_2
: At first it began with Lantis and me talking about how we wanted to pursue something in music and that was the starting point of OLDCODEX. When going out to scout for new members, I came across YORKE. and after that we encountered a lot of members joining and leaving our band.

▲Left: Ta_2 (Vocalist), Right: YORKE. (Painter)
Currently there are two of us, plus the band members. We also have a few project consultants who stay on with us as writers and I have to say I really appreciate all their work as we continue touring, performing, and releasing CDs.
Q.To have a vocalist and painter working together is a very unique set-up in this industry. Why did you decide on this?

Ta_2
: When I first saw YORKE. doing a live painting, as he was moving his brush across the canvas I felt that it was almost musical, the rhythm flowing from him was like that of a bassist, drummer, or even a guitarist. It was then that I wanted this element as a part of what I was doing, and over the course of the next 10 months I approached him. (lol)
YORKE.
:This is a story we haven't shared in quite a while. I feel a bit embarrassed every time we talk about it.
Q. Is that right?

YORKE.
: I got the feeling that I was really popular!
Q.So you were continuously being approached?

YORKE.
: Even before I had fully joined OLDCODEX, I was always doing a bit of work in the background. I was once even asked to take part in one of the music videos. Up until now, I've worked for a lot of different musicians and have done some live painting sessions with them. At first, I thought OLDCODEX was just another one of these gigs. Later I began to realize that Ta_2 and I really were on the same wavelength and I feel this way even to this day.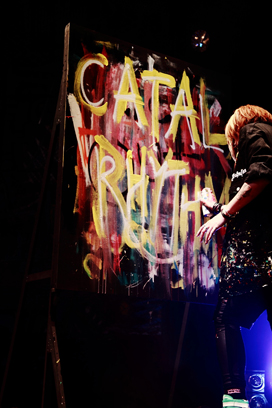 ▲Live-painting by YORKE.
Photo / Yoko Umemoto
It took me 10 months to decide because I had never seriously given thought to the idea of formally joining a band. Until now, I had been operating individually sometimes teaming up with different bands for performances. After some time I began to wonder what it would be like to be a part of a band and that is when I started to really give it some thought.
Q. Really! So when you are creating your music, what do you usually pay attention to most?

Ta_2
: The main thing for me is making sure I like what I hear when I listen to it. I do this especially when I am working on the melody, arranging it, or even when adding some flourish. I'm the type of person that imagines things in my head rather than transposes it onto paper. If something bothers or worries me, I just can't stop thinking about it.
Of course, I trust my band so I don't usually worry too much about them but sometimes due to certain prevailing circumstances, there are times they cannot perform with me and I will keep asking them to do so until they give in. I have to make sure those lines don't begin to blur.
YORKE.
: From the start, we conceptualized our band around the theme of rock and it's the one element we don't want to lose. We sometimes listen to music together and discuss what we can add to ours to make it better. At first I wasn't sure exactly what rock music was. I realized, however that rock music appealed and spoke to a wide variety of people.
I feel that the people who start down the path of becoming rock musicians are the very people who have been saved by it. We're one of them. That is why when we write our lyrics we try to embody them with a positive take on life and share that message through both the music and visually through art., It's a concept we would like to stick with.
Our album is a reflection of everything we feel in physical form.
Q. We heard that you were hard at work last night with recording your new album. Is there anything that you would like to tell us about?

Ta_2
: Every time we make an album, we try to include all our current feelings and philosophies into our music. That is why we are always happy when an interview comes along because it gives people the opportunity to discover us as a band.
3rd ALBUM 「A Silent, within The Roar」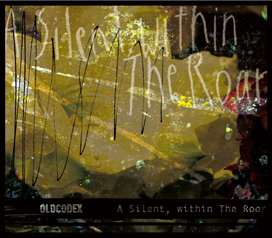 [Limited Edition]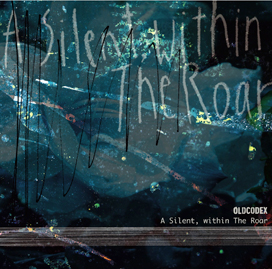 [Normal Version]
I hope the listener will come to like it, so much so that they never let it go. Our album is a reflection of everything we feel in physical form.
Until now, we weren't able to express everything we wanted. It made us want to create something that could convey everything we had been feeling and we sincerely hope all our listeners will be able to fully enjoy our album. All of our songs have been made with the hopes of creating a brighter future, so we hope our fans can feel our presence through our music.
Another advantage of being a vocal-painter duo is that we can visually express ourselves, a prime example of this being the CD jacket. I think that even just looking at the production of the artwork itself is very interesting. OLDCODEX tries to engage with more than one sense. Most music is enjoyed by ear but we try to throw in this visual aspect, as well.
YORKE.
:Through this interview at asianbeat we hope that more people from Fukuoka will get to know us, OLDCODEX. We would be very happy should you decide to give our art-music combo a chance.
Nowadays, not many people listen to CDs but we hope you try it once and decide to come to our live concert!
Through trial-and-error we perfected this style and will continue down this path, even if it is difficult.
Q.What are your future goals for OLDCODEX?

Ta_2
:There are a lot of different things that we would like to try and continue challenging, but all of them cost a lot of money, so it is quite difficult! (lol)
Q. That is true, haha. If there was no limit to money, it sounds like there are a lot of things you'd like to try.

Ta_2
:That's right. We need some sponsors. (lol) There are a lot of things we'd like to test, visually speaking but if we were to go through with it we would need the newest technology. While we could take a minimalistic approach to our performances but we want our audience to enjoy themselves to the fullest and give them something dynamic and stimulating. We would like to continue pressing this front.
We love playing at live houses and when we play, we want it so that OLDCODEX occupies the room in its entirety. Through trial-and-error we perfected this style and will continue down this path, even if it is difficult.
YORKE.
:There are many things that we've got to give up, too.
Ta_2
:Sometimes we are constrained by our budget, though.
YORKE.
:Though not all of our goals will ever be reached, it fuels us to do more and better. Having our own stage screen or delivering the most memorable concert ever are just some of those dreams. In some ways, our limited budget helps us, forcing us to be more creative in our methods. These are some of the good things about being a part of OLDCODEX.
Ta_2
:These pressures force out creative ideas, which is why in a way it is a great environment to be in.
PRESENTS
All the info. on asianbeat's present campaign!
* "A local specialty set discovered during the trip to Tagawa Area giveaway! Apply by Mon. 11 Jan. 2021 (JST)!