The Graceful Yukata
I slipped into a yukata and headed to a Japanese garden called Rakusuien. My heart fluttered as I entered the traditional Japanese garden, just like the ones I had seen on Japanese TV. The sounds of the wind in the trees and the insects in the grass as well as the wind itself all came together beautifully. The atmosphere was wonderful.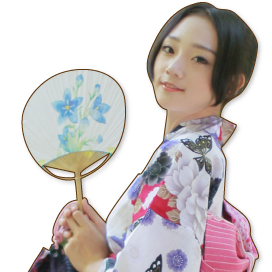 I always wanted to try out a yukata!
And, I got to try out a yukata! I've always had a deep interest in traditional clothes. I used to look at pictures of Japanese kimonos and yukatas and think "I'd like to wear that just once". I even tried to make my own yukata. However, actually wearing the real thing was completely different. The fit was perfect and the material was something you could never find in Korea so you can look beautiful and stylish. When I was in the shop I couldn't take my eyes of the yukatas and, after a lot of deliberation, managed to choose one. Of course I had an obi sash and geta sandals to complete the outfit. It felt great!
While we were shooting I fed some koi carp in the garden's pond. They all gathered around to eat, so cute! I thought it was a really unique experience. Yeah, you can't do this in Korea, you're not allowed to feed the fish. Anyway, it was fun. Spending time in the garden wearing a yukata made me really feel like I had experienced what I had seen on TV before, it was really exciting, I felt so happy. Wearing a yukata like this was the perfect experience for me.
Click the photo to go to Photo Gallery.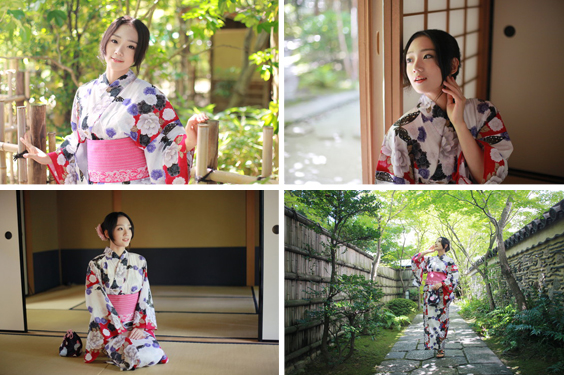 In cooperation with : café & shop HAKATA101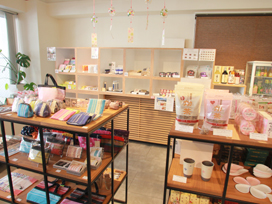 Here they sell (Japanese) kawaii goods, tableware, foods and more. You can also always have a taste of some sake whenever you want. You can buy yukata here at any time of the year (*Only woman's yukata is available in winter.) The yukata set comes with four items: a yukata + tsukuri obi + himo + geta (8,900 yen).
They also have plans to start renting yukata out during the summer season (from about June-September) for both men and women. If you rent they'll help you put it on.
Address: Iwaki Building 1F, 2-4-30 Hakata Eki Higashi, Hakata-ku, Fukuoka City, Fukuoka Prefecture
Access: About 3-minute walk from the Hakata Station (Chikushi Gate)
Tel. : 092-577-0869
Business Hours: 10:00 - 19:00 (Except Sundays and holidays)
Facebook: https://www.facebook.com/hakata101
Blog: http://blog.naver.com/99s_asia
In cooperation with: RAKUSUIEN (Japanese Garden)
Address: 2-10-7 Sumiyoshi, Hakata-ku, Fukuoka City, Fukuoka Prefecture
Access: About 12-minute walk from JR Hakata Station(Hakata Gate)
Tel: 092-262-6655
Opening Hours: 9:00 - 17:00
Closed: Tuesdays (Unless it is a National Holiday. If that is the case it will be open on that Tuesday and closed on the Wednesday that follows.)
Note: Open January 2nd and 3rd; closed December 29 to January 1.
Admission: Adults 100yen Children(15yrs and under) 50yen
Official Website: http://rakusuien.net/english/