[Cosplayers Laboratory] - China - #015 Qudou

China's one and only cosplay magazine, "COS TOP," evangelists of the cosplay scene in China, are constantly scouring the country for the nation's most prominent cosplay figures to induct them into the highly exclusive cosplay community they've created, called "TOP Koukou" (TOP High School). In this corner we'll introduce you to the leading members enrolled in China's "TOP Koukou" community.

Cosplayer #15 is Qudou, showing off spectacular visual effects in cosplay.
Cosplayer #015 - Qudou (曲豆)
Even as a boy there are glimpses of feminine beauty in Qudou's work. His beautiful cosplay style looks absolutely priceless. You'll definitely lose track of time looking through these pictures!

■Profile
・Cos Name: Qudou
・DOB: 26 July
・Star Sign: Leo
・Hobby: make-up, photos, cosplay
・Cosplay History: 6 years
・Favorite Work: NARUTO, BLEACH, ONE PIECE, Black Butler, Sekai-ichi Hatsukoi, Junjo Romantica:Pure Romance
・Best Cos Character: NARUTO, Ciel
・Main Cos Work: Pirates of the Caribbean, Black Butler, Vampire Knight, Junjo Romantica:Pure Romance, Sekai-ichi Hatsukoi, Alice in Wonderland, Painted Skin(Chinese film)
・Cosplay Expenses: at least tens of thousands Yuan ($1,600-$16,000) / year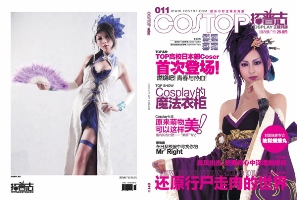 [Cos TOP] 
■ Chinese cosplay magazine. On the main page of the site, you can find info on the latest cosplay works in the "COS TOP photo gallery," read about popular cosplayers, their everyday lives and the characters they impersonate in "COS TOP High School," as well as interviews with cosplay groups in "COS TOP Group Interview Exclusive." To further expand the cosplay industry in China, cosplay is presented as a type of style, and as it gradually merges into the everyday lifestyles of the youth in China, it evolves and starts to create whole new fashion trends on its own.
■ TOP Official site
http://www.costop.com/
■ Purchase the magazine
http://shop59224145.taobao.com