[Cosplayers Laboratory] - China - #007 fymerry

China's one and only cosplay magazine, "COS TOP," evangelists of the cosplay scene in China, are constantly scouring the country for the nation's most prominent cosplay figures to induct them into the highly exclusive cosplay community they've created, called "TOP Koukou" (TOP High School). In this corner we'll introduce you to the leading members enrolled in China's "TOP Koukou" community.

Cosplayer #007 has been praised as "The Real Thing" by the cosplay community: fymerry
Cosplayer #007 - fymerry (非言)
Fymerry's cosplay career spans more than five years and boasts a wide variety of characters. When you see her outfits you can really feel the love and affection she has for the original works. Check out fymerry's photo gallery below!
■Profile
・Cos Name: fymerry
・Age: 24 years
・Cosplay History: 6 years
・Current Location: :Chongqing, China
・Best Cos Character: characters wearing uniforms
・Cosplay Expenses: about 1,000Yuan ($160)
■blog
http://t.sina.com.cn/fymerry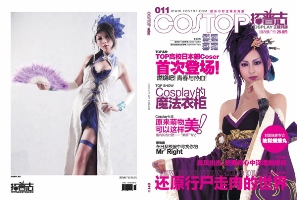 [Cos TOP] 
■ Chinese cosplay magazine. On the main page of the site, you can find info on the latest cosplay works in the "COS TOP photo gallery," read about popular cosplayers, their everyday lives and the characters they impersonate in "COS TOP High School," as well as interviews with cosplay groups in "COS TOP Group Interview Exclusive." To further expand the cosplay industry in China, cosplay is presented as a type of style, and as it gradually merges into the everyday lifestyles of the youth in China, it evolves and starts to create whole new fashion trends on its own.
■ TOP Official site
http://www.costop.com/
■ Purchase the magazine
http://shop59224145.taobao.com