Fukuoka Otaku Map-ver. 痛 (Two) - ANION STATION, Hakata Bus Terminal (1/10)

The official anison café, the perfect place to immerse yourself in this world!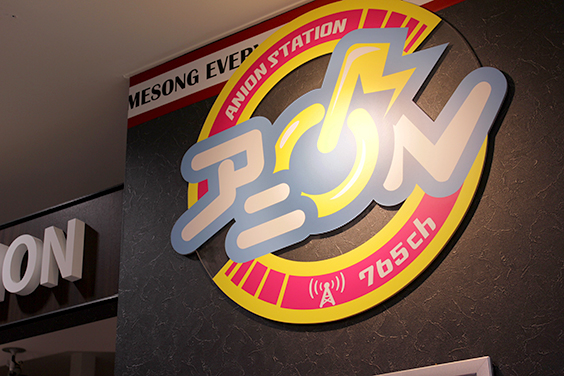 The "ANION STATION" lounge is filled with, and inspired by, different anison characters. While enjoying a range of food and drink that has been created in collaboration with different anime, you can also put in requests for songs that are performed by your favorite characters, or that appear in one of your best loved scenes from anime. The DJ then plays your request on the spot, in this participant-driven format, which is said to be gaining a great deal of popularity.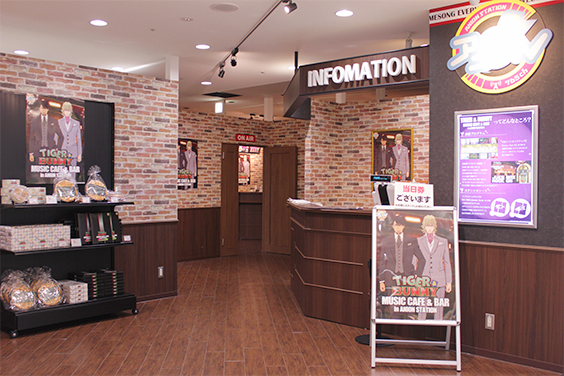 ©BNP/T&B ©BNP/TBM
The themes that "ANION STATION" celebrates are based on different anime and change over around once a month. They've already done collaborations with much in-demand anime series, such as "LoveLive!" and "Osomatsu-san." When we went to visit they were hosting events inspired by the hugely popular "TIGER & BUNNY." If you're wondering what kind of things customers can enjoy, then read-on as we introduce the "TIGER & BUNNY MUSIC Cafe&Bar in ANION STATION," which ran from May 11th 2016 to June 5th 2016!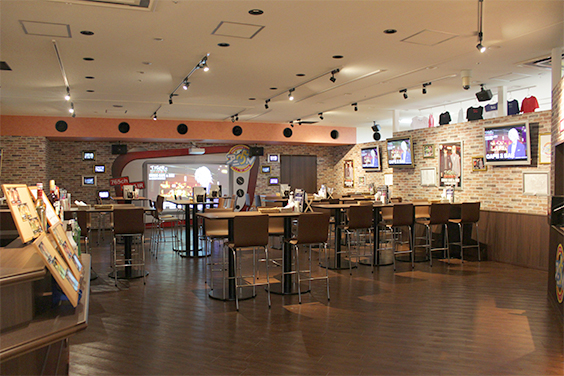 ©BNP/T&B ©BNP/TBM
There's a total of 54 seats to choose from.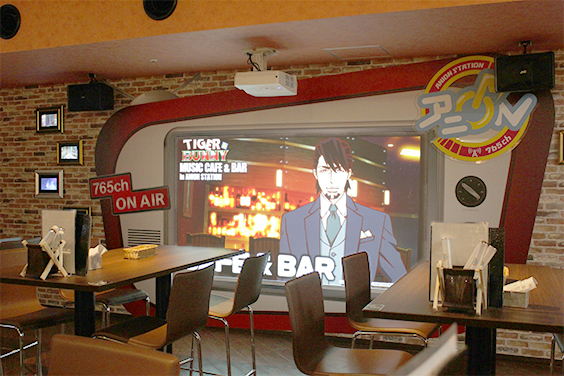 ©BNP/T&B ©BNP/TBM
You're attention is sure to be drawn towards this huge screen at the front of the venue!
The interior has a mature, calm atmosphere, and was designed to replicate the vibe in "HERO'S BAR," which often appears in "TIGER & BUNNY" Compared to the branches that "ANION STATION" has in Sapporo, Shibuya, Nagoya and Osaka, the one open in the Hakata Bus Terminal has a particularly relaxed, comfortable kind of vibe. Somewhere that's also accessible to adults, you'll find that on weekdays a lot of people stop by on their way home from work.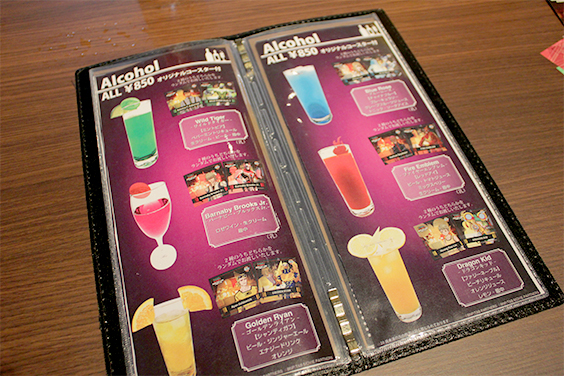 ©BNP/T&B ©BNP/TBM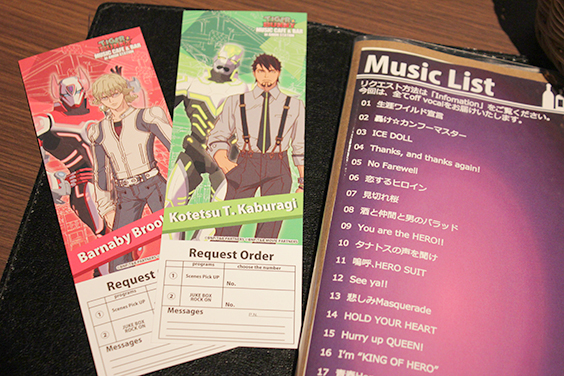 ©BNP/T&B ©BNP/TBM
Once you've got your seat you can order something to eat and drink. For each 500 yen order you will receive a card that will let you request a scene and song from an anime. From the list that they have you simply fill in the name of the scene or background music that you want the DJ to play. You can also choose from songs that characters in anime sing, as well as tunes that have not been released, which is something that fans are sure to find simply irresistible!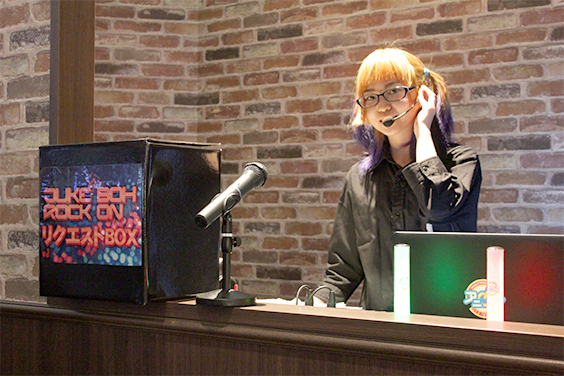 The program is controlled from the DJ booth!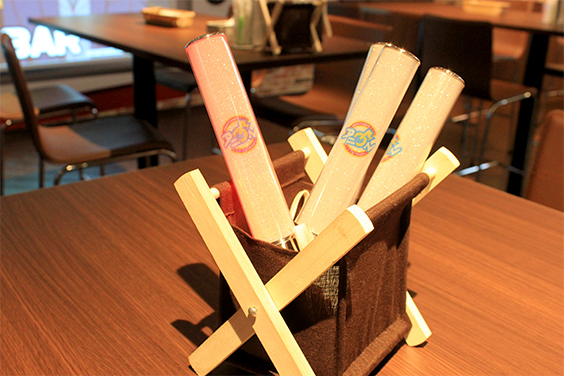 Each table comes equipped with penlights.
One performance/set lasts 90 minutes. The "JUKEBOX ROCK ON" mode is controlled by the DJ and sees tunes selected at random from the list of songs requested. As the music flows you are sure to see the DJ and guests in high spirits waving their penlights above their heads! This is sense of unity quite unlike anything else!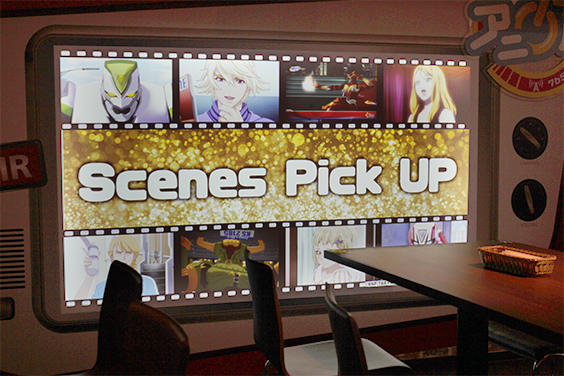 ©BNP/T&B ©BNP/TBM
In "Scenes Pick UP" mode you can request your favorite anime scene. Specially re-edited clips from the scenes broadcast are shown on the big screen at the front of the venue, and are sure to have fans reminiscing about their favorite anime.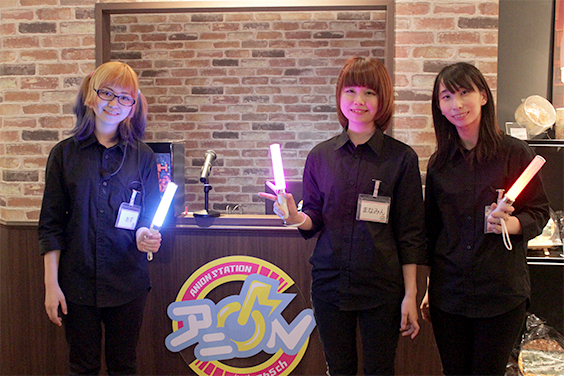 Oh and the DJs employed at "ANION STATION" come from "ANION CHEERS," which is made up of students and graduates from an acting school for voice artists. As aspiring voice actors they know exactly what the fans want. For each scene they offer an explanation of the key points from the story and what you should keep an eye out. You really get the sense that you are in the scene and will definitely get a real buzz without even realizing it!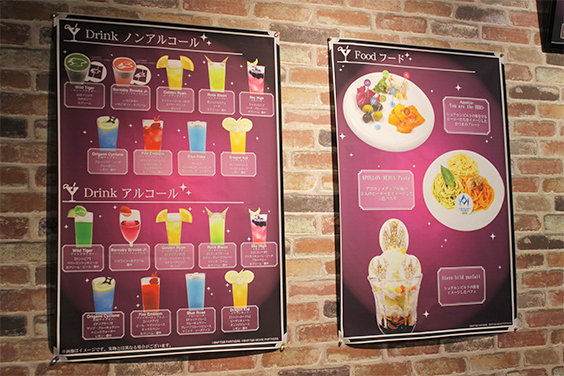 ©BNP/T&B ©BNP/TBM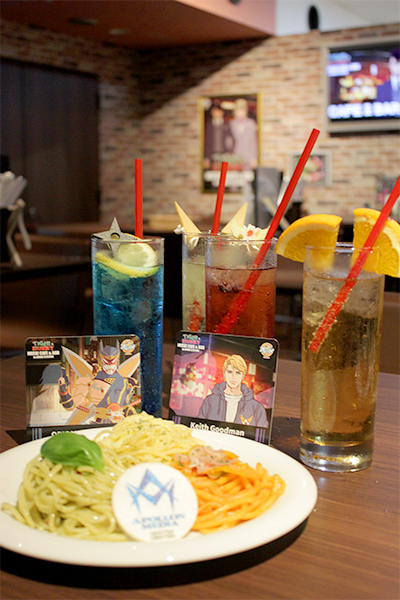 ©BNP/T&B ©BNP/TBM
By ordering something from the collaboration food & drink, standard menu, you can participate in this request program. Be sure to keep an eye out for the fine detail that has been drawn from distinctive features of the characters!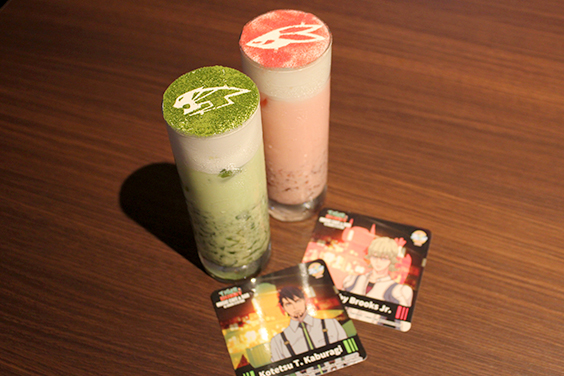 ©BNP/T&B ©BNP/TBM
These are the creamy non-alcoholic drinks based on the image of "Wild Tiger" and "Barnaby Brooks Jr."
For this collaboration there was a both non-alcoholic and alcoholic drink inspired by each character, meaning there was an incredible 18 to choose from! Each drink comes with a corresponding original coaster. (Each character has 2 designs)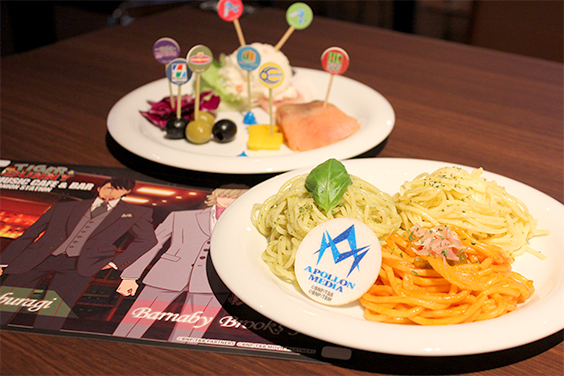 ©BNP/T&B ©BNP/TBM
In addition, one of collaboratory food items draws inspiration from the image of 3 different characters. Each dish comes with an original place mat as a present (2 in total).
At the back of the photo is a snack plate (1,200 yen), which is based on the idea that the heroes of "Tiger & Bunny" gather to protect "Stern Bild City," the main location where the anime set. The pasta dish at the front of the picture, "APOLLON MEDIA Pasta" (1,100 yen) replicates 3 heroes affiliated with APOLLON MEDIA. Which character does each food represent? Trying to figure that out is sure to get an interesting conversation going!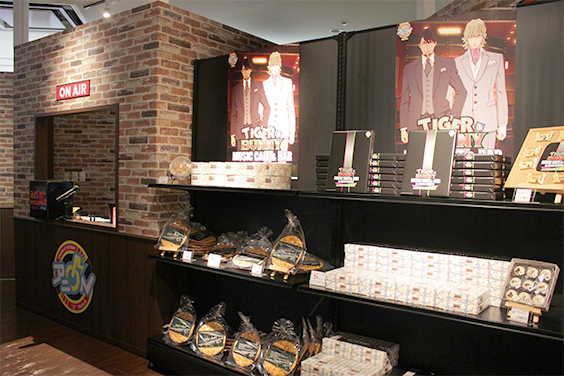 ©BNP/T&B ©BNP/TBM
The section selling merchandise is stocked with all kinds of goodies! There's so many gems that you simply have to check-out, such as limited edition items from the concept café "Cafe & Bar KYARAKURO" in Ikebukuro, Tokyo, as well as pieces that you will only be able to find in Fukuoka! Even if you are not participating in one of the events, there is no need to stress… You can enter to pick up some bits and pieces outside of performance hours!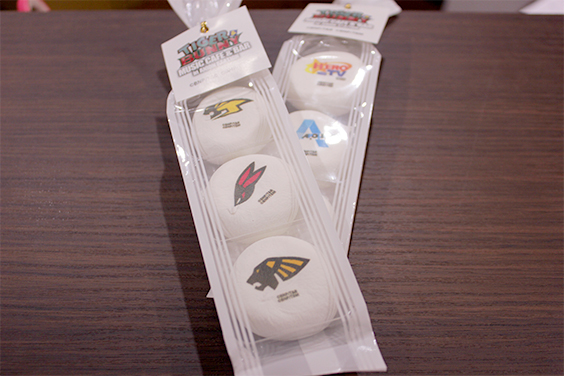 ©BNP/T&B ©BNP/TBM
Participants will receive an original souvenir at random!
With fans enjoying the experience of requesting specific scenes and music, while also receiving gifts such as special coasters and souvenirs…, some core fans even go to all of the performances on one day to pick up all the collectables. ANION STATION is attracting more and more visitors.

You can meet other fans and starting talking straight away about the scenes/music that are playing in the background even if it's your first visit. That's why "ANION STATION" has been gaining a lot of attention as a venue that really encourages interactions and facilitates exchanges. The people who have visited clearly love the anime that they can choose from. There's no doubt that this is a place for people to party!
If you want to visit "ANION STATION" it is possible to book beforehand on their special website, but if they do have space it is possible to buy a ticket on the day. Different to both a live gig and karaoke, this is a new way to enjoy anime that you have to experience!
ANION STATION is HERE!
ANION STATION, Hakata Bus Terminal