Interview Now ~ Anupong ~(2/2)

ab: Bagaimana perasaan Anda menjadi juara dari Gundam Builders World Championship 2010? Dan apa dampaknya dari menjuarai kompetisi yang besar tersebut?

Anupong
: Saya sangat senang. Hobi yang saya lakukan menjadi pekerjaan yang serius. Setelah saya menjadi juara, saya bisa pergi ke Jepang sebagai hadiah, pergi ke Hongkong untuk memberikan workshop di sana, saya pergi ke berbagai negara. Bisa berjalan-jalan ke berbagai negara, mendapat uang, mendapat banyak teman dan disponsori bisa membuat gunpla lainnya. Hal-hal ini adalah mimpi sebagian orang ,dan saya sangat senang bisa mendapatkannya.
ab: Apa pendapat Anda terhadap komunitas gunpla di Indonesia?

Anupong
: Sejak pertama kali datang ke Indonesia, saya terkejut melihat betapa antusiasnya para komunitas ini untuk berkumpul. Di Indonesia, para penggemar gunpla aktif untuk memamerkan hasil rakitannya. Selain untuk berkompetisi, mereka bisa saling mendukung dan belajar untuk menjadi lebih baik. Hal ini yang membedakan komunitas gunpla di Indonesia dan di Thailand. Di Thailand, mereka lebih fokus memikirkan untuk kompetisi.
ab: Tolong berikan pesan untuk para komunitas gunpla di Indonesia.

Anupong
: Pesan saya adalah merakit gunpla itu harus diperlihatkan ke orang lain. Percuma sudah membuat karya yang sangat baik, namun tidak ada orang yang melihat dan menghargainya. Tidak asyik! Ketika hasil karyamu baik dan dilihat oleh orang lain, maka kamu akan merasakan kesenangan yang memuaskan.
Anupong memberikan workshop perakitan gunpla di BOTT 2019
Di acara Battle of The Toys 2019, Anupong diundang untuk memberikan workshop seputar dengan merakit gunpla. Selama 2 hari, Anupong mampu menyelesaikan gunpla HG Barbatos dengan detil yang baik hanya menggunakan alat dan teknik sederhana.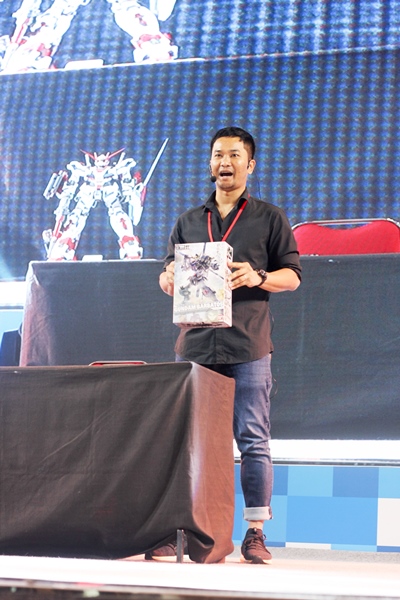 Dengan workshop ini, para pengunjung diajarkan menggunakan alat-alat sederhana yang kita gunakan sehari-hari untuk merakit gunpla dengan lebih profesional.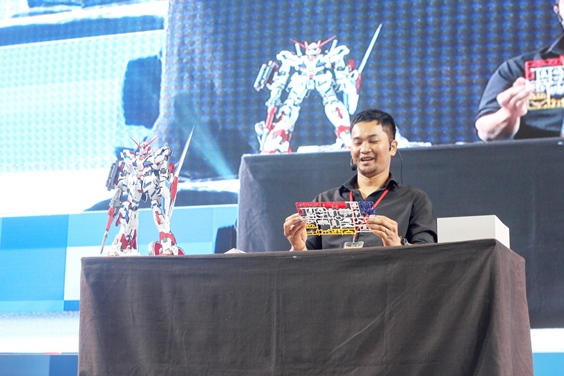 Artikel Terkait

PRESENTS
Semua informasi hadiah asianbeat Present Campaign!