Indonesia Cosplay Grand Prix 2016, mengirim wakil Indonesia ke World Cosplay Summit 2016(1/4)

Acara eliminasi untuk memilih tim cosplay perwakilan Indonesia di WCS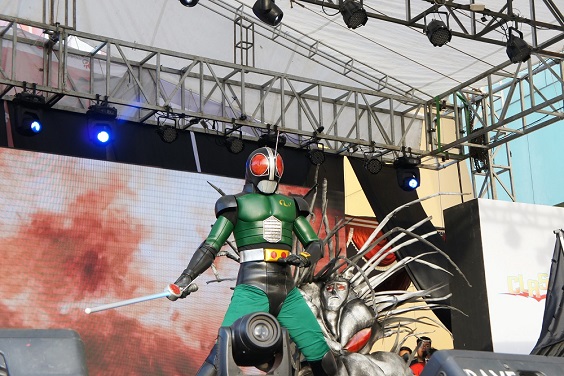 Indonesia Cosplay Grand Prix (ICGP) adalah sebuah kompetisi cosplay untuk memilih wakil Indonesia yang akan dikirimkan ke ajang kompetisi cosplay tingkat dunia, World Cosplay Summit (WCS). Tahun 2016 ini penyelenggaraan ICGP sudah memasuki tahun ke-5, dan kembali digelar sebagai bagian dari acara festival Jepang Ennichisai di Blok M - Jakarta pada tanggal 15 Mei 2016.
Lewat sistem seleksi video di Jakarta dan babak penyisihan di wilayah Yogyakarta, sebanyak 13 tim cosplay terpilih untuk masuk ke babak final ICGP 2016. Ketiga belas tim itu adalah Genesis GAS Pol, BattleSiren, Crusnix, Takada Team, OPJ Strikes Back, Kera Tampan, Ringo Ame, ALCosT, CSR GANBATTE, MGR Senggol Bacok, Kadaluarsa Saigo Jigen, Beauty and the Nobes, dan Rising Sun.
Semua tim tampil maksimal di atas panggung untuk memukau para penonton dan para juri yang menilai mereka. Beberapa juri diantaranya adalah cosplayer perwakilan berbagai negara yang pernah tampil di WCS, seperti John Switch & Yon-chan (tim Eternal Creativity) yang menjadi perwakilan Indonesia di WCS 2015, Ryan dari tim One OK Cosplay yang menjadi perwakilan Indonesia di WCS 2014, Tae Yeon yang menjadi cosplayer perwakilan Korea Selatan di WCS 2012, serta cosplayer perwakilan Jerman di WCS 2014.