"I Miss U Japan Festival Road to Final" Event Report
Sukses dengan event "I MISS U Japan Festival" yang telah diselenggarakan 2 kali di Jakarta dan berhasil membangkitkan komunitas pecinta event kebudayaan Jepang, sebagai event pamungkasnya Barcode Organizer mengadakan event "I MISS U Japan Festival Road to Final" yang diadakan pada tanggal 26-27 Maret 2022.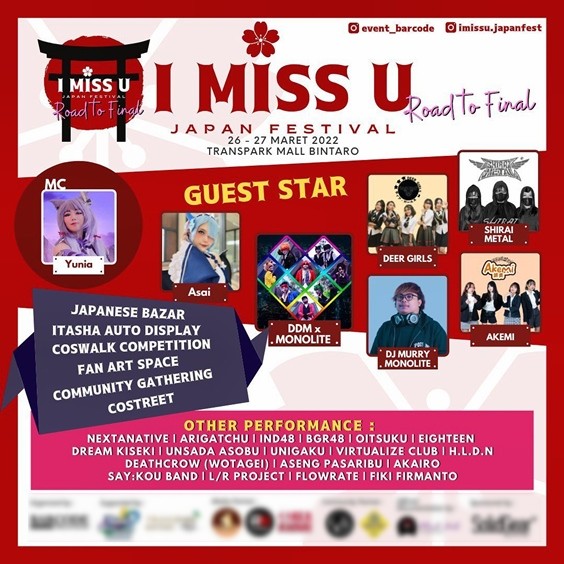 "I MISS U Japan Festival Road to Final" digelar di Transpark Mall Bintaro, Tangerang Selatan. Acara dibagi di beberapa area yang berbeda yaitu Takeshita Area, Nikko Edo Area, dan Fujiyama Area. Para pengunjung dapat menikmati acara ini secara gratis, kecuali untuk pengunjung yang ingin melihat panggung Fujiyama Area sambil bermain salju, akan dikenakan tiket masuk Trans Snow World.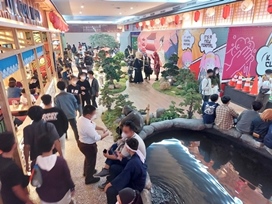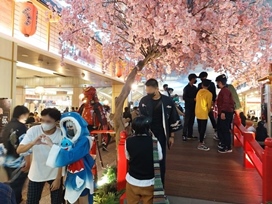 Berbagai acara seru dihadirkan dalam event ini, seperti Japanese Bazar, Costreet, Itasha Auto Display, Fan Art Space, Community Gathering, dan Coswalk Competition.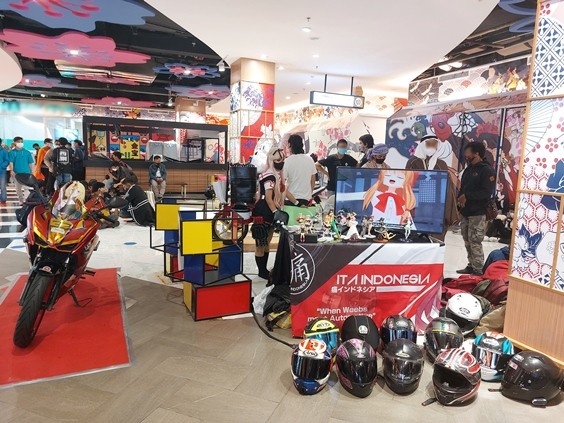 Booth komunitas Itasha Indonesia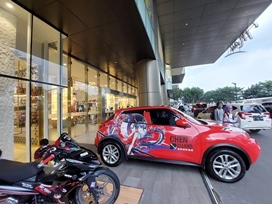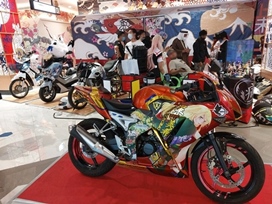 Para pengunjung disambut dengan pameran mobil dan motor keren dari komunitas Itasha Indonesia di dekat pintu masuk dan juga beberapa area di dalam mall.
Acara hari kedua di panggung Takeshita Area menghadirkan para DJ keren yang memeriahkan suasana event seperti Unigaku: Fortimind & Adyoro dan juga Virtualize Club.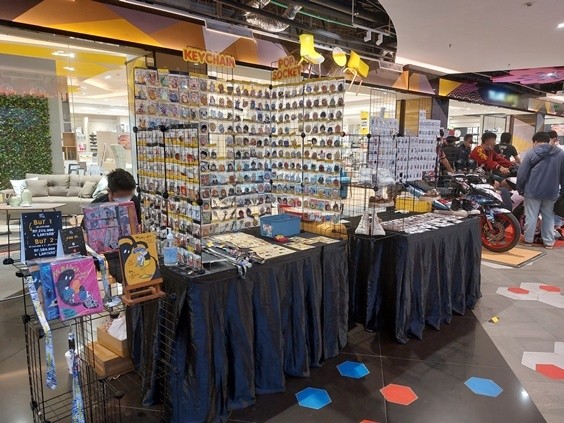 Di beberapa lokasi juga dipenuhi dengan booth penjualan merchandise yang berhubungan dengan pop culture Jepang dan makanan khas negeri Sakura.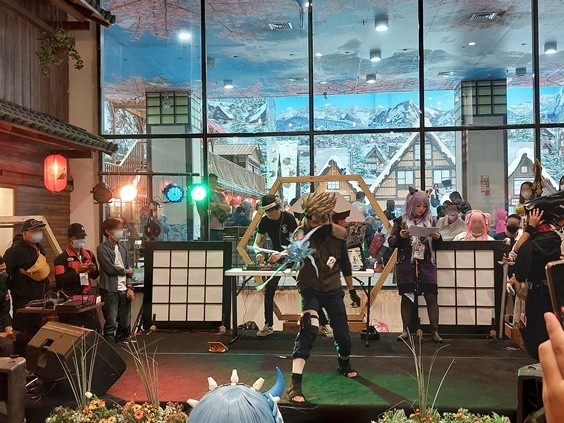 Peserta cosplay tampil di hadapan juri
Rangkaian acara "I MISS U Japan Festival Road to Final" di Nikko Edo Area lantai 3 dipandu MC Yunia yang membawakan acara sambil bercosplay. Sejumlah pengisi acara hari ini diantaranya L/R Project, Dream Kiseki, Aseng Pasaribu, Akairo, FIKI FIRMANTO, dan Nextanative. Ada juga penampilan tarian tradisional Yosakoi dari UNSADA ASOBU, idol group Deer Girls dan Akemi yang turut memeriahkan panggung Fujiyama Area.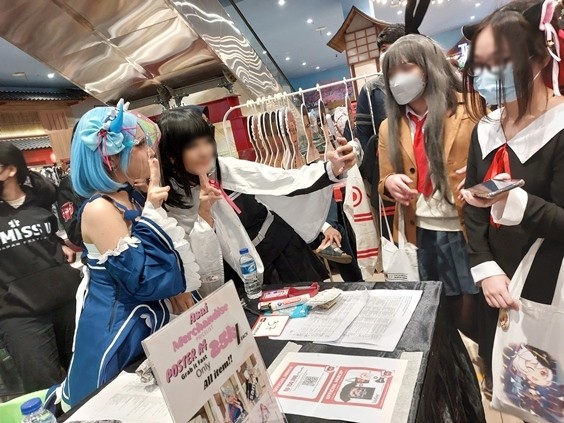 Meet & greet bersama Asai
Asai yang menjadi guest star cosplayer tampil menghibur pengunjung dengan bercosplay karakter Rem dari anime RE: Zero. Selain menjadi juri lomba coswalk, Asai juga menggelar meet and greet di booth-nya.
Grup idol ARIGACHUU
Usai penampilan grup idol ARIGACHUU, acara dilanjutkan dengan pengumuman lomba coswalk. Selain 3 juara utama, juri juga memilih 5 pemenang lomba coswalk terfavorit.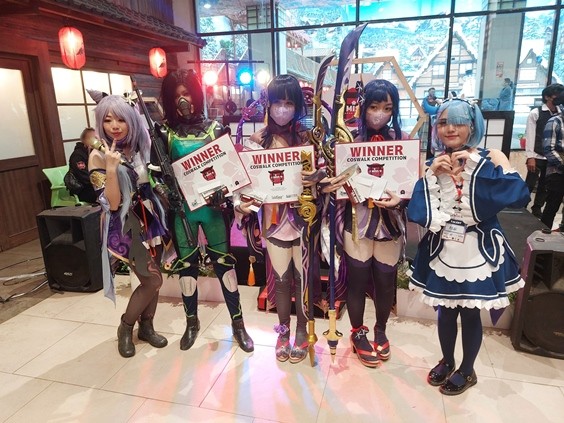 Pemenang lomba coswalk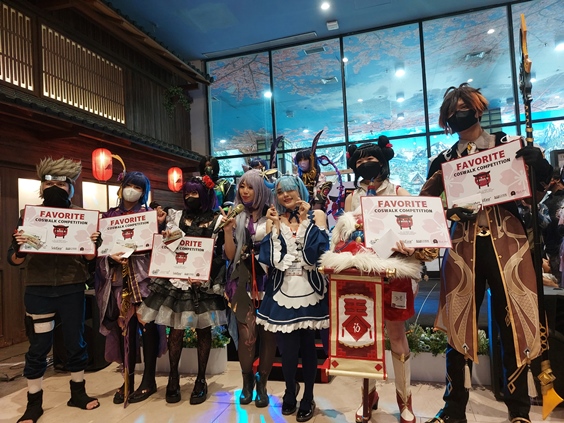 Pemenang lomba coswalk favorit pilihan juri
Rangkaian acara "I MISS U, Japan Festival Road to Final" ditutup dengan penampilan guest star DJ Murry Monolite.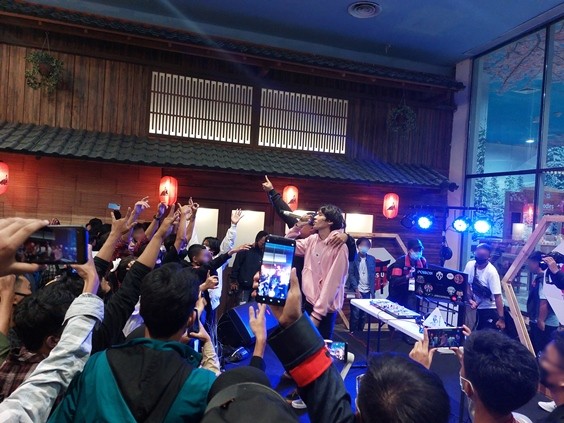 Penampilan DJ Murry Monolite
I MISS U Japan Festival Road to Final
Tanggal: 26-27 Maret 2022
Tempat: Transpark Mall Bintaro, Tangerang
Tiket masuk: Gratis
Artikel Terkait