The 5th Kara OK Compe Grand Final Event Photo Report

Bekerjasama dengan The Japan Foundation Jakarta, Minggu (31/1), asianbeat telah menyelenggarakan "5th JF Kara OK Compe Grand Final" di Jakarta, Indonesia. Dari 117 kontestan yang terdaftar, 10 finalis terpilih tampil di depan 300 penonton yang didominasi oleh kalangan muda. Tidak hanya karaoke, kontes cosplay juga diadakan berkolaborasi dengan "Cosplay Jakarta". Banyak cosplayer berbakat menunjukkan kreativitas mereka dalam ajang ini.

Dalam event ini, Fukuoka Tourism Booth turut berpartisipasi dengan tajuk "Daya Tarik Fukuoka", memperkenalkan secara langsung kepada generasi muda Indonesia tentang berbagai hal seperti pariwisata, fashion, dan anime. Ini merupakan sebuah kesempatan yang berkesan dalam memperkenalkan Fukuoka kepada masyarakat Jakarta.
Eventini dilaporkan dalam rangkuman Photo Report, check it out!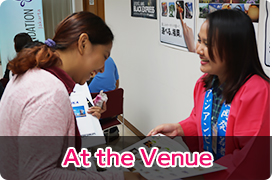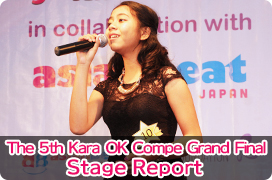 Ringkasan Acara
[Nama Acara] : 5th JF Kara OK Compe Grand Final
[Hari dan Tanggal] : 31 Januari 2016 (Minggu)
     Fukuoka Tourism Booth 13:30 - selesai, Kontes Karaoke 15:30 - selesai.
[Venue Acara] : The Japan Foundation, Jakarta (Summitmas I Lt. 2, Jl. Jenderal Sudirman, Kav. 61-62 Jakarta 12190, Indonesia)
[Tiket Masuk] : Gratis
[Penyelenggara] : asianbeat, The Japan Foundation, Jakarta  
[Lainnya] : 10 orang finalis terpilih akan memeriahkan acara
     Pemenang akan mendapatkan tiket perjalanan Jakarta – Fukuoka (pulang pergi) gratis
Artikel Terkait
PRESENTS
Semua informasi hadiah asianbeat Present Campaign!