"asianbeat / FACo Kawaii Ambassador" Mengunjungi Gubernur Prefektur Fukuoka!(1/13)

"asianbeat / FACo Kawaii Ambassadors" akhirnya telah terkumpul!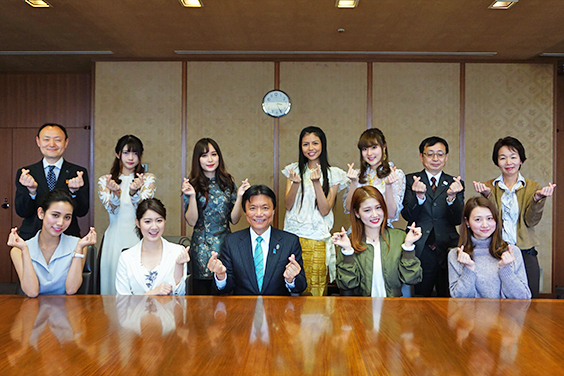 Dari 560 pendaftar, melalui web-based vote telah terpilih 8 "asianbeat / FACo Kawaii Ambassadors," 2 orang dari masing-masing negara; China, Thailand, Vietnam, dan Taiwan. Pada Kamis, 16 Maret lalu, mereka telah mengunjungi Gubernur Prefektur Fukuoka. Gubernur Ogawa menyambut kedatangan rombongan, dan kepada para Kawaii Ambassadors yang tampak sedikit nervous, beliau menyampaikan harapannya melihat para Kawaii Ambassadors menjadi jembatan penghubung dengan Fukuoka. Dalam pertemuan ini, para Kawaii Ambassadors dihadiahi Hakata Ningyo (boneka) bertema "Eto (Zodiak Jepang) Macaron" sebagai kenang-kenangan. Mereka juga berbincang tentang antusiasme mereka untuk berpartisipasi dalam FACo yang diadakan pada 18 Maret, dan memperkenalkan Fukuoka di daerah asal mereka.
* Kenali lebih dalam tentang para Kawaii Ambassadors >>
di sini!
Jangan lewatkan FACo special report kami!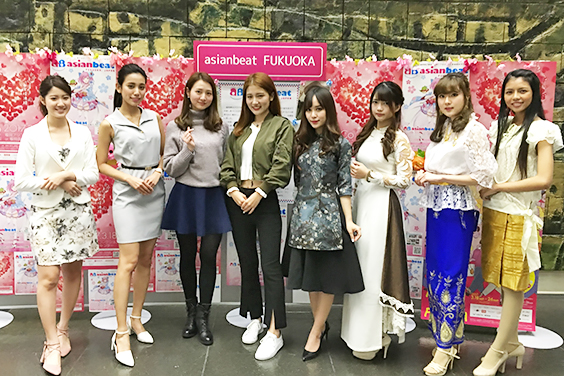 Salah satu event fashion terbesar di Kyushu, "Fukuoka Asia Collection (FACo)" diadakan setiap tahun, dihadiri lebih dari 7000 tamu setiap tahunnya! Kembali dalam tahun kesembilannya, FACo kembali menghadirkan banyak model dari Fukuoka dan berbagai daerah di Jepang. Sesuai tradisi event ini, pada Kawaii Ambassadors pun tampil di catwalk! Kami akan melaporkan apa yang terjadi di FACo, dan juga meliput tentang apa saja yang dilakukan para Kawaii Ambassadors selama mereka berada di Fukuoka, simak terus sampai akhir! (Dept. Editorial: T-L)
*Klik banner ini untuk mengetahui liputan terkait FACo 2017!

FUKUOKA ASIA COLLECTION 2017 SPRING - SUMMER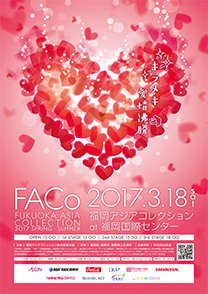 Hari penyelenggaraan: Sabtu, 18 Maret 2017
Venue buka mulai: 12:00
1st stage: 13:00
2nd stage: 15:30
3rd stage: 18:00
Venue: Fukuoka Convention Center (2-2 Chikkohonmachi, Hakata-ku, Fukuoka-shi)
Ticketing:
SS seat: 8500 yen (kursi reservasi untuk semua stage)
S seat: 4900 yen (kursi reservasi hanya untuk 1 stage)
Kursi non-reservasi: 3800 yen
Organized by: Fukuoka Asia Fashion Kyoten Suishin Kaigi (Fukuoka Asian Fashion Base Promotion Conference)
Sponsored by: Fukuoka Prefecture, Fukuoka City, Fukuoka Chamber of Commerce and Industry
Produced by: RKB Mainichi Broadcasting Corporation
Bekerjasama dengan: Mainichi Broadcasting System, Inc.
Official website:
http://www.fukuoka-asia-collection.com/
Artikel Terkait
Link Eksternal