[Laboratorium Cosplay - Thailand edition] - #006 ZEASonal

Seri populer Laboratorium Cosplay edisi Thailand telah kembali! Dalam edisi ke-6 ini kami menghadirkan ZEASonal, seorang cosplayer yang terampil membawakan karakter yang cool dan terkesan penyendiri. Sejak pertama kali bercosplay, perspektif ZEASonal pun telah bertumbuh! Cek fotonya, dan baca terus untuk mengetahui lebih lanjut!
Cosplayers No.6 ZEASonal
■Profile
- Cos Name: ZEASonal
- Ulang Tahun:14 Februari
- Pengalaman Cosplay: 10 tahun
- Lokasi: Bangkok, Thailand
- Best Cos Characters: Demon Kurama [Yoko Kurama] (Yu Yu Hakusho), Fujiwara no Sai (Hikaru no Go), Lelouch Lamperouge (Code Geass: Lelouch of the Rebellion), Victor Nikiforov (Yuri!!! on Ice), Kogitsunemaru (Touken Ranbu), Yusuke Makishima (Yowamushi Pedal), Hagi (Blood+), Yoite (Nabari no Ou), Sephiroth (Final Fantasy VII), dll.
- Pengeluaran untuk Cosplay: 1 kostum berkisar antara 300-3000 Baht (sekitar 1000-10000 yen)
■Links
・WorldCosplay:
https://worldcosplay.net/member/ZEASonal
・Facebook :
https://www.facebook.com/ZEASonalOfficial
・Twitter :
https://twitter.com/zeasonal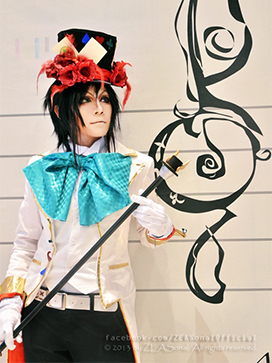 ■Pesan
Kalian bisa panggil saya "Zea." Saya tertarik dengan anime, manga, novel, dan menggambar sejak saya masih kecil. Saya mulai bercosplay sejak 2007. Sejak itu, saya terus berusaha keras untuk meningkatkan kemampuan saya membuat kostum, aksesori, dan make-up. 10 tahun berjalan sangat cepat! Terasa sangat singkat! Tapi saya belum menguasai apapun, jadi saya harus terus belajar dan berusaha semaksimal mungkin!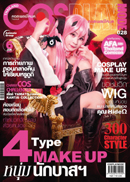 [COSPLAY MODE] 
Satu-satunya majalah cosplay di Thailand dan mulai diterbitkan tahun 2010. Meliputi berita cosplay terbaru, informasi DIY, dan juga foto dari event-event yang ada di Thailand.
Facebook:

Cosplaymode Thailand