BABY, THE STARS SHINE BRIGHT / ALICE and the PIRATES Fukuoka / Angelic Pretty / Metamorphose(1/11)

BABY, THE STARS SHINE BRIGHT / ALICE and the PIRATES Fukuoka
"Sebagai seorang gadis, kalian akan menikmati mengenakan sesuatu dengan renda dan ornamen, karena akan membuat kalian merasa 'imut' dan 'cantik,' seperti putri dalam cerita dongeng. Koleksi kami terlahir dari keinginan dasar ini." Inilah konsep di balik brand "BABY, THE STARS SHINE BRIGHT," dengan interior tokonya yang menarik.
"Saya harap, semakin banyak orang yang mengenal Lolita fashion. Saya ingin orang bisa menjelajah serunya dunia fashion, dan saya ingin mereka menemukan apa yang mereka suka dan membuat mereka senang. Mudah-mudahan semakin banyak orang yang merasa nyaman mengenakan style ini, dan semakin bebas dan menggunakan fashion untuk membuka koneksi baru dan menjalin persahabatan," ujar staff, Fukukawa. Toko ini juga menjadi organizer tea party untuk beberapa kesempatan spesial sepanjang tahun, seperti Halloween dan Natal.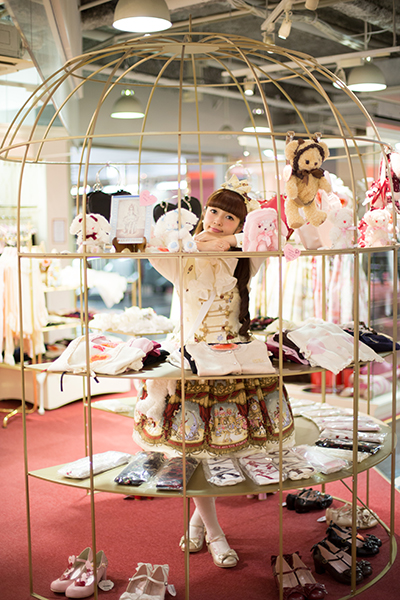 Klik foto untuk melihat foto selanjutnya
BABY, THE STARS SHINE BRIGHT/ALICE and the PIRATES Fukuoka Branch
PRESENTS
Semua informasi hadiah asianbeat Present Campaign!
memenangkan paper eyelushes yang telah ditandatangani oleh Milktee-nu Tiara! Jangan lewatkan kesempatan ini!
[Details] Click HERE!
SATU pembaca beruntung dari asianbeat berkesempatan memenangkan kartu yang telah ditandatangani oleh Yu-ki Nishimoto! Jangan lewatkan kesempatan ini!
[Details] Click HERE!