"KING OF PRISM - PRIDE the HERO -" Advanced Screening & Onstage Remarks - Fukuoka Report(1/9)

Menghadirkan dunia menakjubkan tiada banding! Inilah karya dengan penuh kemilau! Kalian akan terus dan terus melihatnya...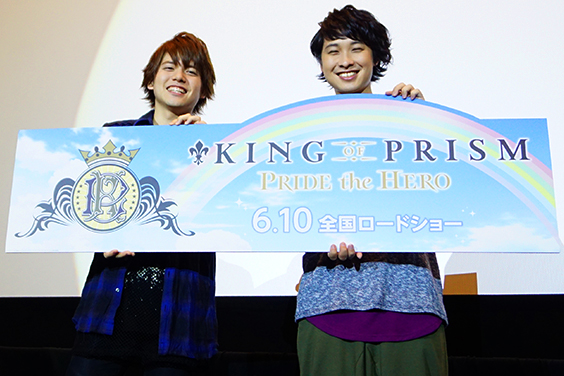 Dari kiri: Yuma Uchida (Yu Suzuno), Junta Terashima (Shin Ichijo)
Sejak rilisnya pada Januari tahun lalu, anime "KING OF PRISM by PreetyRhythm" telah ditonton oleh sekitar 480000 penggemar film, dan telah menjadi hit besar berkat sistem seru dan interaktif bernama "Ouen Joei," yang memungkinkan para penonton berpartisipasi langsung dalam pemutaran film. Sebagai kelanjutannya, "KING OF PRISM - PRIDE the HERO" dijadwalkan memasuki teater perfilman Jepang pada 10 Juni mendatang! Grup yang terdiri dari voice artist berbakat pun telah bergabung sebagai pengisi suara, termasuk Tomokazu Sugita, yang membawakan karakter George Takadanobaba, dan juga Koichi Yamadera, Kenyu Horiuchi, Koji Yusa, dan masih banyak lagi. Satu setengah tahun telah berlalu sejak rilis karya sebelumnya, kami berhasil masuk ke penayangan perdana yang diadakan pada 30 Mei di T-JOY Hakata! Juga hadir sebagai tamu spesial Junta Terashima dan Yuma Uchida, yang berperan sebagai karakter Shin Ichijo dan Yu Suzuno! Simak terus untuk mengetahui apa yang terjadi di dalam event ini!
Anime Teater "KING OF PRISM -PRIDE the HERO-"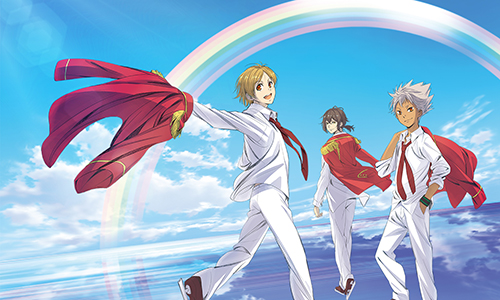 © T-ARTS / syn Sophia / エイベックス・ピクチャーズ / タツノコプロ / キングオブプリズムPH製作委員会
<CAST>
KOJI MIHAMA: Tetsuya Kakihara, HIRO HAYAMI: Tomoaki Maeno, KADUKI NISHINA: Toshiki Masuda, SHIN ICHIJO: Junta Terashima, YUKINOJO TACHIBANA: Soma Saito, TAIGA KOUGAMI: Tasuku Hatanaka, KAKERU JYUUOUIN: Taku Yashiro, MINATO TAKAHASHI: Masashi Igarashi, LEO SAIONJI: Takuma Nagatsuka, YU SUZUNO: Yuma Uchida, JIN NORIDUKI: Shinichiro Miki, LOUIS KISARAGI: Shouta Aoi, ALEXANDER YAMATO: Shunsuke Takeuchi, HIJIRI HIMURO: Toshihiko Seki, REI KUROKAWA: Showtaro Morikubo, RYO YAMADA: Daisuke Namikawa

<STAFF>
Director:Masakazu Hishida
Screenplay:Jou Aoba, CG Director: Yoshihiro Otobe, Original Charactor Design & design: Mai Matsuura, Prism Show Director:Naohiko Kyogoku, Music: Rei Ishizuka, Music Production: Avex Pictures, Music Director:Yukio Nagasaki, Sound Production:HALF H・P STUDIO, Original Work: TAKARA TOMY A.R.T.S / syn Sophia / avex pictures / TATSUNOKO PRODUCTION
Animation Production: TATSUNOKO PRODUCTION, Distributed by: avex pictures,
Produced by: キングオブプリズムPH製作委員会 (lit.: KING OF PRISM PH Production Committee.)
Theatrical Release: Opens at T-JOY Hakata and cinemas throughout Japan from Saturday June 10th 2017
Official Website:
http://kinpri.com/
© T-ARTS / syn Sophia / エイベックス・ピクチャーズ / タツノコプロ / キングオブプリズムPH製作委員会
Artikel Terkait
Link Eksternal
PRESENTS
Semua informasi hadiah asianbeat Present Campaign!
memenangkan paper eyelushes yang telah ditandatangani oleh Milktee-nu Tiara! Jangan lewatkan kesempatan ini!
[Details] Click HERE!
SATU pembaca beruntung dari asianbeat berkesempatan memenangkan kartu yang telah ditandatangani oleh Yu-ki Nishimoto! Jangan lewatkan kesempatan ini!
[Details] Click HERE!