"KING OF PRISM - PRIDE the HERO -" Advanced Screening & Onstage Remarks - Fukuoka Report(1/9)

Featuring a fascinating world beyond compare! This is a dazzling work full of glitter and sparkles! You'll want to see it again and again...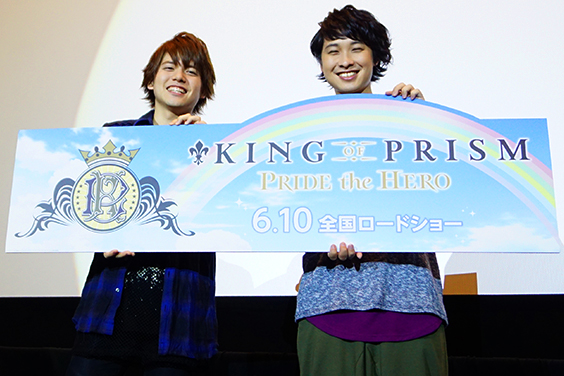 From left: Yuma Uchida (Yu Suzuno), Junta Terashima (Shin Ichijo)
Since its release in January last year, the anime "KING OF PRISM by Pretty Rhythm" has been seen by around 480,000 movie goers, becoming a huge hit thanks to word-of-mouth and the excitement generated by "Ouen Joei," which encourages audience participation during the cinema screenings. The follow-up, "KING OF PRISM - PRIDE the HERO" is set to hit movie theaters nationwide on June 10th! A fantastically talented group of voice artists have joined the cast, including the one of a kind Tomokazu Sugita, who plays the character George Takadanobaba, as well as Koichi Yamadera, Kenyu Horiuchi, Koji Yusa and more. A year and a half since the release of the previous work, we managed to sneak into an advanced screening on May 30th of the new film at T-JOY Hakata! There was also a special guest appearance on stage from Junta Terashima and Yuma Uchida who play the characters Shin Ichijo and Yu Suzuno! Read on to find-out about the event and what they had to say!
Theatrical Anime "KING OF PRISM -PRIDE the HERO-"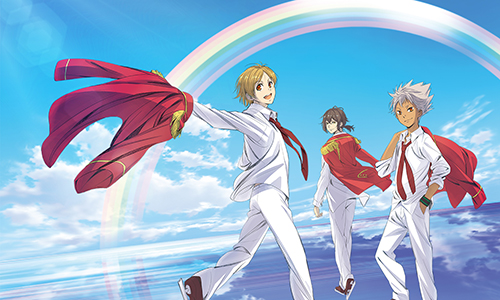 © T-ARTS / syn Sophia / エイベックス・ピクチャーズ / タツノコプロ / キングオブプリズムPH製作委員会
<CAST>
KOJI MIHAMA: Tetsuya Kakihara, HIRO HAYAMI: Tomoaki Maeno, KADUKI NISHINA: Toshiki Masuda, SHIN ICHIJO: Junta Terashima, YUKINOJO TACHIBANA: Soma Saito, TAIGA KOUGAMI: Tasuku Hatanaka, KAKERU JYUUOUIN: Taku Yashiro, MINATO TAKAHASHI: Masashi Igarashi, LEO SAIONJI: Takuma Nagatsuka, YU SUZUNO: Yuma Uchida, JIN NORIDUKI: Shinichiro Miki, LOUIS KISARAGI: Shouta Aoi, ALEXANDER YAMATO: Shunsuke Takeuchi, HIJIRI HIMURO: Toshihiko Seki, REI KUROKAWA: Showtaro Morikubo, RYO YAMADA: Daisuke Namikawa

<STAFF>
Director:Masakazu Hishida
Screenplay:Jou Aoba, CG Director: Yoshihiro Otobe, Original Charactor Design & design: Mai Matsuura, Prism Show Director:Naohiko Kyogoku, Music: Rei Ishizuka, Music Production: Avex Pictures, Music Director:Yukio Nagasaki, Sound Production:HALF H・P STUDIO, Original Work: TAKARA TOMY A.R.T.S / syn Sophia / avex pictures / TATSUNOKO PRODUCTION
Animation Production: TATSUNOKO PRODUCTION, Distributed by: avex pictures,
Produced by: キングオブプリズムPH製作委員会 (lit.: KING OF PRISM PH Production Committee.)
Theatrical Release: Opens at T-JOY Hakata and cinemas throughout Japan from Saturday June 10th 2017
Official Website:
http://kinpri.com/
© T-ARTS / syn Sophia / エイベックス・ピクチャーズ / タツノコプロ / キングオブプリズムPH製作委員会
Related Articles

External Links
PRESENTS
All the info. on asianbeat's present campaign!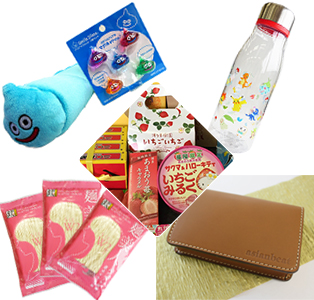 * Take Part in Our Reader Survey and Win a Really Great Prize!
[Details] Click
HERE
!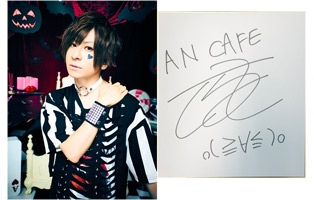 * Win a card signed by AN CAFE / Teruki!
[Details] Click
HERE
!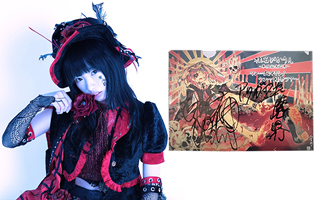 * Win a file signed by Pikarin Shiina!
[Details] Click
HERE
!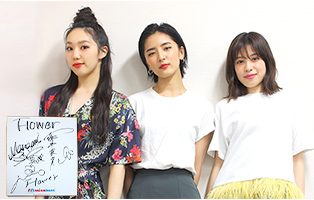 * Win a card signed by Flower's Manami Shigetome, Shuuka Fujii, and Mio Nakajima!
[Details] Click
HERE
!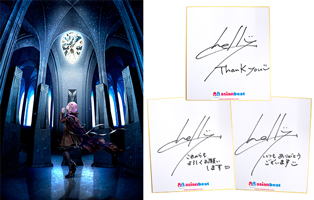 * Win a card signed by EGOIST chelly!
[Details] Click
HERE
!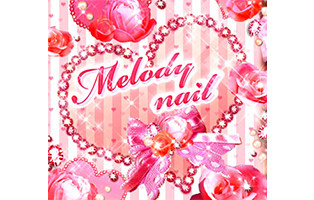 * Win a free 60-minute course ticket for "Melodynail"!
[Details] Click
HERE
!