FASHION SNAPS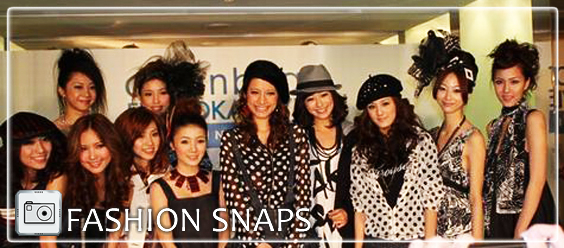 Want to keep up-to-date with the latest fashions coming out of Japan? Check out our FASHION SNAPS corner and see what trends are big on the streets of Japan right now!
Pose! Pose! Pose! *SNAP*
Work created by young talent who are studying at OMULA BEAUTY CREATES was exhibited on 25th Feb! Check-out our photo report and enjoy some standout pieces from the nine segments that made up the "OMULA FINAL CONTEST" show!

Misako Aoki attended a lolita-themed tea party in Hanoi, Vietnam on 18th November! Check-out our photo report to find-out more!

The "Lolita Tea Party in Fukuoka 2016" was held on 3rd November. During the event there was a talk from Japan Lolita Association President Misako Aoki and a fashion contest for the participants. The Omula Beauty Creates also helped give international students lolita makeovers! Find-out what happened at this gorgeous, cozy lolita tea party!

The TOKYO GIRLS COLLECTION finally came to Kyushu! We've got reports from the "TGC KITAKYUSHU 2015" runway and venue, as well as interviews with GENKING and Arie Mizusawa!

2016.02.05

This year girls in Fukuoka that hold a deep love for fashion once again found themselves at the Fukuoka International Center! The Asian Kawaii Ambassadors also made an appearance and gave an outstanding performance.

2014.05.12

We followed the Kawaii Ambassadors all through their stay, including the rehearsal to the day of the actual event. For details check out our report!

2014.05.09

In Fukuoka it is well-known that on the first day of August of every year the Ohori Fireworks Show takes place. And so we've chosen today to take our snaps for our Beautiful Yukata Girls & Handsome Yukata Boys editorial edition. To summarize it it one simple phrase - everybody's looking great! Please take a look for yourself and see if you like any of the following yukata!

2013.08.26

Over August 3rd and 4th of 2013, PARCO held a Fukuoka, Tenjin Summer Festival. We made sure to take a few photos of the attending university girls in their gorgeous yukata! You can see a variety, from the now-trending traditional weaves to the more flowery and modern ones. Please have a look for yourself!

2013.08.26

Japan Lolita Association Tea Party - photo report (Part2)

2013.07.12

Japan Lolita Association Tea Party - photo report (Part1)

2013.07.08

On September 9 2012, FACo in Dalian was held.This is the show's photo report!

Editorial department of S cawaii! China Report about FACo2012.

March 25, 2012 FACo(Fukuoka Asia Collection)2012 was held.This snap is the first half of Asia Stage.

On September 4th 2011, FACo in Dalian was held.This is the show's photo report!
Related Articles