COSPLAY SNAPS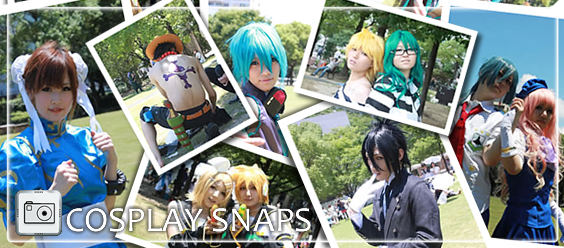 Anime and cosplay are two of the leading icons of pop culture in Japan today. In this corner we will introduce photographs of cosplayers at events covered by asianbeat in Japan and the around the world.
Cosplay Around the World!
Located in Canal City Hakata, "teamLab Island – Learn & Play! Future Park" hosted a special one-off cosplay event on Saturday 20th January 2018! Find-out more about the "teamLab Hakata Cosplay Night" in our special photo report!

2018.01.25

The bright lights illuminating Fukuoka City are a sure sign that the festive period has arrived! Make sure to check-out our feature on the "Rakushow & MINCOS in TNC TV Bldg. Blue Light Christmas 2017!" We took some snaps of cosplayers who were at the venue!

"KURATE GAKUEN" recently hosted its first culture festival. Located in Kurate-machi, Fukuoka-ken, this facility is known for staging cosplay and sub-culture events. Check-out our report to find-out what went down during the event!

The "WORLD COSPLAY SUMMIT 2018 Kyushu Japanese Preliminary Qualifying Round" was held during the "Kitakyushu Pop Culture Festival 2017!" The competition saw three pairs battle it out for the chance to proceed to the national qualifiers and possibly earn the right to represent Japan at the World Cosplay Summit!

2017.12.04

If you're on the topic of Christmas, don't forget about the "Rakushow & MINCOS in TNC TV Bldg. Blue Light Christmas 2016!" Held over the 17th and 18th December, our report brings you all the excitement from the first day of this popular cosplay event!

The "World Cosplay Summit" was held from Friday 30th July 30 to Sunday 7th August 2016. The competition came to a climax with all the teams who had won their respective preliminary rounds coming from all over the world to meet in Nagoya, Japan! And as you can imagine, the cosplay that was on display was of the highest quality!

With events taking place at locations all over Asia, the "Cosplay Collection" is an event that is popular both inside Japan and overseas. On May 29th 2016 the "Cosplay Collection 011 in Fukuoka" took place at the Hakata Port International Terminal and you can find-out more about the day in our report, here!

On Sunday 29th November 2016, the World Cosplay Summit, Japan Preliminary-Kyushu Qualifying Round was held in Kitakyushu City. Held outdoors at the "Kitakyushu Pop Culture Festival 2015," the highly entertaining Kyushu Qualifying Round saw competitors battle it out on stage in Asano Shiokaze Park!


2016.01.29

We took photos of lots of the cosplayers who attended the "asianbeat Vietnam Momiji Matsuri!" There's a wide variety of snaps to explore, featuring everyone from kawaii cosplayers to super cool cosplayers! Have a look and check them out!

2016.01.25

The "Rakushow & MINOS in TV TNC Bldg. Blue Light Christmas 2015" took place over two days on the 19th and 20th December 2015. Check-out our report on what went down on the first day of the event, right here! There's all kinds of popular anime and Christmas-themed cosplay photographs for you to enjoy, so be sure not to miss-out!

asianbeat got the chance to meet and take photographs of some of the cosplayers who were at the "Kitakyushu Pop Culture Festival 2015!"

2015.12.29

This year, "C3 in HongKong 2014" has been officially approved by WCS(World Cosplay Summit) and the winner of the "C3 in HongKong 2014" had a chance to participate WCS finals as a representative! Let's see what this event was like!!

In this cosplay report, we will be covering the 2013 Rakushow & MINCOS Blue Light Christmas event that took place December 22nd at the TNC TV building in Fukuoka. Please have a look at our collaborative Christmas illumination snaps alongside some fantastic cosplay!

In this edition we bring to you an update on the "Kuma Fest" pop culture event that took place on December 8th, 2013! From the newest of the new to the more steadfast, traditional items, many products were put out alongside these glamorous cosplayers! Please have a look!

A cosplay photo report of the Cosplay Parade & Photo session in "Daimyo Festival 2013"

On March 15-18 2013, C3 in HongKong 2013 (C3 Japanese Anime Expo 2013) was held @Hong Kong Convention & Exhibition Centre.
Related Articles: Cosplayers Laboratory