Message and prizes from special guests!
Attention asianbeat readers and anyone thinking about applying to the "MCPO AWARD" in the future! The judges and special guests at the third annual MCPO AWARD had a few special messages that they wanted passed on to the fans! There are also some great prizes to be won! Fukuoka native and renowned manga artist Ueyama Tochi was joined by Rikudou Koushi, Seguchi Takahiro, and illustrator Hibiki Reine! Read-on to find-out what they had to say!

We're looking forward to see fun manga / illustration works!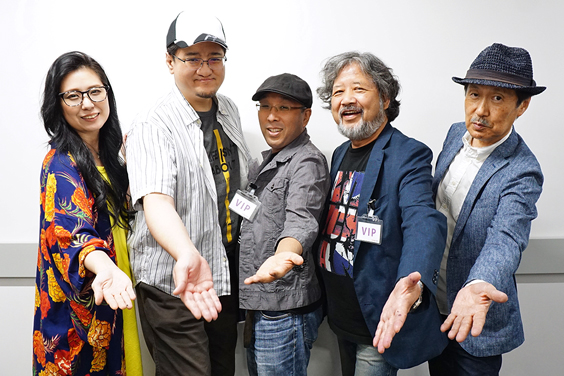 (From left) Hibiki Reine, Rikudou Koushi, Seguchi Takahiro,Ueyama Tochi, and Makoto Kaneuji (Manga CPO)
Ueyama Tochi
: Let's come together and join forces with "manga" as our shared point of interest! We're looking forward to seeing your fun manga and illustrations!
Rikudou Koushi
: The applications are getting better each year. The level is definitely improving! Challenge yourself without worrying too much... Throw yourself at it! That is what really counts... That is the most important thing! An artists' passion really shines through in their work. I could detect that in a lot of entries from overseas. That's one aspect of the competition that I found very interesting!
Seguchi Takahiro
: I'm really enjoyed going through all the entries. The number of international applications continues to increase. At the same time, I have sensed some of the Japanese applicants are holding something back. They seem to be somewhat restrained. If any artists in Japan are reading this... We're looking forward to seeing artwork filled with passion! Good luck!
Hibiki Reine
: The illustration section at the third MCPO AWARD recieved a lot of artistic entries that feature a character mainly in the composition. As an illustrator in the manga industry, I would love to see even more "character" driven pieces of art! I am looking to seeing your creations!
PRESENT!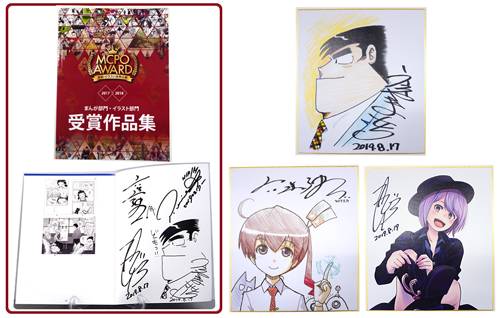 Win a compilation of MCPO AWARD winning artwork! The collection also includes the autographs of Ueyama Tochi, Rikudou Koushi, Seguchi Takahiro, and Hibiki Reine! We only have ONE to give away! We also have cards signed by Ueyama Tochi, Rikudou Koushi, and Seguchi Takahiro (*each artist has signed one card) for THREE lucky readers! Make sure to apply straight away to be in with a chance of winning! We're looking forward to hearing from you!
[Application Period] Satuday, 14th September 2019 - Sunday, 20th October 2019
[Winner Announcement] Wednesday, 23rd October 2019
Enter Here!!

(Please note, winners will receive an email directly from asianbeat. If you don not reply with a confirmation message within a week, you application will become invalid and you will not be able to claim your prize.)