That's why I always love you Fukuoka - Travelogues of fantastic Fukuoka - by Zcongklod Bangyikhan

Fukuoka in the Fall - Zcongklod Bangyikhan goes in Search of the Authentic Japanese Experience
Penulis dan pemimpin redaksi majalah bulanan tentang budaya yang populer di Thailand, "a day", Zcongklod Bangyikhan terkenal sebagai pemimpin dari kebudayaan anak muda di Thailand dan di dukung oleh banyak anak muda di sana.
Ketika pertama kali mengunjungi Fukuoka pada tahun 2010, dengan semangat yang tinggi, Zcongklod mempelajari area-area sekitar prefektur dan menulis artikel di kolom nya sendiri, di asianbeat portal bahasa Thailand selama 1 tahun"That's why I love you FUKUOKA ~ Travelogues of fantastic Fukuoka,". Zcongklod mempersembahkan hal-hal yang indah dari Fukuoka yang lihat dari sudut pandang unik nya sendiri dan membuat orang-orang di Thailand untuk tertarik dengan Fukuoka dan Kyushu.

Zcongklod sekali lagi balik kembali ke Fukuoka untuk mengunjungi daerah pinggiran dari Fukuoka dan menyampaikan pemandangan lokal dan kultur tradisional yang jarang diketahui serta musim gugur Jepang yang unik dan indah. Setelah 6 artikel yang pernah dipublikasikan, artikel ini akan di muat dalam kolom yang baru, "That's why I always love you FUKUOKA -Travelogues of fantastic Fukuoka."Disini Anda bisa membaca semua perjalanan Zcongklod dan mengeksplor semua tentang Fukuoka yang sangat disukai Zcongklod.
Profile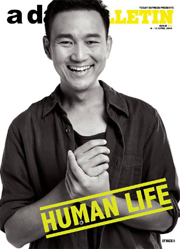 Zcongklod Bangyikhan

Editor-in-Chief of "a day" and Human Ride magazine, writer, environmentalist, and traveler.

Facebook:
https://www.facebook.com/ZcongklodPage
Twitter:
https://twitter.com/zcongklod
Instagram:
https://www.instagram.com/zcongklod/

PRESENTS
Semua informasi hadiah asianbeat Present Campaign!
◆ Winner announced! Menangkankartu yang telah ditandatangani oleh Aoyama Yoshino dan Suzushiro Sayumi!
◆ Winner announced! Menangkankartu yang telah ditandatangani oleh Okasaki Miho, Kumada Akane, dan MindaRyn!
◆ Winner announced! Menangkan Movie "Tensura" official acrylic smartphone stand dan Rimuru eco bag!