That's why I always love you Fukuoka - Travelogues of fantastic Fukuoka - by Zcongklod Bangyikhan

Fukuoka in the Fall - Zcongklod Bangyikhan goes in Search of the Authentic Japanese Experience
Writer and editor-in-chief of Thailand's popular monthly culture magazine, "a day," Zcongklod Bangyikhan is well known as a leader of youth culture in Thailand and has a lot of support from the young people there.
When he first visited Fukuoka in 2010, Zcongklod enthusiastically researched the areas around the prefecture and wrote articles for his own column, "That's why I love you FUKUOKA ~ Travelogues of fantastic Fukuoka," on the asianbeat Thai language portal over the course of one year. He presented the good points of Fukuoka from his own unique point of view and helped the people of Thailand take an interest in Fukuoka and greater Kyushu.

Zcongklod has since returned to Fukuoka once more to visit the more suburban areas of the city and relay anew the local landscapes and traditional culture, as well as the seasonal delicacies unique to Japan's autumn months.
Over six installments, these articles will be published under the new column, "That's why I always love you FUKUOKA -Travelogues of fantastic Fukuoka." Here you can read up on all of Zcongklod's travels and discover for yourself what it is about Fukuoka that he loves so much.
Profile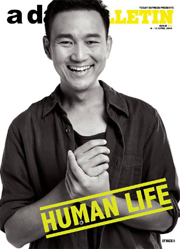 Zcongklod Bangyikhan

Editor-in-Chief of "a day" and Human Ride magazine, writer, environmentalist, and traveler.

Facebook:
https://www.facebook.com/ZcongklodPage
Twitter:
https://twitter.com/zcongklod
Instagram:
https://www.instagram.com/zcongklod/

Related Articles