World Wide EVA
WORLD WIDE EVANGELION

"World Wide EVA"Here we look at the Japanese Evangelion phenomena that have spread throughout the world.
We bring you interesting articles on Evangelion, as well as content provided by readers.Make sure you check them out!
Feature article (Click the image!)
World EVA News

Evangelion is not only popular in Japan, but overseas too. We caught up with Shigeno Makoto, the editor of the Thai cosplay magazine "COSMODE THAILAND" to find out the latest on Evangelion overseas.
Pop Culture Now [EVA edition]
From the popular feature POP CULTURE NOW we bring you a special EVA edition featuring current trivia and knowledge.
From Asia [Eva Edition]

asianbeat's popular corner FROM ASIA brings you the latest pop culture news from Hong Kong, Beijing, Taipei, Thailand and the rest of Asia.
Photo report of "Evangelion and Katana (Japanese swords) Exhibition"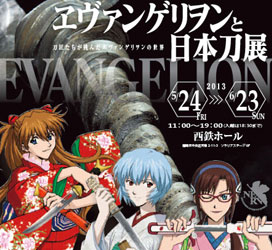 Click the image to read.