Interview Now ~ 佐藤元 (Sato Gen)、天﨑滉平 (Amasaki Kohei) ~(1/2)

An event supporting voice artists from Fukuoka was held on September 26th (Sun)! "Next Stars Circle vol.6" took place in Fukuoka City and featured "Next Star" Sato Gen and special guest Amasaki Kohei! Our report features information about the day and a special interview with the two of them! Don't miss out on the chance to win a wonderful gift! Keep reading to find out more!
It is great that you get the chance to celebrate the birthdays of the characters you portray!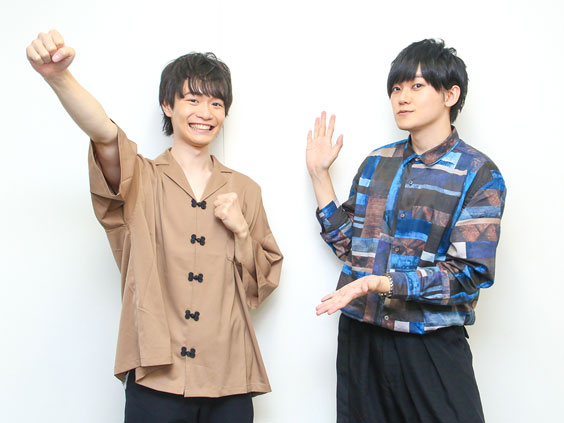 (From the left) Sato Gen and Amasaki Kohei
asianbeat (hereafter referred to as ab): Wow, the show just flew by! We got the chance to learn more about you at this event. Did you guys make any new discoveries about each other during this visit to Fukuoka?
Amasaki Kohei
: I always knew that even off-screen Gen-kun has a strong thirst for knowledge. There was not enough time (to find out more) on this occasion, so I had to stop, but Gen-kun kept talking about checking out Fukuoka food and restaurants with his manager (laughs)!
Sato Gen
: Today I found myself on stage thinking "I want to talk about this or act like this way," Amasaki-san knew what I wanted to do straight away. He quickly steered me in the right direction to make sure that it could happen! It was very impressive and reminded me that he is such a kind person!
ab: Have you ever had a moment you've felt "I'm glad I became a voice artist?"
Amasaki
: The reason I became a voice actor was because the anime industry saved me. So now, I hope that people can get through the day by watching the productions that I'm involved in. I'm very happy to receive letters from fans who say this kind of thing! Also, it's cool that I get to celebrate the birthdays of all the characters I've played. Not just my own! I'm really happy to know that there are so many people who love my characters!
Sato
: I definitely get what you mean! I feel like once I have portrayed a character, it then belongs to the fans. I am so happy for the characters when they receive birthday wishes (from official websites and the fans).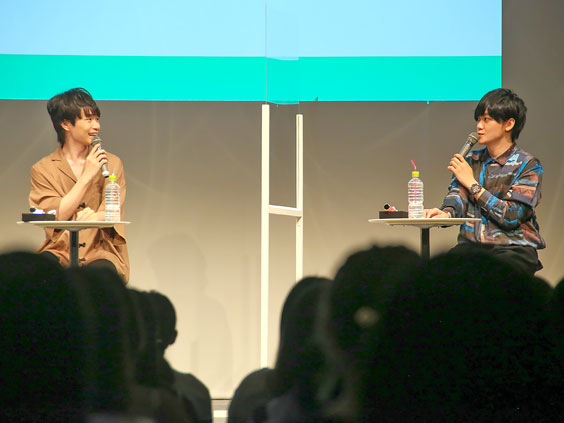 Photo from the "Next Stars Circle vol.6" afternoon session
©︎Next Stars Circle
ab: Voice artists often have to audition for roles, right? Do you have a thought process or any kinds of routine for your auditions?
Amasaki
: In the past, I used to wake up, stretch, do muscle training, and then vocal practice for 4 hours before work, but there were times I couldn't bring myself to do it. Right now, I just go with the flow and let my body decide.
Sato
: Yeah, me too! My routine is... Not have a routine (laughs). However, I think it's important to take the time to think about the production and work on yourself everyday. If you keep yourself in good shape, you'll always be ready for a performance.
ab: We know that both you play various characters. Is it ever difficult to switch between characters if you are recording different projects at the same time?
Sato
: It's hard ... But switching between characters is not necessarily the toughest thing. Our job is to get as close to the character as possible. I sometimes stress out about it and worry until I feel satisfied. There are moments I feel like I figure it out and think to myself "oh wait, I think I actually did become the character!" Those are a lot of fun!
Amasaki
: It depends on the project. Some productions are very serious and intense. At the beginning of my career I experienced a lot of stress and it even affected my personal life. My weight fluctuated a lot due to the stress. I would get extremely thin and then gained weight. Right now, I try to view things from a bird's-eye view but knowing how to maintain distance from a character is still an issue for me.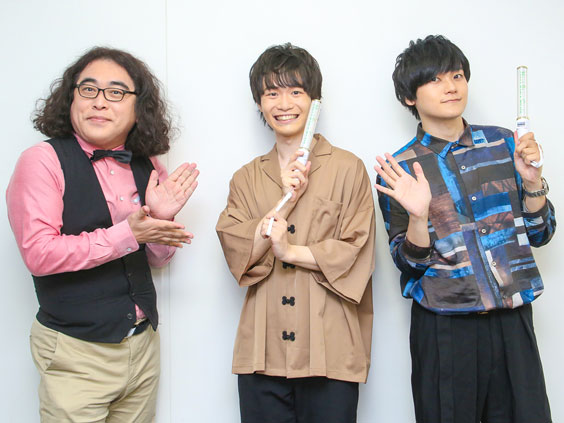 ab: Sato-san, you voice Tomozaki Fumiya in the anime "Bottom-tier Character Tomozaki-kun." The character is supposed to be the best in the country at playing fighting video games. Sato-san, is there anything that you can proudly claim to be the best at doing?
Sato
: The strong desire to fully transform into a character... That is something I don't want to be beaten at! Just like the character I played in that anime! Even though I'm in a recording studio filled with tension, feeling super nervous in front of the microphone, I really like to approach the role thinking about how to give the best performance possible! It's a rush!
ab: Your cooking program "Minna Oshiete (Everyone teach me!) Amasa-kitchen" is being streamed live. Amasaki-san, can you tell us what kind of meal you would serve if you had your closest friends round for dinner at your place?
Amasaki
: Hmmm, motsunabe hot pot? Maybe it is because I want to eat it now (laughs). I would probably ask them "what do you want to eat?" If it something I can handle, I will try to make it. If it's not something I can make, I'll ask them how to do it and then prepare it together. If we still can't figure it out... Maybe I'll ask "is it okay we have motsunabe?"(laughs)
ab: Lastly, do you have a message for your fans in Japan and overseas and the asianebeat readers?
Sato
: It would be great if people look beyond me as an actor and enjoy the characters I play without discomfort. I would be so happy if lots of people out there enjoy one of the productions I've worked on. I will continue to do my best, thank you for your support!
Amasaki
: Anime and otaku culture are wonderful things! The enthusiasm of those involved in the creative process and the viewers fuse together to create these cultures! As someone involved in both anime and otaku culture, I hope to continue having a blast with everyone!