Interview Now - 長谷徳人 (Hase Norihito), 伊東健人 (Ito Kent) -(1/2)

The "Next Stars Circle (Nexta)" vol. 002 took place on 28th September 2019 in Fukuoka City! The event aims to support up-and-coming voice artists! We had the chance to interview guest stars Hase Norihito and Ito Kent♪ We have special prizes to give away, so be sure to keep reading!

I would love to find-out more about Fukuoka!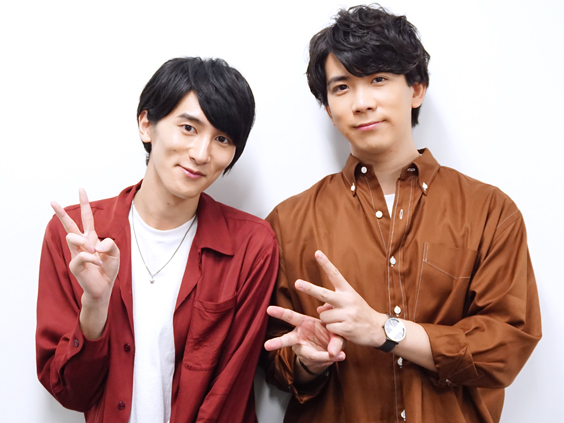 From left: 長谷徳人 (Hase Norihito) and 伊東健人 (Ito Kent)
asianbeat (hereafter referred to as ab): You just finished your afternoon performance! How did it go?
Hase Norihito
: We received such a warm welcome from the audience. Appearing on stage with my senpai (lit.: senior) was an awesome experience. It was great to be here with Ito and Matsuzaki, who helped make sure that everything ran smoothly. This was my first trip to Fukuoka, but I am already starting to fall in love with the place!
Ito Kent
: It was the first time that I had experienced any kind of parental feelings while on stage. It felt a bit strange. We spoke about a wide range of topics. The atmosphere was not like any venue I have been in before. It was a lot of fun!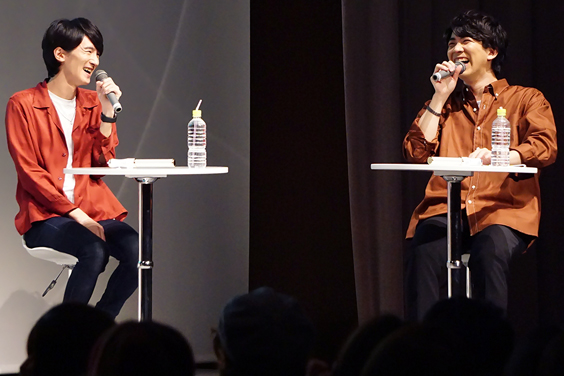 ab: Have you had the chance to take a walk around Fukuoka and explore the city?
Hase
: I haven't had a chance to explore the tourist attractions, but I did try some of the local food, like motsunabe and mentaiko! It was delicious!
Ito
: The city streets are so interesting! You can easily find a huge shrine just around the corner from a big building. Fukuoka is so close to Asia. I started to think about the influence that other Asian cultures and regions have had on Fukuoka while I was walking around the streets. The cityscape reflects Fukuoka unique history.
ab: How do voice artists approach daily life? Can you tell us a bit about your mindset?
Hase
: When I leave home I say to myself "I'm Hase Norihito. I'm a professional voice artist." I try to make sure I have good posture, walk upright, and live up to that reputation.
Ito
: A rebellious spirit and the determination not to lose. I think the ability to act is a key part of voice work. It all comes back to acting. When it comes to playing a role and delivering a good performance. Well, my current state of mind views it like this... I think it is important to lead a colorful life, full of rich experiences.
ab: Is there anything you can't live without? What is important to you?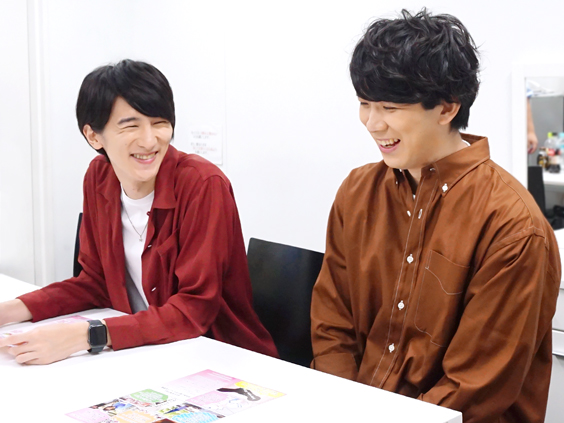 Hase
: I am the type of person who likes a fixed routine. I get up at exactly the same time every day. I even have the same drinks and food supplements. I also walk. The sight of beautiful natural scenery and impressive creations built by humans helps me to relax. The Fukuoka cityscape is made up of beautiful structures and buildings created by human beings! It looks like it would be a lot of fun to stroll around Fukuoka!
Ito
: I think eating with others is so important. Sitting down and sharing a meal with people is something I cherish. It is easy to get stuck if you try and solve problems by yourself. But when you talk to somebody you can find a solution. It does not matter what you talk about... Your worries will very naturally start to fade away. These kinds of times are so precious to me.
ab: Japanese seiyu (voice artists) have been winning over new fans both in Japan and abroad. The level of interest and attention on artists in your industry appears to be on the rise. Do you ever get any feedback or messages from fans outside of Japan?
Hase
: I sometimes receive comments from people outside of Japan on social media after I've finished a performance. Those kinds of reactions give me a lot of motivation. I love traveling... I'm hoping that someday I can participate in events overseas. Getting feedback from people outside of Japan feels like I am getting one step closer to my goal!
Ito
: These days we have social media, so its much easier to hear what people think outside of Japan. I love receiving feedback in other languages. I find the idea that people abroad watch and support us very encouraging! Even some people overseas say that they want to hear the voices of characters recorded by Japanese voice artists. Hearing that kind of thing makes me feel like our profession is important to people overseas.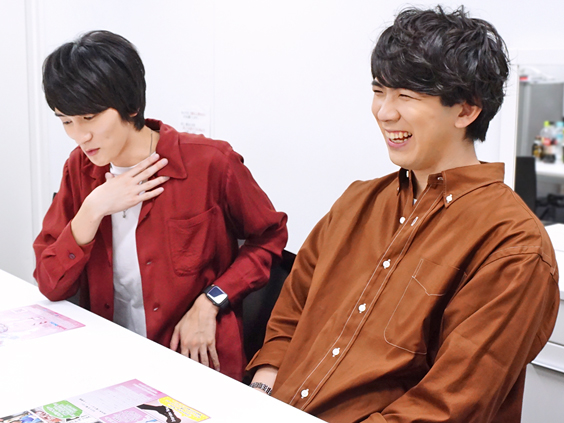 ab: Do you have a message for the asianbeat readers?
Hase
: I heard that there are not so many events that feature voice artists in Fukuoka. It would be great if there were more anime-related activities in Fukuoka that include voice artists. That would help the culture around anime to spread in the local area. I will work hard in my industry so that I get more chance to come back to Fukuoka!
Ito
:In terms of content created in Japan... Most stuff is usually distributed in Tokyo first. However Fukuoka is so close to Asia. It could be a great hub of activity. It might be easier for things to spread across the globe if they went through Fukuoka more! I want to come back to Fukuoka again and find-out evener about this city!