Interview Now - 長江里加 (Nagae Rika), 津田美波 (Tsuda Minami), 高橋花林 (Takahashi Karin) - (1/2)

The voice actor supporting event originated in Fukuoka ― "Next Stars Circle vol.5" ― was held on 18th July (Sun) in Fukuoka City. We are here to share everything about the event as well as the interview with Nagae Rika, Tsuda Minami, and Takahashi Karin! Read until the end so that you don't miss the chance to win a prize♪
It was nice for 3 of us to have attended together! Wanna go to Itoshima someday!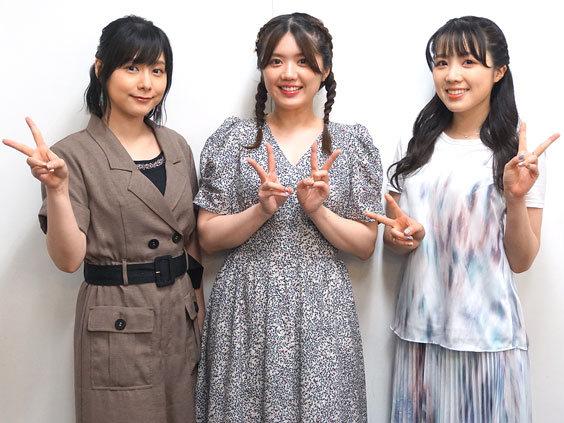 (From the left) Tsuda Minami, Nagae Rika, and Takahashi Karin
asianbeat (hereafter referred to as ab): You just finished "Next Stars Circle vol.5" (the afternoon session). Can you tell us how do you feel about it?
長江里加 (Nagae Rika)
: I could feel that both Tsuda-san and Karin-san were motivating me! I think I'd do my best, and it was really nice for 3 of us to have attended this event together!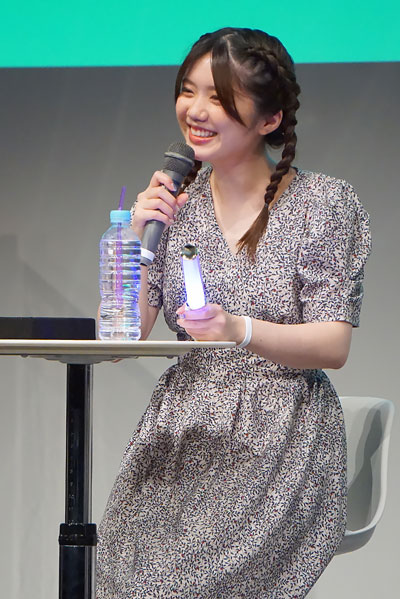 ab: What are the personality of each of you that you've found out through this opportunity in Fukuoka?
Nagae
: Ms. Tsuda is surprisingly a foodie! Ms. Takahashi is as usual, having the ability to make people feel secured and comfortable. She was so cute when she kept saying "I really like vehicles!" on the plane♪
津田美波 (Tsuda Minami)
: Nagae seemed like a serious person but later I found that she has a very "junior" kind of personality that makes her look like a little sister to me.
高橋花林 (Takahashi Karin)
: (Looked at Nagae) I thought, "Oh, she really takes a lot of pictures." And Ms. Tsuda is just being herself because she always starts eating immediately after the food is served (lol).
ab: What are you looking forward to at an in-person event with fans?
Nagae
: I'd share things about myself as much as possible and I hope they like it!
Tsuda
: I'll get nervous, but when I see their faces from the stage I feel relieved. It's great to be able to meet them in person and see them enjoying the time.
Takahashi
: Usually fans could only listen to my voice or see me through social media, so I'd really want to meet them at such event and wave to them as much as possible♪
ab: As a voice actor, what's the thing that's indispensable to you in your daily life?
Nagae
: No matter how, try not to catch a cold.
Tsuda
: Food. I'm the kind of person that would work harder if I had a nice meal!
Takahashi
: For me it's sleep! I love using mouton futon / mattress. When I get tired I become mentally exhausted too and I can't express emotions well.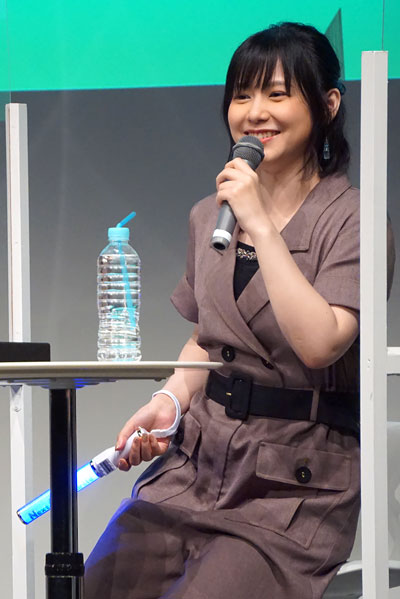 ab: It seems like all of you have chances to sing, just like when you're in "THE IDOLM@STER" series. Is it difficult to sing in a character's voice?
Nagae
: I think it's easier for me to sing when there's a character setting!
Takahashi
: I sing as if I'm talking, so it's never been a difficult thing for me.
Tsuda
: It's hard for me because I change my voice according to the character I play. I've always had this problem.
ab: Oh I see! So, since most of us have more time staying home due to the pandemic, is there anything you're into now?
Nagae
: Well, I enjoy making things, eating, taking photos and sharing them on social media!
Tsuda
: I kinda enjoyed playing games, like "戦国無双 (Samurai Warriors)" series.
Takahashi
: Since I started working on "Assault Lily" I'm into playing with dolls! It's fun to change the dolls' clothes.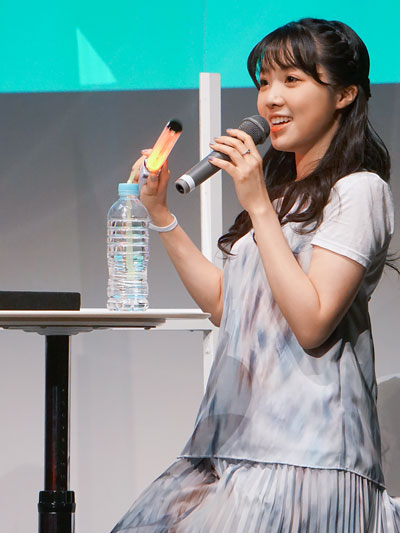 ab: I heard that you've toured Fukuoka according to Ms. Nagae's "Plan A" the day before the event, and been to places such as Fukuoka Tower and Sukesan Udon. What was the "Plan B" that you'd prepared for a fine weather?
Nagae
: A tour in Itoshima! I searched on Instagram and TikTok and found the two-seater swing and nice Kaisen-don...
Tsuda
: Next time I'd like to try
torikawa
(grilled chicken skin) and visit the sunflower field!
Takahashi
: Kitakyushu and Dazaifu seem nice too!
ab: Lastly, is there anything you'd like to say to all of the fans and asianbeat readers?
Nagae
: Take a look at my Instagram and you'll see the world of Nagae Rika!
Takahashi
: I'd like to tell all of the fans from Korea, China, Vietnam, and other places, who've written comments in Japanese, that "I've got it!" I'll pay back by keeping up my work!
Tsuda
: It gives me confidence to be able to get support from not only people in Japan but the whole world, so I'll keep up and do better. Look forward to hearing from you again!