[Present Campaign] Follow Facebook @asianbeatINDONESIA dan menangkan hadiah menarik!

Follow Facebook asianbeat Indonesia, dan bagikan pesan dan kesan kalian terkait video tentang Fukuoka!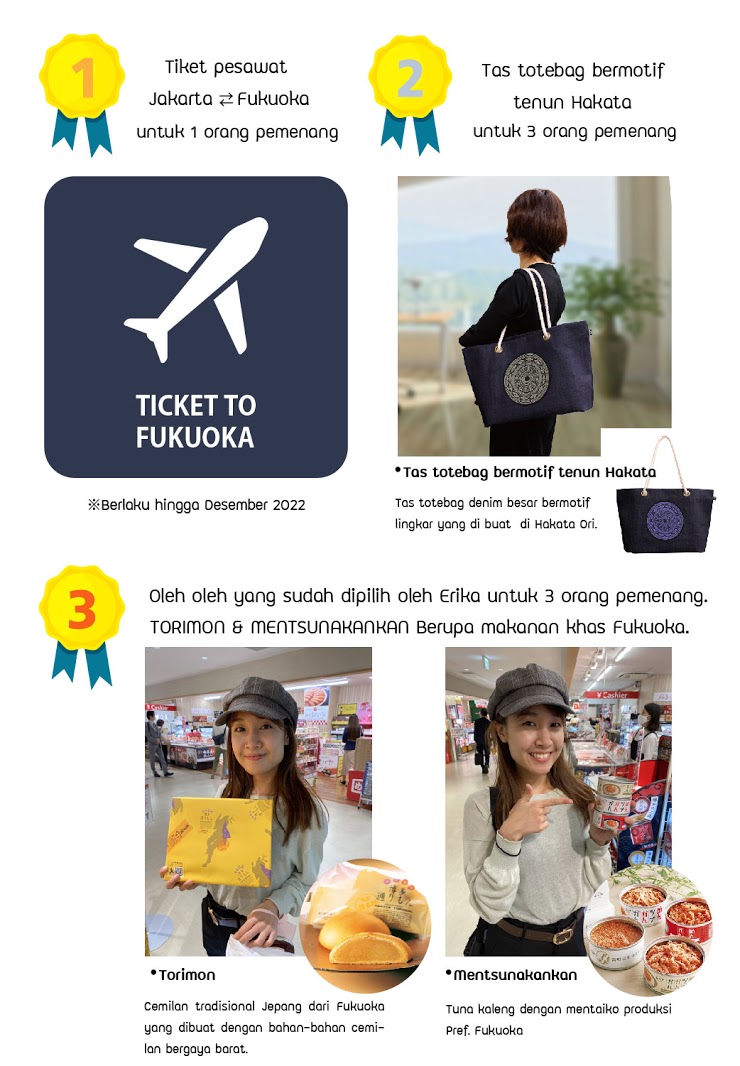 Berkat dukungan para pembaca, asianbeat edisi Bahasa Indonesia yang dimulai pada September 2015 pun telah berjalan selama lebih dari 5 tahun. Kami akan terus membagikan berbagai informasi terkini dari Fukuoka dan dari dunia pop-culture Jepang, terutama kepada para pembaca di Indonesia! Kali ini, kami telah menghadirkan artikel khusus perjalanan ERIKA, seorang influencer populer yang telah berkunjung ke Fukuoka! Untuk membagikan momen ketika influencer populer ERIKA berkunjung ke Fukuoka kepada para pembaca, dan dengan harapan agar semakin banyak orang mengenal tentang Fukuoka dan asianbeat, kali ini kami mengadakan present campaign! Mulai dari tiket pesawat pulang pergi Fukuoka-Jakarta hingga goods pilihan ERIKA ketika ia berjalan-jalan di Fukuoka, kami telah menyediakan berbagai hadiah terkait Fukuoka untuk para pembaca yang beruntung! Segera daftarkan diri kalian!
Total 7 peserta yang beruntung berkesempatan untuk memenangkan hadiah menarik! Follow akun Facebook"
@asianbeatINDONESIA
" dan cek ketentuan present campaign kali ini di sini↓

- Periode Present Campaign
Jumat, 13 November 2020 - Rabu, 6 Januari 2021
- Jadwal Pengumuman Pemenang
Rabu, 20 Januari 2021
* Pemenang undian akan dihubungi langsung melalui email ab_indonesia2020@asianbeat.com
 ● Video pengenalan tentang Fukuoka
Artikel Terkait

PRESENTS
Semua informasi hadiah asianbeat Present Campaign!
* "A local specialty set discovered during the trip to Tagawa Area giveaway! Apply by Mon. 11 Jan. 2021 (JST)!