[Broadcast Postponed] Agensi voice actor manakah yang paling kuat!? Program streaming pertandingan trump card antara agensi voice actor "Trumpin' Beat" akan dimulai Januari 2021 mendatang!


"Trumpin' Beat" Broadcast Postponed

According to the official website, as filming for "Trumpin' Beat" has been delayed due to declaration of a state of emergency, broadcast of the show is postponed, of which the premiere was originally scheduled on Friday, 15 January (as of 14.01.2021). For further information, please visit the official website / SNS accounts.

- Official Website: https://www.trumpinbeat.com/
- Twitter: @TrumpinBeat
- Facebook: @TrumpinBeat
- Instagram: @trumpinbeat


Melampaui batasan agensi, para voice actor terkenal pun menghadirkan suasana yang seru!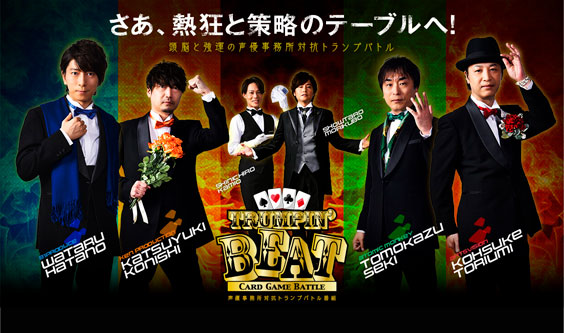 Dunia trump card yang simple namun dalam, berawal dari deck yang terdiri dari sekitar 50 lembar kartu. Permainan kartu ini akan jadi ajang perebutan gelar "terkuat di dunia voice acting" di mana para voice actor ternama berkompetisi mewakili kantor agensi mereka masing-masing! Program baru "Trumpin' Beat" dari PLANET CO., LTD. perusahaan dari Kota Fukuoka yang juga merupakan penyelenggara event dukungan terhadap voice actor asal Fukuoka "Next Stars Circle" ini dijadwalkan akan tayang mulai 15 Januari 2021 di niconico channel (siaran berlangganan) dan sebagian cuplikan dari program ini juga akan ditayangkan di YouTube channel mereka secara gratis. Dalam episode pertama, team leader dari 4 agensi voice actor ternama pun akan bertarung, memainkan 4 permainan kartu: "babanuki"(Old Maid), "shichi-narabe"(Sevens), doubt, dan memori!

Yang akan bertanding kali ini adalah: Toriumi Kohsuke (pengisi suara Imaizumi Shunsuke dari "YOWAMUSHI PEDAL") dari ARTS VISION, Seki Tomokazu (pengisi suara Suneo dari "Doraemon") dari Atomic Monkey, Hatano Wataru (pengisi suara Yaotome Gaku dari "IDOLiSH7") dari 81PRODUCE, dan Konishi Katsuyuki (pengisi suara Sherlock Holmes dari "KABUKICHO SHERLOCK") dari KEN PRODUCTION! Tidak hanya itu, juga akan ada Morikubo Showtaro (Nara Shikamaru dari "NARUTO -ナルト-") sebagai MC dan game master, dan Kamio Shinichiro (Kiryu Kuro dari "ENSEMBLE STARS!") yang ahli trik magic yang kali ini akan tampil sebagai dealer. Melalui kompetisi ini, berbagai hal menarik mulai dari kepribadian hingga pola pikir para voice actor pun akan terungkap! Jangan lupa simak "Trumpin' Beat"! (Dept. Editorial: Nika)
INFORMASI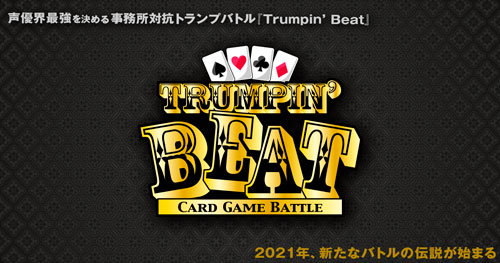 Trumpin'Beat / トランピンビート
- Official Website:
https://www.trumpinbeat.com/
- niconico channel (ニコニコチャンネル):
https://ch.nicovideo.jp/TrumpinBeat
- YouTube:
HERE
!
- Twitter:
@TrumpinBeat
- Facebook:
@TrumpinBeat
- Instagram:
@trumpinbeat
Artikel Terkait
PRESENTS
Semua informasi hadiah asianbeat Present Campaign!
* "A local specialty set discovered during the trip to Tagawa Area giveaway! Apply by Mon. 11 Jan. 2021 (JST)!