[Feature] Fukuoka Manhole Guide (List of Manholes and background information)(2/52)
Asakura-shi [朝倉市]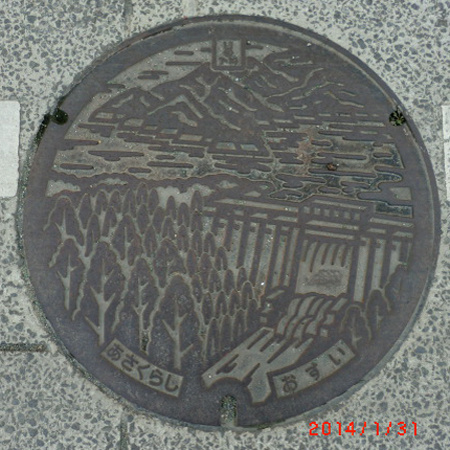 This sewage pipe manhole cover is a special design that features a dam standing tall amidst beautiful, rich nature. The engraved letters spell out "Asakura-shi" and "Osui (sewage)." Situated in Asakura-shi, the Egawa Dam and Terauchi Dam provide important water resources for the Fukuoka metropolitan area.
(Ref.: Sewage Division, Construction Department, Asakura-shi)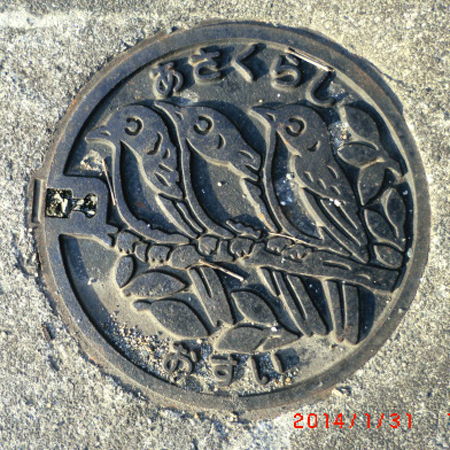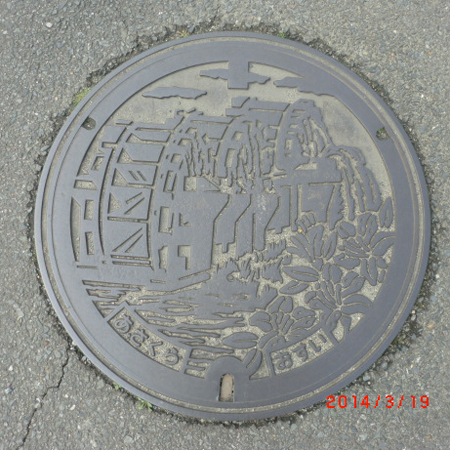 The design on this cover shows three waterwheels transporting water to an elevated rice field.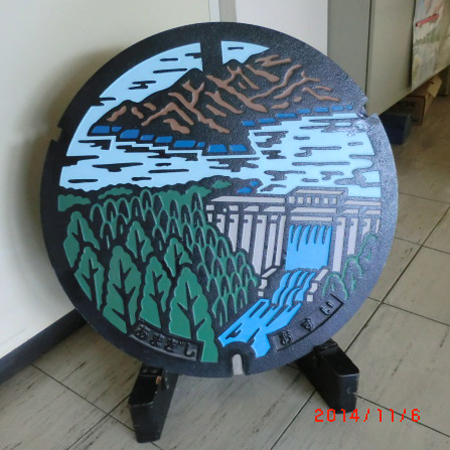 This is a manhole cover for a community storm drain/surface water drain and the design also features a damn standing amidst beautiful, lush nature. *This cover is on display at the Akurashi City Hall.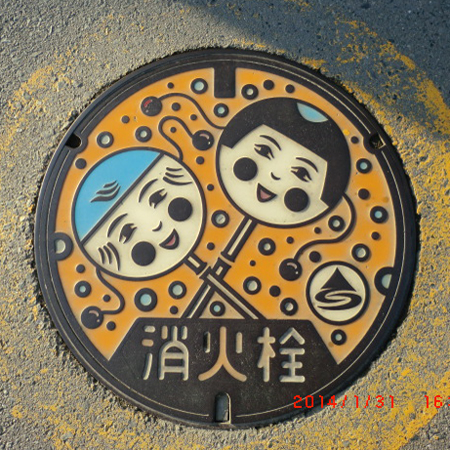 This colorful round-shaped fire hydrant cover features "Mame-daiko bata-bata" (a local type of pellet or rattle drum), as well as the emblem of the city.
According to the Asakura-shi website, Anchou-ji Temple (Amagi, Asakura-shi) plays host to a festival that prays for children to be safe from smallpox. Since the Nara period the city has been known as place famous for bartering and during the "Amagi Batabata-ichi (market)" two-day event "Mame-daiko Batabata" are sold on the premises of the temple.
Originally they were seen as good luck-charms that were used to protect against smallpox, but in the context of a maternity ward they are said to ensure that a newborn baby will be blessed with good growth, a fine-set of features and even well proportioned limbs. When it's placed in a "tokonoma (recessed alcove)" as a decoration, they are said to guarantee good fortune for that household. *Asakura-shi fire hydrant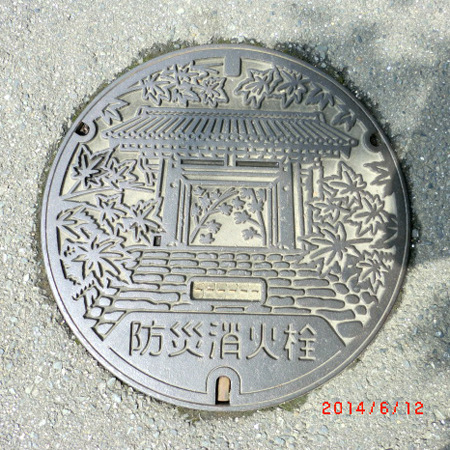 This is the cover of a fire hydrant and shows the gate at Akizuki Castle amidst leaves from a Japanese maple. * Fire hydrant for what was known as Amagi-shi and is now called Asakura-shi.
Click the image and it will automatically go to the next.