Fukuoka's Foreign Students Help Disaster Victims
In order to help the victims of the Tohoku earthquake and tsunami, the Fukuoka Overseas Students Association (FOSA) and the Chinese Students and Scholars Association in Japan conducted an appeal over the three days of March 19, 20 and 22 collecting donations in Tenjin.

Ms. Yuan, a Chinese student and president of FOSA, explains that the motives for this action were that "Japan helped China after the Sichuan earthquake, and many foreign students are receiving scholarships, and we wanted to give something back, so we got together". 

Many people supported the activities and we collected ¥340,767 in donations, and we then handed it to Tomiyasu Setsuko, the Director General of the Fukuoka Prefecture Community, Culture and International Affairs Department. The money will be added to Fukuoka Prefecture's disaster donation total.

The empathy for the disaster victims has crossed boarders, and the foreign students in Fukuoka send their warmest wishes to those victims in need.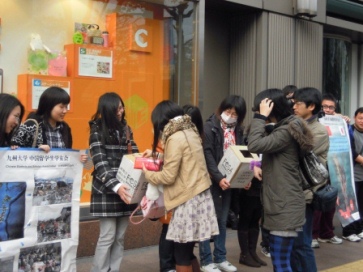 ■Students collecting the many donations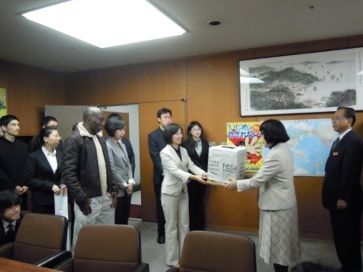 ■Director General Tomiyasu accepts the donations from Ms. Yuan, president of FOSA