Entry No.3 庭師 ゆかシルフィ
Entry No.3 庭師 ゆかシルフィ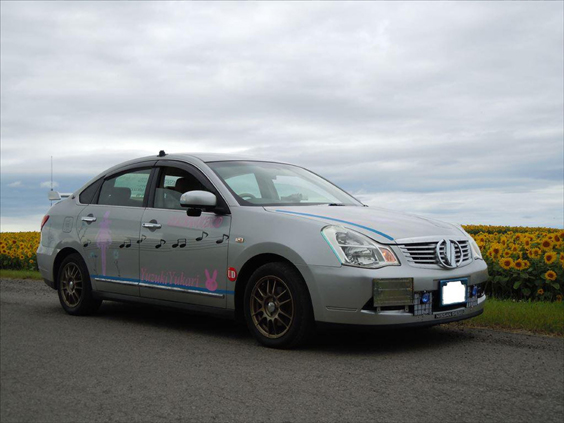 ■Make and Model
BLUEBIRD SYLPHY (KG11)
■Concept/Style
Yukari Yuzuki (the PR character for Memanbetsu Airport)
■Time Taken
6 months
■Amount spent on Itasha upgrades and parts
Roughly 100,000 yen
■Hardest aspect of the re-modelling?
Around me there's more and more people going for designs that cover their entire car, that's why I've incorporated pictures of flowers that suit the local town and area, which helps me stand out from the rest.
■Which character would you like to see sitting in your passenger seat?
Yukari Yuzuki (Chihiro Ishiguro)
■A final few words (Eye-catching parts of the car, general comments, etc.)
I've got Yukari's voice installed on the car navigation system, so for example, when you signal left, you can hear Yukari speaking through the electronic device Sonic Voice. I've also installed the actual announcement system that you hear on buses, as well as a bus horn.