Manga series "Himizu" getting a movie makeover!

On April 18th it was announced that "Himizu" would be the latest manga series to be adapted into a live-action movie. Himizu was serialized from '01~'02 in "Young Magazine" and its creator is none other than the famous, Minoru Furuya, who also created, "Ike! Ina-chuu Takkyubu," or "Ping-Pong Club" (as it is known to Western audiences). Don't expect the same comedic gold that was Furuya's rise to fame, "Ping-Pong Club" though, for Himizu is by no means a comedy (gag manga). Have a read for yourself and you'll soon see the content is anything but funny. I myself felt like I'd been sucked into an abyss of depression immediately after reading it (although personally, this is the kind of manga I like reading). The story is about a middle-school boy named Sumida who decides to part ways with his good-for-nothing parents and live alone. Sumida just wants to live hidden away in solitude but something always manages to interfere with his plans. Then one day an incident occurs that incites in a Sumida a resolve to kill a certain "bad guy" and then do away with himself as well. Will Sumida commit murder? Will he die himself? Be warned, a certain level of mental preparation is needed if you plan on tackling this manga for yourself.

If you were wondering just who would want to try and turn such a dark, heavy manga into a movie, that would be controversial filmmaker, Sion Sono ("Suicide Club," "Noriko's Dinner Table"). I'm not exactly a fan of manga being adapted to film, but with this partnership I actually find myself looking forward to seeing how it turns out. I cannot help but feel that director Sono already has strong similarities to Furuya with works such as "Suicide Club," "Love Exposure," and "Cold Fish."

From Furuya's works I can also recommend "Himeanoru" and "Shigatera." His manga often depict such things as the cruelty of life and the madness that could be lurking just around the corner as we carry out our daily routines. At first glance it might seem like Furuya's world far outstrips reality, but then you begin to see a bit of yourself in the "darkness" that his main characters are bearing and there are often scenes in the manga that so resemble events in everyday, real-life that it makes you shudder. It also makes you wonder, maybe I too will try and carry out a similar act in the near future and just haven't realized it yet; or, maybe the next door neighbor is "this" kind of person; or even, under the same circumstances I too could become "this" kind of person. After reading Himizu, I couldn't help but feel this way. "Himizu" the movie is scheduled for release in 2012. It will be interesting to see who will be cast in the roles but that too will be another topic of conversation for another time!

Article by Mikey – Editorial Dept.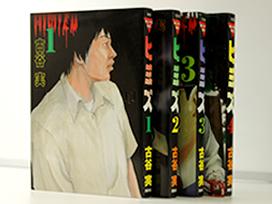 Four part series manga "Himizu." The name, in case you were wondering, comes from a species of Mole. Have a read for yourself and you'll find out why...!
PRESENTS
All the info. on asianbeat's present campaign!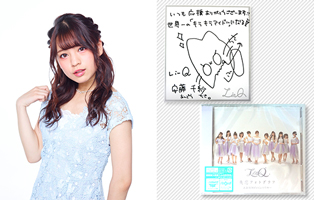 * Win a CD & a card signed by LinQ Chisa Ando!
[Details] Click
HERE
!