Two Fascinating Guidebooks to Introduce Fukuoka

Two books I impulse bought with eye-catching titles
Recently I just bought two books popular books with really high-impact covers: Fukuoka Tsuide Kankou (Fukuoka Sightseeing Opportunity) and d design travel Fukuoka.

I bought Fukuoka Tsuide Kankou not only for the contents it introduces but also as the popular model and Fukuokarite Saki Nishimoto features as a guide. On the cover Saki-chan is holding the famous Hakata icon "Niwaka Senpei", a mask shaped cookie, and if you look closely even the title shows the Hakata Niwaka mask.
Saki Nishimoto has appeared for us in asianbeat many times in the past and her corner here is experiencing a sudden surge of traffic from young ambitious girls.

On the first page, next to the contents, there is an "Introduction...that's what's so cute" section. Right from the start you can tell this is no ordinary guide book. Every time you turn a page there's a spread showing a unique world view: "Tons Retro-cute local spots hidden out of the way". It's a book full of rare information and well worth a look.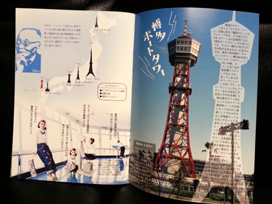 ▲"Fukuoka Tsuide Kankou" features trivia tidbits such as the fact that Tokyo Tower and Fukuoka Port Tower are twinned!
Moving on, the other book is "d design travel Fukuoka".
Last weekend a friend asked me if I'd heard of the D&DEPARTMENT PROJECT. I just began looking it up at once when, in a stroke of perfect timing, the book had gone on sale that day, so I bought it, took it home and now I'm deep in research.
According to the publisher Kenmei Nagaoka "We selected areas with long held individuality and essence, combined with design points to create the travel guide [d design travel]". It's not just cool stylish design, the opening's "Thoughts on publishing" and "Thinking about editing" will help you understand the concept.
Nagaoka has a goal of publishing a book for every one of Japan's prefectures and the Fukuoka version is number 13. Also on the cover is the FUKUYA brand of mentaiko, familiar to any resident of Fukuoka. It just makes you want to pick it up! And I have to mention I was impressed by the inclusion of an English translation on almost every page.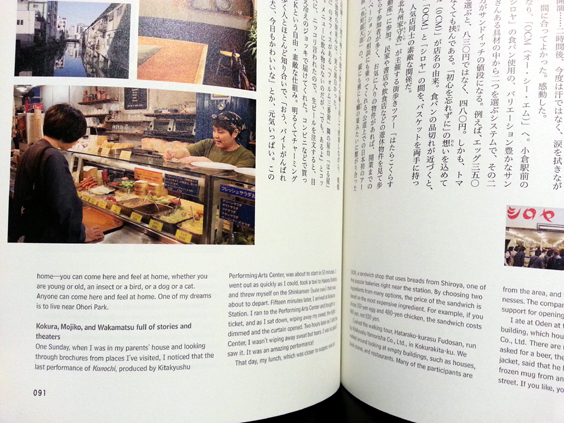 Isn't it an amazing idea? It's such a cool concept, a useful guidebook and it even has matching English translations for every one of the 47 prefectures of Japan.
I already want to send these books to two of my friends so they can come and hang out. We'll definitely have a good time!

(Editorial Dep't.: Yamashita)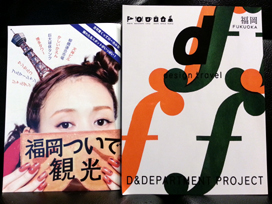 ▲Photo: The front cover page of the 2 books.
Related Articles
External Links