This year saw the well-established "Busan International Rock Festival" return for the 18th time!

It does not matter what language you speak or where you are from, music knows no boundaries!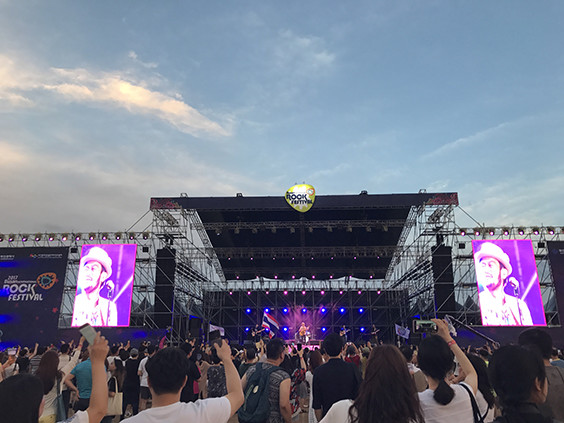 안녕하세요! Hello from Korea! I recently went along to the "Busan International Rock Festival," which was held from 11th to 13th August 2017, for the first time in several years. The 2017 edition was the 18th time that this well-established event has been staged. The three themes were "music, people, and nature." Busan City hosted the festival and admission was free!
As you might expect, a number of acts who performed were from Korea, but as the aim of the festival is to use music to initiate cross-cultural exchange, bands from America, France, Thailand, and Japan also took to the stage. Various languages were flying about at the venue, which had a truly international vibe. Fukuoka NPO asue, a group that actively promote international exchange through the medium of music, select bands from Fukuoka to participate in the event every year.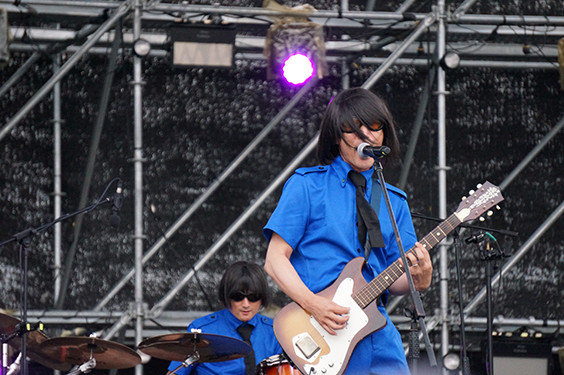 THE GOGGLES
The Fukuoka-based bands that appeared at this year's festival were "THE GOGGLES" and "NOAHTIC." "THE GOGGLES" performed on the main SAMROCK STAGE and are a band that you should definitely keep an eye on from now! They have already appeared at the huge Fukuoka music festival "NUMBER SHOT" and in a commercial for a major regional company. The band put their own unique spin on classic 1960s British rock music, so as soon as they start performing you find yourself thinking "Haven't I heard this track somewhere before?" Even their original songs have a comforting, familiar kind of sound. The whole venue was moving to the music! The band helped create a fun atmosphere by greeting the audience in Korean, something that many of the spectators loved. You could hear voices in the crowd saying how cute they found the group, and it was evident that "THE GOGGLES"' music really touched the hearts of the people in the crowd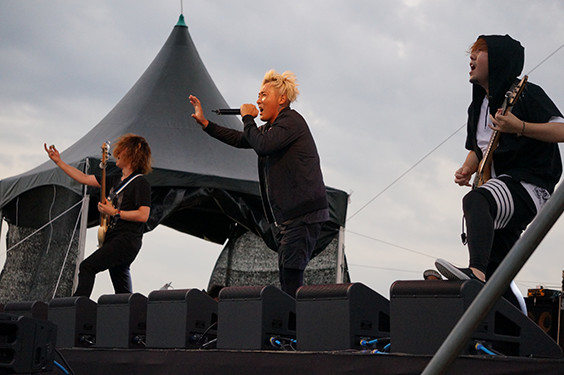 NOAHTIC
"NOAHTIC" were on at the GREEN STAGE, which was were a lot of metal and loud rock acts performed. This was not the first time that "NOAHTIC" have performed overseas. They are pretty active outside of Japan and have played in Taiwan and France, as well as in Busan many times. Given their popularity with locals, it was no surprise to see "NOAHTIC" written across big flags that people were waving in the crowd. There was also lots of fans screaming out and declaring their love for the band. Their set really cranked up the voltage and raised the roof. I wanted to take some photos from my position, but that wasn't really possible as a everyone started to run around me, so it was hard for me to get out without bumping into anyone!
The two Fukuoka bands that performed each have their own style and sound. They are quite different, but both were really able to connect with the audience. It does not matter what language you speak or where you are from, music knows no boundaries! Busan is a sea facing and a great place for anyone looking for a destination for their summer vacation. The city is lively, the food is delicious, and coast offers some fantastic views! It's about three hours away from Fukuoka by high speed ferry, and approximately 50 minutes by plane! So please visit and enjoy a holiday you will never forget! (Editorial Dept.: Nezusan)
External Links
PRESENTS
All the info. on asianbeat's present campaign!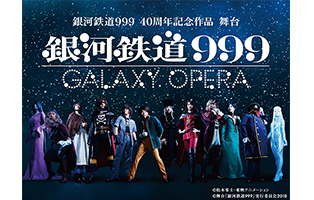 * Win 2 pairs of tickets to the play "Ginga Tetsudo 999" -GALAXY OPERA- Kitakyushu Performance!
[Details] Click
HERE
!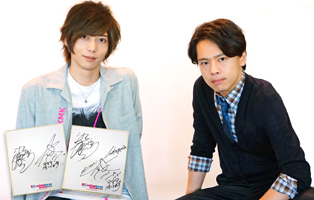 *Win a card signed by Akinori Nakagawa & Toshiyuki Someya!
[Details] Click
HERE
!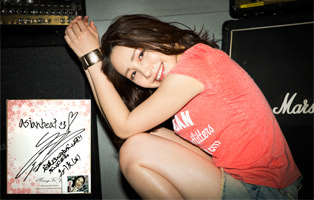 * Win a card and a cheki (photo) autographed by You Kikkawa!
[Details] Click
HERE
!