"Orange Caramel" - KPOP's next big act?

Is this the next big thing in Korean pop!? All eyes are on "Orange Caramel"!
I first heard about the three member Korean girls group, "Orange Caramel," when I saw the music video for their single
"Shanghai Romance."
At first, I thought that Chinese triplets had debuted in Korea, but after doing a bit of investigating I discovered the three girls were actually members of the immensely popular KPOP group, "Afterschool." Afterschool is an eight member, all girl outfit who this year became models for the popular Japanese brand, Samantha Thavasa, and more recently, the pinup girls for Cecil McBee.
As the Afterschool girls continue to make a name for themselves in the fashion world, their three member offshoot unit, Orange Caramel, looks set to up the ante even further, releasing their debut single in Japan on September 5th, 2012. AND, said debut single just so happens to be a cover of Showa idol group Candies' 1977 hit song, "Yasashii Akuma" - with a modern day makeover, of course.
Check it out for yourself!


I don't know if you'd quite call it Harajuku style, but from the dance moves and costumes in the video, it seems like they're definitely channeling modern day JPOP. Personally, I'm a fan; I think they're really kawaii. The clip already has people in Korea talking as well.

The three girl unit has a completely different vibe to that of Afterschool and with their debut song a rendition of a long time Japanese favorite, they're drawing attention from people of all ages. This is one group that's definitely bound for bigger things!

Editorial Dep't. - Yamashita
PRESENTS
All the info. on asianbeat's present campaign!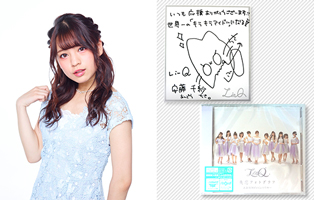 * Win a CD & a card signed by LinQ Chisa Ando!
[Details] Click
HERE
!