A cover song with Japanese traditional instruments

A YouTube video of a cover version with nearly 300,000 views in just one month!
The fusion of traditional culture and pop culture is something we just keep hearing about.

Now, in Fukuoka City, the "Evangelion and The Japanese Katana" exhibition has combined the ancient craft of swordsmithing with modern art form of anime. At the exhibition I got the opportunity to talk to the sword-artisans and get a taste of traditional Japanese culture and crafts while at the same time seeing how they are adapting their work to the changing times so it can be handed down to future generations. (Of course, throughout history, the Japanese katana has always been at the cutting edge)

Today's cover is not only an amalgamation of tradition and pop culture, it's also an international collaboration!
Using traditional Japanese instruments, a koto (a 13 string Japanese harp) and a shakuhachi (a bamboo flute), this pair have covered "Telephone" the hit song by the world-famous Lady Gaga.

Lady Gaga was amongst the musicians who lent their support as part of the "We Pray For Japan" effort after the Tohoku Earthquake in 2011. Even as other artists were canceling their visits to Japan, Lady Gaga continued to perform.

The group performing the cover, Team Kozan, were left with a lasting impression from Lady Gaga's support and produced this cover to wish the singer a speedy recovery after her recent hip surgery.
Adding a synthesizer to the sounds of the classical koto and shakuhachi, along with traditional Japanese dancers in kimonos creates a cover with a different and colorful character compared to the original song.
Comments on this video from around the world
U.S.A : Wonderful! Cross-cultural exchange at its finest!

Turkey : I ended up watching the whole performance! THUMBS UP!

U.S.A : Japan has got to be the most interesting culture.

South Korea : Great !!!

Russia : Это очень круто! (It's so cool!)

U.S.A : Very well done. I believe the koto fits in so well and the shakuhachi makes a great replacement for singing.

Brazil :Fantastic!!!:)

Taiwan : so amazing!! I haven't heard Gaga's song like this before!!

U.S.A : I have no words to describe what I just saw...

Canada : This is awesome!!!

Singapore : Is there any other cover done by them?? They are awesome!!
Finally, comments from two Japanese fans
"After the earthquake, right after it, you made a site to support Japan, collected donations and came to Japan to help us. I will never forget your kindness."

"Gaga. This is for you from all Japanese. We highly appriecate your help for two years ago earthquake. At the end of this, they prayed at the Shrine. They asked God if you can recover soon!"


We want to send our thoughts and the gratitude of the Japanese people to you, Lady Gaga.

Editorial Dep't. – Eliy
Related Articles
PRESENTS
All the info. on asianbeat's present campaign!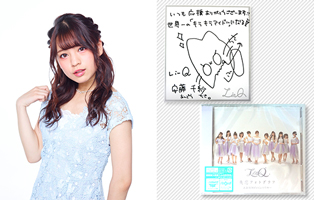 * Win a CD & a card signed by LinQ Chisa Ando!
[Details] Click
HERE
!