Interview Now ~Acid Black Cherry~(1/2)

On April 9th (Wednesday), the popular artist Yasu who is also known as Acid Black Cherry came back to Fukuoka. His music appeals to people from all walks of life to the point where each of his new releases sell better than the next.

"Project Shangri-la" started last summer with the release of his new single and marked the beginning of his national tour, consisting of 5 sections of Japan over 5 different periods. In this exclusive interview, Yasu told he had a lot of feelings that he wanted to explore with his fans so he embarked on this national tour, calling it "Project 『Shangri-la』." He says that if he could make even just one of his fans smile that would mean the world to him, which is why he decided to give performances in as many cities across Japan as possible. We will also be gifting some lucky winners with autographs from the man himself!
I wanted to create a platform though which I could directly interact with my fans and that is how this project was born.
Q.(asianbeat) Please tell us why you started "Project Shangri-la."

Originally I had planned to tour the whole country and it's something I've always been talking about that never quite came into fruition. Last year, I finally managed to make the time and organize my schedule. Since I'll be going to all these places, I thought it would be nice to use an open space venue so I could meet and talk with some of the people and fans in each region. In doing so, I have had the opportunity to appear on the FM radio stations of many of these places. I wanted to create a platform though which I could directly interact with my fans and that is how this project was born.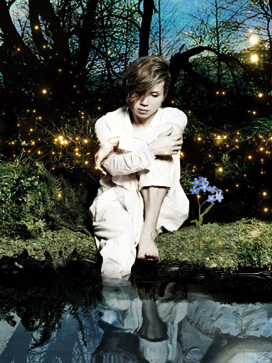 Q.What's the most interesting thing that happened to you on your tour of Japan?

There were a lot of things that happened over the course of the tour and this time I had done the concerts in a way that at the end when the audience requested an encore, they could put in their own requests. What I did was have everyone in the audience put their ticket stubs into one box and I'd randomly pull one out and call out the seat number on the ticket. The person sitting in that seat could then tell me what song they wanted to hear. In Wakayama, when I selected one of the stubs from the box and asked the audience member what song he wanted, he responded with, "Actually, would it be ok if I proposed to my girlfriend here?" I told them to come up onto the stage and that's where he proposed to his girlfriend. The whole thing just really left a lasting impression on me.
Q. She said "yes," right?

Yes! There are always interesting things that happen on tour.

Q.What are some of the things you associate with Fukuoka?

The first thing that comes to mind is Hakata ramen and various other foods, though I don't eat a lot of ramen myself.I also associate Mizutaki (a type of hot pot in which chicken and vegetables are simmered in a traditional Japanese soup) with Fukuoka. I haven't had the chance to yet, but every time I come to Fukuoka I tend to eat quite a bit – whenever I'm here I just feel like eating.

Q.What about Fukuoka appeals to you most?

There are a lot of cute girls here. I think Kyushu in general has a lot of cute girls.

Q. Is that right? This whole time I'd been thinking that was just a rumor!

No, not at all. Do you know the phrase "Kyushu Hakata-gao (face)?" There are people that come up to Tokyo from Kyushu and those that come from the Hakata or Fukuoka area are always referred to as, "Kyushu-gao." A lot of the fans that come to the concerts and such are very pretty!
This is what I try to go for in my promotion videos.
Q.The promotion videos you put out are done in such a way that you want to watch it over and over again. How do you come up with these ideas?

While I was a member of Janne Da Arc, I was making a lot of the promotion videos and didn't have a lot of time to do what I wanted to do. Since I was going to make it anyway, I got to thinking, "Why not make something that people would enjoy and want to watch again?" After going solo, I have a lot more leeway over what I want done, so I concentrate on making my videos entertaining, funny, and just a bit cool. There is a high expectation for rock stars to be "cool" and I try to live up to that but at the same time I try to make it seem natural and not forced. This is what I try to go for in my promotion videos.

Recently, there are many PVs that have their own background story like that of a short film but when I first was starting out this didn't really exist. This is why I've decided to take a different route with my videos and try out a different style.

Q.Your solo debut single was "Spell Magic," correct? Is this the short film style PV you mentioned earlier?

Yes, it is!

Q. In your video you play an otaku guy. Have you modeled that personality after someone you know in real life?

I didn't set out to imitate anyone in particular; rather I wanted to use it to reflect the fact that it was my first single and my current situation. In the video, Otaku-kun is auditioning to become a part of the music industry and as soon as he starts singing, he blows everyone away, becoming an officially recognized artist. The story line is quite simple and hopefully funny, as that is what I was aiming for when I first came up with the idea.
SPELL MAGIC