Interview Now ~Good Morning America~(1/2)

Good Morning America's Shingo Kanehiro (vocalist and guitarist) and Tanashin (bass and chorus) visited Fukuoka on Wednesday April 23rd for the release of their second single, "拝啓、ツラツストラ (Haikei, Tsuratsusutora)" as a part of their campaign. They are a highly-sought after group and events from all over Japan clamor at the chance to book them. Despite the fact they only made an appearance on the musical scene two years ago, they landed the "Dragon Ball Kai" closing theme song. Following this up with a tour through seven different cities under the banner name, "7 tsu no Hihou wo Sagasu Bouken (Adventure) 2014 [The Adventure of the Seven Secret Treasures 2014]," everywhere they tour, tickets are sold out almost instantly.
In this exclusive interview, we ask these two more about their second single, "Haikei, Tsuratsusutora" and what their impressions of Fukuoka are! We are also giving away signed cards from them, as a part of our annual tradition! We hope you enjoy this interview as much as we did!
Create something that will hopefully promote our music on a deeper level
Q.(asianbeat) Please tell us how you guys got together and formed the band Good Morning America.

Shingo Kanehiro (Kanehiro)
: I actually joined the band quite a bit later. At first it was just our guitarist Koichi Watanabe and Tanashin going at it on their own. That's when they approached me, since we were classmates in high school. For a while thereafter, we continued our get-togethers and were singing mainly in English. We realized that Japanese people probably wouldn't understand our lyrics and decided it was a good idea to make the switch over to Japanese. Around that time we decided on the name Good Morning America. That was when another one of our classmates became our drummer. After Pegi joined our band our original drummer left.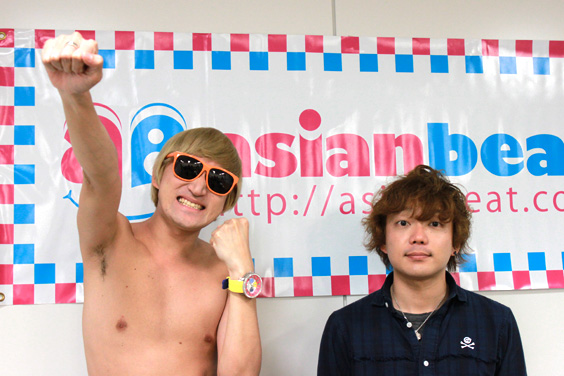 Left: Tanashin (bass & chorus), Right: Shingo Kanehiro (vocal & guitar)
Q. What kinds of messages and ideas are you trying to convey through your second single, "Haikei, Tsuratsusutora?"

Kanehiro
: "Haikei, Tsuratsusutora" is something we produced after being offered the job related to DRAGON BALL KAI. Rather than the opening theme song, we were assigned the ending theme song and thought that this gave us the opportunity to write up a piece that stayed true to ourselves and the type of music we represent as a band. We felt that if we had been asked to do the opening song, it would have to be something that was closely related to or had to have the words "DRAGON BALL" in it. Being given the closing song gave us a lot more leeway in that respect. Since we knew that this was a song that would probably be heard not only in Japan but overseas as well, we were able to create something that will hopefully promote our music on a deeper level.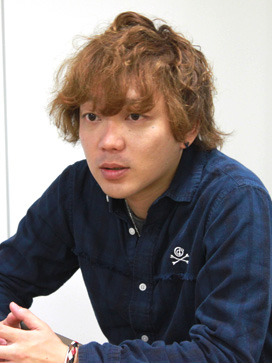 Q. What does your title, "Zarathustr" mean?

Kanehiro
: In one of Nietzsche's philosophical books, Thus Spoke Zarathustr, he uses the word "superhuman." The reason I mention this is because when we were in the process of making the ending theme song, we were having trouble finding the perfect lyrics. Not only thinking about Son Goku but Vegeta and the other various supporting characters in the series who are all trying to become number one, we wanted to make a song that reflected those feelings of wanting to become the strongest and best you can.
At first we wanted to use the title, "Super Saiyan" but there were a lot of issues and circumstances surrounding it that in a way prevented us from doing so. That's when we remembered Nietzsche's use of the term "superhuman" and realized the word had a ring to it that really fit Son Goku and the Super Saiyan. Zarathustr means superhuman and we finally decided on "Haikei, Tsuratsusutora" as a title.
Q. Were you a fan of the series before all this?

Kanehiro
: Yes, of course! I grew up watching this show!
Q. Who's your favorite character?

Kanehiro
: I like all of the characters but have to say Piccolo is my favorite.
Tanashin
: I think Son Goku is really cool. He's always very positive and is the type of person that others will follow and I really like that appeal he has.
Q. Did you dye your hair blonde as a way to pay your respects to Super Saiyan?

Tanashin:
Yeah, I want to spike my hair, too!
Q. Is there any significance to your band name, Good Morning America?

Kanehiro:
Not really, we weren't thinking too seriously when we came up with the name. Our former band name was: For Better, For Worse. This is a phrase often used in wedding vows but was hard for many people to remember. We wanted our new band name to be something memorable. Around that time one of my friends with their own band had come up with the name The Good Morning America and I just couldn't get it out of my head. I later went up to him and asked if I could borrow the name and he gave me his blessing.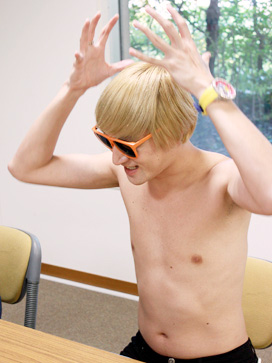 Q. Do you have any plans to expand your career overseas?

Kanehiro
: I'd love to do so. I'd be very happy if we had the opportunity to do so in the near future.
Tanashin
:I'm also very interested in the prospect. I've never really been overseas so that makes it all the more appealing. I'd like to go overseas and interact with the people there through our music – just like we do here in Japan.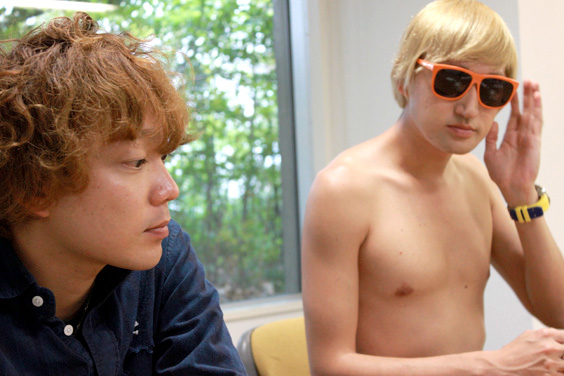 Q. Do you have any funny stories from your overseas tours?

Kanehiro
: When I was in my second year of middle school, I joined a home stay program in England. I think this is where I first truly came into contact with music and was what inspired me to start with the guitar.
Tanashin
: I've been to Hong Kong and Macau on vacation. I went to Okinawa recently and thought that the people there were quite similar to those in Hong Kong and Macau.
PRESENTS
All the info. on asianbeat's present campaign!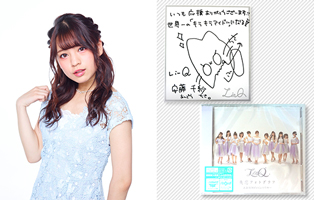 * Win a CD & a card signed by LinQ Chisa Ando!
[Details] Click
HERE
!