Interview Now - ROMEO -(3/3)

I'm wearing what my mum picked out for me (lol)!
ab: What do you do on your days off?
Kyle
: We're always out having fun. I don't get to spend a lot of time with my parents because of work. So when I have a day off, I like to go home and spend some time with them.
Hyunkyung
: We are just like a normal group of friends. We are really tight.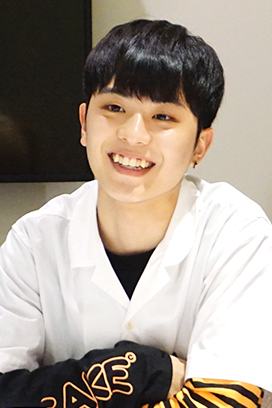 Kyle
ab: We can really see that! Where do you usually hang out?
Minsung
: There's an area called Sangam-dong. We quite often go there as it is home to lots of broadcasting stations. But there is also a big park, which has beautiful scenery. It is a place I would definitely recommend visiting!
ab: What are you guys are into right now?
Minsung
: Recently we've been playing this thing that is called "zero game" in Korea. It's basically a hand game where you have to hold your thumbs in the air and the loser gets a little slap in the face (lol)!
ab: Kyle collects figurines and Kangmin is into anime, right? Is there any particular characters or anime that you are into?
Kyle
: I have collected figurines for a while now. My favorite character is "Iron Man" from the Marvel Comics. I also really like "Major."
Kangmin
: I love "ONE PIECE."
ab: Do you study Japanese through anime?
Kangmin
: Yes! I try and study Japanese through reading manga. I also listen to anison (anime songs)!
Yunsung
: Really? Can we hear some anison, now?
Kangmin
: Well, I'm not sure about today. I'm feeling a bit...
Hyunkyung
: Ok, that's fine. You can sing some anison for us tomorrow (lol)!
ab: We've seen you on social media and thought you guys are fashionable! Are there any styles or trends that you are really into right now?
Minsung
: I am not stylish at all, so I check-out what people around me are wearing to get some ideas. Then I pick out my outfit.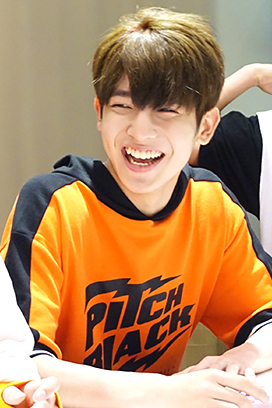 Kangmin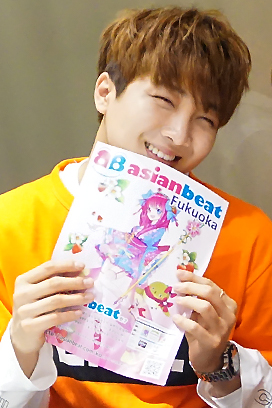 Yunsung
Kangmin
: I don't have any confidence in my own dress sense at all, I'm wearing what my mum picked out for me (lol)!
Everyone
: lol!
Kangmin
: I really like Yunsung's style.
Minsung
:Yeah, definitely. I try to get inspiration by keeping an eye out on what Yunsung is wearing.
ab: Wow! Yunsung, what kind of fashion are you into? Do you have any particular style tips?
Yunsung
: I like fashion that is simple, clean cut, and has a chilled out kind of vibe. (Looking at the asianbeat leaflet) If I get the chance, I would like to try cosplay someday! Maybe I could try a female character!
Milo
: I think I would quite like to try cosplaying as a female character, too!
ab: We are looking forward to seeing you in your cosplay outfits someday! Finally, do you have a message you would like to pass on to your fans and the asianbeat readers?
Seunghwan
: We hope that lots of people will really love ROMEO! We appreciate all of your support!
Yunsung
: asianbeat, 사랑해 (I love you)! We will be in asianbeat's corner, cheering you on! Thank you for reading this interview!
Milo
: Thank you for reading this interview! We will do our best to make ROMEO as great as possible!
Minsung
: To all the asianbeat readers, thank you for all your support. Please keep an eye out for us! Thank you so much!
Kyle
: We will do our best to travel around Fukuoka and the whole of Japan in search of our Juliet! Please lend us your support!
Hyunkyung
: It would be so great if everyone who read this interview could come and see us perform! Come and check us out!
Kangmin
: We'd like to put on an even more awesome show when we see you next time! We will be back in Japan during September for a big concert, so please come along!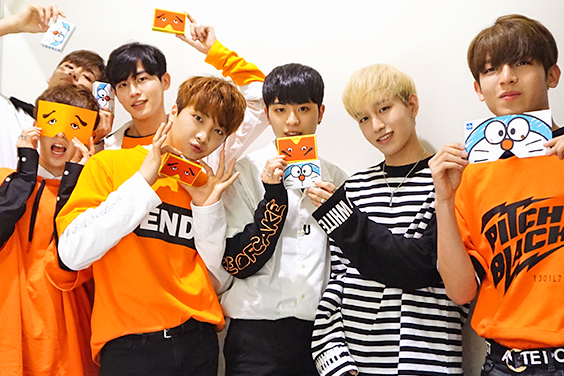 Here they are holding the famous Hakata product Niwaka Senbei!
PRESENT!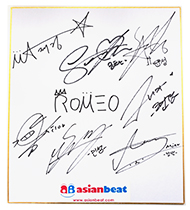 We have cards signed by ROMEO to give away to
three
lucky asianbeat readers!
[Application ]
Thursday July 6th to Sunday September 10th 2017
[Announcement of Winners]
Wednesday September 13th 2017
The application period is now over. Thank you!
The lucky winners are...ゆう sanちびろん san머사 san
(Please note, winners will receive an email directly from asianbeat. If you don not reply with a confirmation message within a week, you application will become invalid and you will not be able to claim your prize.)
ROMEO
Debuted as one of the youngest boy bands around with the release of their EP "The ROMEO" on 17th May 2015! The oldest member and leader of this fresh faced seven piece group is Seunghwan, who was born in 1994, while the youngest is Kangmin, who was born in 1999. (Seunghwan was born in 1994, Yunsung, Milo, and Minsung in 1996, Kyle in 1997, Hyunkyung in 98, and Kangmin in 1999). They might be young, but their singing and dancing is off the scale, which has led to comparisons with INFINITE. Their goal is emulate the legendary groups BEAST (now known as HIGHLIGHT) and SHINHWA (神話) who were real innovators in the genre of K-POP. More and more fans are getting hooked on ROMEO and their fan base is rapidly increasing! Could you be their Juliet?
ROMEO JAPAN OFFICIAL FANCLUB:
http://romeo-official.jp/
Twitter:
@teamct_romeo
Facebook:
https://www.facebook.com/teamct.romeo
Related Articles

External Links