Interview Now ~ 神谷明 (Akira Kamiya)、古川登志夫 (Toshio Furukawa) ~(2/2)

◎INTERVIEW
asianbeat (ab): The talk program was so much fun! Furukawa, this is your first visit to Kitakyushu, what's been your impression of KPF?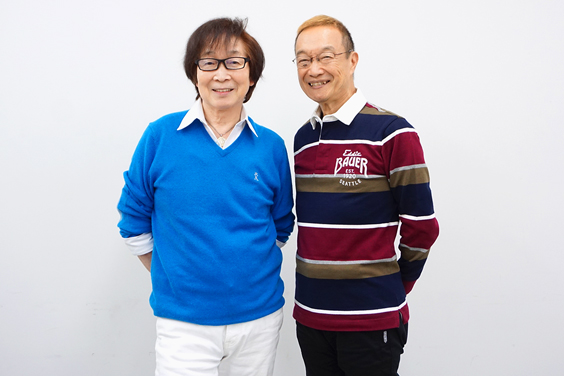 Toshio Furukawa (Furukawa)
: I've been to Fukuoka City several times, but this is my very first visit to Kokura, Kitakyushu City. "KPF" really holds its own, even when compared conventions held outside Japan. I was actually kind of surprised by the huge enthusiasm I have encountered. The reaction has made me think that this event is more exciting than a lot of other ones. Seeing local regions stage large scale events and invite big name guests is something kind of new for me.
Akira Kamiya (Kamiya)
: I felt a strong sense of history in KPF! This time, I got the chance to appear on stage. Obviously there were lots of people. I mean... It is a large scale event after all. But aside from that, I could sense a great deal of support from everyone. It was a lot of fun.
ab: What did you expect from your visit to Fukuoka and this year's "KPF?"

Furukawa
: For me, the most important thing was to stand on the same stage as Kamiya. It is super rare! We met at the "POP TEAM EPIC Special Event ~POP CAST EPIC!!~" last September, and now in the KPF. But before these events, it had been a very long time since we last made a public appearance together. Of course there were times when we meet during certain jobs now and again, but that is different to an event like this. Also, the theme of today's program let us to chat freely for quite a long time.
Kamiya
: For me, 2019 will be 50th year in the entertainment business. I guess this is one of the first times that have had such a casual chat with Furukawa since I first entered the business. We entered this world at the same kind of time. It is great to have a chance to speak to a friend who has often done similar roles to me. I also really like Kyushu, so it was nice to be able to do this in Fukuoka.
Furukawa
: I hope there will be more conventions with the same kind of format. Also, I said on stage just now but it will be awesome if Shigeru Chiba was here next year.
Kamiya
: I think people our age have lots of interesting stories. The generation above us, which includes the likes of Mako-san (Masako Nozawa), have even more interesting things to share with everyone. I hope there will be a chance for us to do a talk with Mako-san. Perhaps us two could speak with Mako-san, Tomokazu Seki, and other people from the same kind of group. As time goes by, I think there must be things fans want to ask and stories that artists want to share. It would be nice if our history can be passed on to younger generations using this kind of platform.
ab: It will certainly increase the sense of anticipation ahead of next year's KPF! Your program was full of excitement! How are you feeling now that it is finished?
Kamiya
: I could feel the enthusiasm among the crowd during our talk. That level of enthusiasm is not common. They were listening intently and gave us their full attention. I really appreciated that.
Furukawa
: I can see how much care and preparation went into this event. The number of people moving around was unbelievable. This event was a really big deal.
ab: Seeing who was in the audience was so impressive. There was all kinds of people! Fans from all age groups and backgrounds were enjoying the show!

Kamiya
: There was a great cross section of people! It was a very diverse crowd!
Furukawa
: You could say that the organizers have got a really strong "antenna!" I'm pretty sure they decided the lineup after careful thought and trying to predict all possible outcomes. The ability to figure out how each situation plays out is what I mean by the word "antenna."
ab: The animated movie "City Hunter" by manga artist and Kitakyushu-native Tsukasa Hojo will be released next February! A collaborative exhibition took place inside the venue that also gathered a lot of attention. Kamiya, you are the voice behind the protagonist Ryo Saeba. What are your thoughts?

Kamiya
: This piece has returned after a 20 year hiatus. All of the original cast are in great shape and full of energy. I hope this energy will ensure a great product. Please go out and watch it in your favorite movie theater!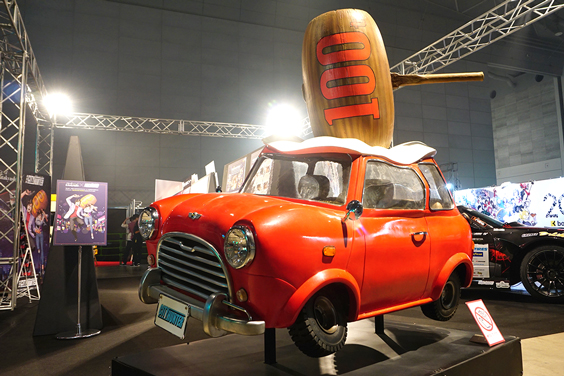 ▲ Mini Cooper, Ryo Saeba's favorite car also exhibited in the venue!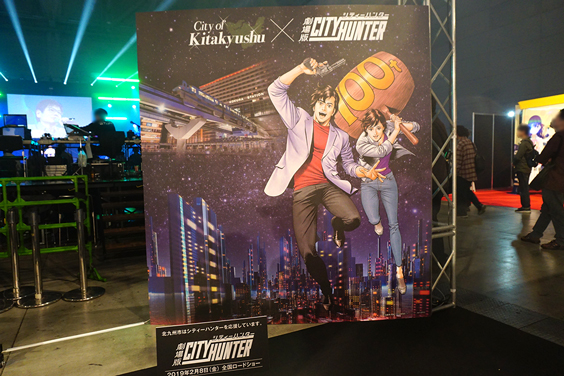 ab: Finally, do you have a message for your fans in Japan and overseas?

Furukawa
: Conventions featuring aspects of Japanese subculture can be found on different scales around the world. There are so many events out there being held regularly. I feel a sense of responsibility as a member of my generation to get out there and spread the word. We go abroad and attend events like this that are held on a national scale. Maybe the role of these conventions will be thought about in a new light. They have evolved into a space for exchange. I hope these kind of events will show people the wonderful, attractive qualities of pop culture, which unites people from many different backgrounds and languages. It would be fantastic if more people can find-out about it and enjoy what it has to offer!
Kamiya
: It is great that so many people enjoy Japanese culture in many different forms. As pop culture becomes bigger and bigger, it really boosts our confidences. I feel like I can proudly share this to my juniors. Japanese pop culture has gained lots of support from all around the world. I hope this support will never end. There are many events taking place all over. I also hope that you will come to visit Japan one day! After participating in KPF today... I feel this event will grow even bigger. Hopefully the quality will remain the same as the event continues to grow!
PRESENT!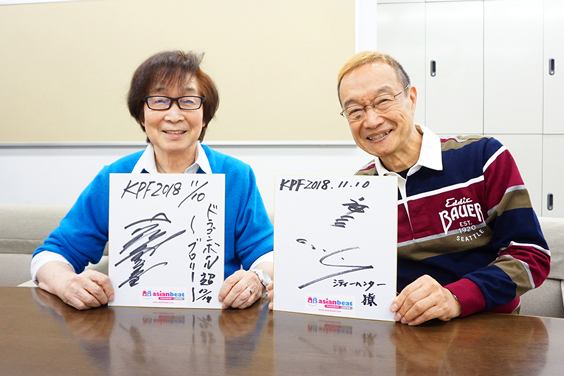 We have cards signed by Furukawa and Kamiya (one autograph per card) to giveaway to TWO lucky asianbeat reader! Don't miss-out! Enjoy Furukawa in action as Piccolo in "Dragon Ball Super: Broly," which was released on December 14th 2018! Be sure to also check-out Kamiya's return as Ryo Saeba in "Animated Movie City Hunter," which hits cinemas nationwide on February 8th 2019!
[Application Period]
Sunday 30th December 2018 - Sunday 10th February 2019 (Japan Standard Time)
[Winner to be announced on]
Wednesday 13th February 2019
The application period is now over. Thank you!
The lucky winners are ...
- Akira Kamiya signed card
大頭維 san
- Toshio Furukawa signed card
ならの san......Congratulations!!
(*Please note, winners will receive an email directly from asianbeat. If you don not reply with a confirmation message within a week, you application will become invalid and you will not be able to claim your prize.)
Related Articles

External Links