Interview Now ~Mix Speaker's,Inc.~(1/2)

The popular Visual-kei band "Mix Speaker's,Inc." came to Fukuoka on Sunday, March 9th 2014 for their "天国への階段 (Tengoku e no kaidan)~rest in peace~" tour. In the following exclusive interview with this band we delve into the reasons why they decided to become a Visual-kei band, what tours abroad (in Europe and America) were like for them, and what their future goals as artists are.
If there weren't a Visual-kei band at the time, we might have been a punk band instead
Q.(asianbeat)Tell us, why did you decide to become a visual-kei band?

AYA:When we were in high school, Visual-kei was really popular and nearly all of our seniors in school played the guitar. As their juniors, we picked up on that fact and decided to take up instruments of our own. In addition to this, around that time "X JAPAN" and "LUNA SEA" were always on TV, which was probably the influencing factor behind us finally deciding to get together and truly forming our own band.

seek:I think in many ways we were blessed because our hometown was bustling with music. Our senior artists would often perform at live house events. We were just very lucky. Our vocalists were saying that there aren't many live house establishments where they're from.

MIKI:Hmm....well I've always loved Visual-kei, so it's not so much that I wanted to become a Visual-kei artist, as already having been one. Aside from that, as AYA previously mentioned, we were inspired in part by our friends and the people around us.

seek:I feel the reason we got involved in Visual-kei was because it hit its peak during our time. I can't help but think that had Punk been what was "in" at the time instead of Visual-kei, we might have been a punk band.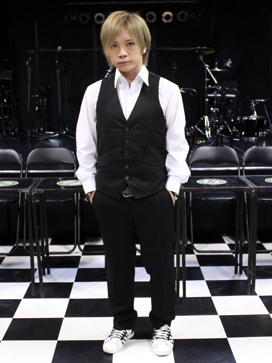 Vo.YUKI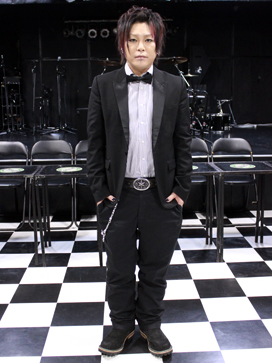 Vo.MIKI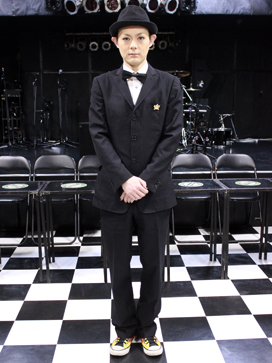 Gu.AYA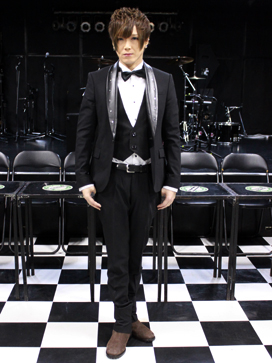 Gu.keiji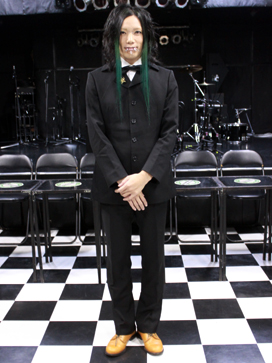 Ba.seek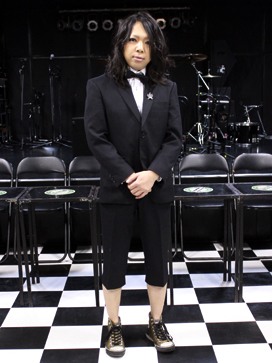 Dr.S
Q.So how exactly did you guys end up getting together and is there a particular concept behind your band?

AYA:In the beginning we would attend band meet-ups and jam sessions but it was as far from Visual-kei as you could get. The two of us decided to break off and find other members to form our own Visual-kei band, having already decided that this time we would have a unique style of makeup and a twin vocal set-up.

Q.I imagine it was from there that you started to look for new members.

AYA:Yes, for a while we were worried that when people heard we were planning on having twin vocals, they would hesitate to join but after scouring all of Japan, we somehow managed to find YUKI!

seek:Really! Are you implying that Kyoto is at the tip of Japan? [Kyoto is actually at the center of Japan]

AYA:Yep, we found him in Kyoto! (lol) We finally had six members: the angel, the devil, Dracula, a werewolf, and Frankenstein. Together, we thought up this array of well-known monsters and used this as a spring-board for some of our earlier concepts. We try to keep our band themes unpredictable and include an element of fantasy in them.

seek:We've been influenced by many of our Visual-kei predecessors but we wanted to do something that only we could do, rather than follow in their footsteps. We decided it was important to establish the fact that we were unique and infuse that into the essence of our group and make our way from there.
Writing the songs actually comes later
Q.What influences back the concepts you come up with and how do you decide on these?

seek:I can say we haven't really been influenced by other bands; we're really trying to take our band in a different direction. AYA is mainly in charge of costume design and our overall "image." MIKI takes care of the illustrations, since he's pretty talented at drawing. Writing the songs actually comes later.

Q.That sounds pretty elaborate. Doesn't all of that slow you down, at least in comparison to other bands?

seek:I feel that each and every band probably faces their own difficulties and we all operate in different ways. We as a band have quite a long history and will often take songs created many years ago and use that if we feel it matches our current theme. For example, if one of our themes is pirates, when we go through some of our older songs and find that one from five years ago matches this concept perfectly we'll use that.
I feel that our strength as a group lies in the fact that our instrumental section is very knowledgeable in terms of different musical styles. Often, they will decide they want us in a new direction and challenge a different musical subtype. As you can imagine this takes a lot of time. Funnily enough, it's not the songs that take time but rather getting all the members to agree.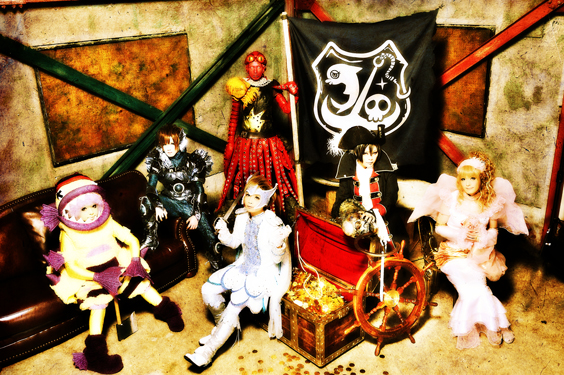 ▲Pirate-themed costumes
AYA: I honestly don't have anything to base judgment on, so the only thing I can really do is give it my best shot.

seek:It's pretty difficult to explain. Simply put, I would say in the end it all depends on how unique you are as a band.
Q.Do you keep changing your ideas and plans until everyone in your group is completely satisfied with the results?

seek:There are definitely times were some of us will disagree. When this happens we'll say, "Let's try it just this once and see how it goes!" (lol)

Q.Does that mean there are actually times you completely disagree?! Who is usually the one to disagree? (lol)

seek:We've already had an argument once before, so now we're doing okay for now.

keijiNo matter how many times we get together to "discuss" the issue at hand, even if we fully understand the logic to the other person's argument, there are times where you feel you just can't back down. When this happens we put it to a vote and for example if it's a five to one vote, we go with the majority. At this point, even if things didn't go the way we wanted, we realize it was probably for the best.

seek:When we first started up our band, our drummer S-kun's name was originally "Shingo." We were a bit dubious as to if that name could really work and told him, "You're supposed to be a werewolf and you're planning on using Shingo as your stage name?" S-kun's response was that until now he had been actively been producing music under the name Shingo and that this was one subject that was not open for debate. Eventually though, we put it to a vote and he lost five to one.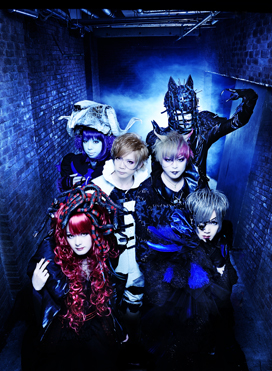 S
:That was actually the first time I was ever had to overcome obstacles within myself. Having to part with the name I had lived with all of my life was a very painful experience and was truly troubled me; however, since it was a five to one vote, I had no real choice in the matter. With the guidance they gave me, I eventually did change it. There have been many instances similar to this one.
seek
: Out of all the disagreements we've had, this is probably one of our most entertaining stories. (lol)
PRESENTS
All the info. on asianbeat's present campaign!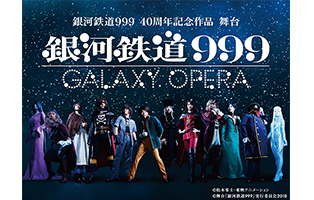 * Win 2 pairs of tickets to the play "Ginga Tetsudo 999" -GALAXY OPERA- Kitakyushu Performance!
[Details] Click
HERE
!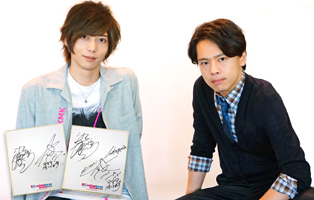 *Win a card signed by Akinori Nakagawa & Toshiyuki Someya!
[Details] Click
HERE
!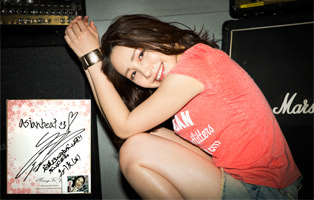 * Win a card and a cheki (photo) autographed by You Kikkawa!
[Details] Click
HERE
!