Miyazaki Hayao makes "Ponyo on the Cliff by the Sea"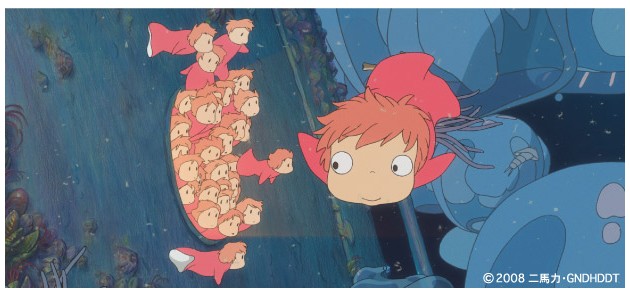 Miyazaki Hayao makes his first film in three years
Ponyo on the Cliff by the Sea press conference report
Attended by director Hayao Miyazaki, Producer Toshio Suzuki, Fujioka-Fujimaki and Nozomi Ohashi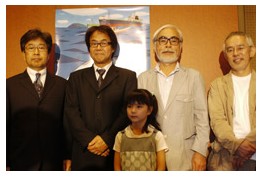 Director Hayao Miyazaki has won numerous awards such as his Academy award, Berlin Film Festival, Venice Film Festival, and has been chosen by Time magazine as one of Asia's twenty heroes. This eminent director suddenly gave a press conference on the eve of the release of his latest work Ponyo on the Cliff by the Sea. A press scrum gathered to hear from Miyazaki.
Ponyo on the Cliff by the Sea is the latest work from Japan's most revered combination of Studio Ghibli and Miyazaki. This summer the two big events are the Beijing Olympics and Ponyo – that's how excited Japanese movie fans are about this movie.
Photo (from right to left), Producer Toshio Suzuki, Director Hayao Miyazaki, Nozomi Ohashi, Takaaki Fujioka, Naoya Fujimaki
A new and different touch has been added showing a new dimension to the world of Miyazaki anime.
According to him "In the current era of TV anime there has been a tendency to limit the number of frames, but in this movie I went back to the basics. I thought I should make all animate objects move. You will see typical Ghibili scenery, but there is a lot of motion. In the end we used 170,000 frames, but it didn't seem as hard as you would have thought."
In talking about the two main characters, Ponyo and Sosuke, Miyazaki touches on his view of women.
"Sosuke keeps his promise. That is a difficult thing to do, especially as you grow older into an adult. I wanted Sosuke to be such a person. He faces many hurdles, but overcomes each one. Regarding Ponyo, I think all women are like Ponyo – they cast a spell over men – and men get all shook up over them (lol).
FujiokaFujimaki and Nozomi Ohashi sing the theme song. When they were asked "What is the secret of singing well", their answers drew laughter.
"I sing with vitality" said Ohashi.
"I can't sing very well anyway", laughs Fujioka.
"If anything, I want someone to teach me how to sing", adds Fujimaki.
Producer Suzuki adds "To tell the truth, the only take that was any good was Nozomi, we still have time to redo others (lol)".
"Not much use now", says Miyazaki.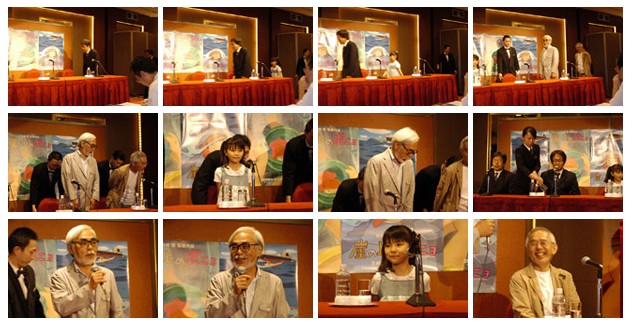 Ponyo on the Cliff by the Sea
Opens Sat. July 19, 2008
http://www.ghibli.jp/ponyo/
Story: Sosuke, a five year old boy lives in a small town on top of a cliff by the sea. One day when he was feeling lonely because his father was away, he meets the child-fish Ponyo. The two form a special bond and…
●Director: Hayao Miyazaki
●Voices: Tomoko Yamaguchi, Kazushige Nagashima, Yuki Amami, George Tokoro
●Distributor: Toho