Midnight is Primetime for Japanese Anime – the Pride of Asia. Great Anime Lineup is Increasing Fan base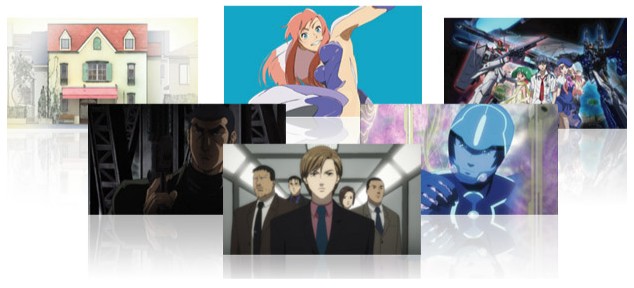 Midnight is Primetime for Japanese Anime – the Pride of Asia. Great Anime Lineup is Increasing Fan base
Japan, Giant of the Anime World
Today, Japanese anime are mostly shown late at night. Many new anime get the chance to be aired at this time. On anime-fan websites, big anime fans from all over the world congregate and most of the talk is about anime they have seen late at night.
The Nineties, when late-night anime arrived.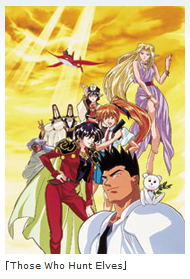 「Those Who Hunt Elves」The mid-nineties saw anime that won the hearts of adults such as repeats of Mobile Suit Gundam and Neon Genesis Evangelion. Later, anime voice actors worked as late night radio personalities, and anime fans (namely adults) could enjoy anime topics at this time. This was the catalyst for targeting late night anime fans. In 1996 the anime Those Who Hunt Elves attained high ratings, and manga sales increased. This was the start of late night targeting by anime.
Wide Genre Increases Fan-base
The late night anime then attempted to cultivate new fans while at the same time cementing its popularity with its core fans. Looking back, Gundam fans were attracted to Cowboy Bebop, car fans and Shonen (Young boys') Manga magazine fans were attracted to Initial D, and those over forty, and surprisingly women, were attracted to Hakaba Kitaro(Graveyard Kitaro). Different targets for different age groups: Love, fantasy, comedy, violence, mystery, Moe… Now there are a variety of genres to cater to all types of viewers. From April 2008, Takao Saito's best known work "Golgo 13" and other anime are on air including from the Macross series which released its first work in 14 years fusing mega and love story to create "Macross Frontier", "Himitsu – The Top Secret" - based on the suspense manga of the same name, and "Real Drive" - a joint project between Production I.G. and Masamune Shirow who produced Ghost in the Shell series which has been highly-acclaimed both at home and abroad. From July started "Tetsuwan Birdy Decode" – where the body of a human is "coexists" with the soul of an alien featuring startling fight scenes, the famous manga "Antique" which became a TV drama, and "Scarecrowman" by Shiro Nakano of Play Set Products which created Modern Pet , animal characters popular among women.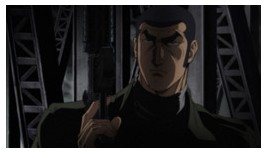 Golgo 13『Golgo 13』
Station: TV TOKYO
Time: Fridays 25:23~
Written by:Takao Saito/Saito Pro
Comment: A long running manga is now a TV anime. Voice of Golgo 13 is actor Hiroshi Tachi.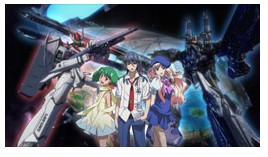 『MACROSS FRONTIER』
Station: Mainichi Broadcasting System
Time:Thrusdays 25:25~
Original by:Shoji Kawamori、Studio O-ne
Comment: First new series in 14 years. Mechanic design by (of course) Shoji Kawamori.
『Himitsu - The Top Secret -』
Station: Nippon Television Network Corporation
Time:Tuesdays 25:29~
Comment:The popular comic has become a high quality anime by Mad House. Check out the minute artwork.
DVD : July 25 on sale 
Price:¥5,040(tax inc.) Distributor/Retail:VAP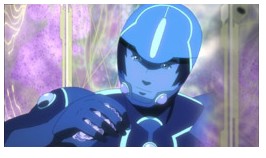 『Real Drive』
Station: Nippon Television Network Corporation
Time:Tuesdays 24:59~
Original by:Production IG/Masamune Shirow
Comment:GHOST IN THE SHELL - STAND ALONE COMPLEX series overlaps. It is a"Sisterhood" type work.
DVD August 27, 2008 On sale Price:¥16,800(DVD-BOX)、¥5,040(DVD each) Distribution/Retail:VAP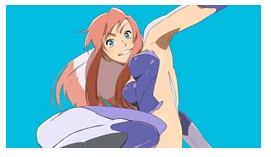 『TETSUWAN BIRDY DECODE』
Station:Television Saitama
Time:July 4(Fri)25:00~
Original by:Masami Yuki
Comment:Story loosely based on original. Features high quality artwork.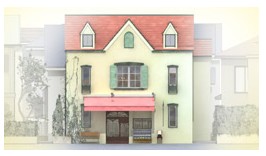 『Antique』
Station:Fuji Television
Time:July 3(Thu)24:45~
Comment:The 4 part comic series sold 1.4 million copies. The new anime follows the TV drama and drama CD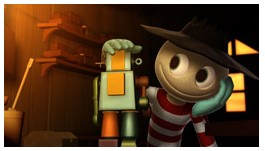 『Scarecrow Man』
Station:TOKYO MX (MXTV)
Time:July 3(Thurs)23:00~
Original by:Shiro Nakano(play set products)
Comment:Colorful 3DCG characters by designer Shiro Nakano of Modern Pets fame
Making anime even more fun
Japanese anime was featured characters with big round eyes, colorful hair and sexy body, but they said that it would not make it overseas. But on the contrary, it was the overseas fans who discarded any prejudices and got "hooked" on Japanese anime, with its unique characters and emotions, graphic touch and deep storyline. Today, many people want to come to Japan because of the influence of anime, and the late night slot is sure to bring more hit anime to the world.