Anime Moving into Comedy. New Developments in Japanese Anime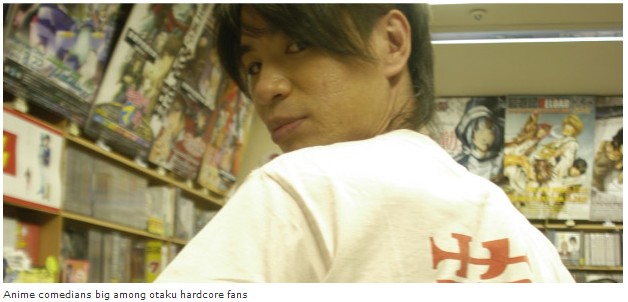 Anime Moving into Comedy
New Developments in Japanese Anime
Japanese anime has gained high praise from its many overseas fans. Already matured as a part of culture, anime is ready to move on to the next stage. That stage is comedy. But you have to know the anime to appreciate the joke, and if you do it's a big laugh. Recently "Anime Comedians" have come to the fore with comedy routines about anime, from anime that everyone knows to ones that only a few hard core fans know.

An unusual anime comedian who used anime in his comedy routines is Noboru Maeda, AKA Hurricanes. He is a real anime and anime voice artist freak, and we caught up with him to talk about his passion.
How did you get hooked on anime?
When I was in primary school I watched anime with my big brother who was an anime otaku. When I got older I was a big fan of Sailor Moon and I got interested in voice actors. That was about 10 years ago. I started watching late night anime with Neon Genesis Evangelion.
How many anime do you watch a week?
About 60 to 70 per week. My hard disc is always full. Doesn't matter how tired I am when I come home I always watch three or five every night. When I have been watching them for a while and I need a break I go to the cable anime channel Animax. I'm not an alcoholic, I'm an animeholic!
When did you first use anime in your routine?
I began thinking about how I can tell people about my favourite anime. One day when I was the MC for an anime voice actor event I cracked a joke about anime, and I got a huge response. I began to think that if I held an event and talk about anime for otaku it might work. This is what I really want to do. In the words on Shinji Ikari, the hero of Evangelion, "I might be allowed to stay here".
How did audiences receive your anime routine?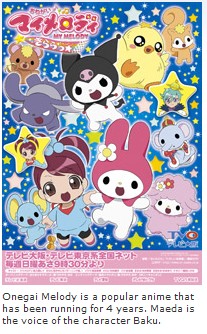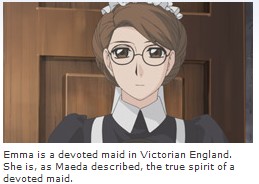 When I was doing Manzai comedy I tried, but my manager opposed it. I realized I had to create a situation to do anime comedy by myself. My chance was the Noborikaze solo live show. When I MC an anime/voice actor event, firstly I tell the audience that I am a big anime fan – then they know where I stand. It took me 7-8 years before I could call the audience "otaku"(geeks), and when they finally replied "you are too", I felt they had accepted me into the fold.
Is developing routines difficult?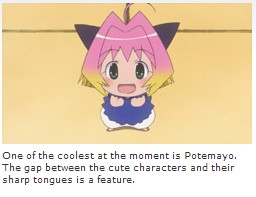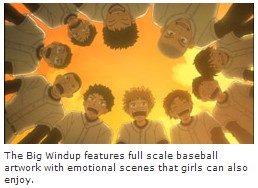 In my case, it doesn't matter what routine I do, the punch line has to be linked to anime. The audience seems to be looking for a routine that only they can understand. In the new DVD Noborikaze there are jokes that the average Japanese wouldn't get…let alone anyone from overseas. It's a comedy festival for otaku geeks. In the future I want to develop deeper routines, where at the same time make them easier to understand.
What does the future hold?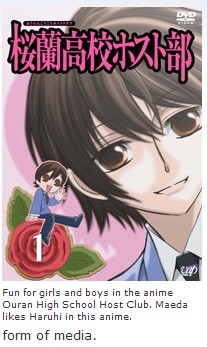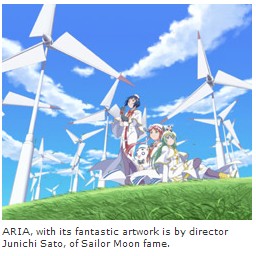 Fun for girls and boys in the anime Ouran High School Host Club. Maeda likes Haruhi in this anime.I will be continuing with my killer routines (anime) in solo live performances as well as voice acting and manga. My killer routines hopefully will bring in more work for the Hurricanes.
ARIA, with its fantastic artwork is by director Junichi Sato, of Sailor Moon fame.These days, the 2 dimensional TV anime is breaking out into the 3 dimensional performing stage of the comedian, and it is gaining attention. We should keep our eye on the evolution of this form of media.
[Profile]
Noboru Maeda
Born 4 June 1970 in Osaka. In 1990 joined up with Yoshiyuki Arai to form the comedy duo Hurricanes and debuted August that year. Belongs to the Yoshimoto Kogyo office. Through his love of anime he is busy working as an MC, voice actor and other anime related work.
DVD「Hurricanes no Maeda – Solo Otaku Live Noborikaze」On sale now!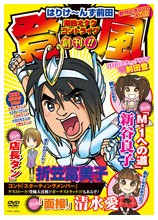 Length: 133 minutes plus extra scenes
Starring: Noboru Maeda (Hurricanes), Fumiko Orikasa, Ai Shimizu, Ryoko Shintani And others...
¥3,675 (tax included)
Vendor: YOSHIMOTO R and C CO,. Ltd.
Review:
A comedy DVD by otaku for otaku. Full of deep comedy routines that are out of the bounds of normal comedy. Top line voice actors including Fumiko Orikasa, Ai Shimizu, Ryoko Shintani join in to make top line anime otaku comedy.