Mamoru Oshii gears up for next challenge. Talent Looking Toward the Future… What's Next?
Mamoru Oshii gears up for next challenge.
Talent Looking Toward the Future… What's Next?
Mamoru Oshii's latest feature animation The Sky Crawlers has hit the silver screen.
Oshii, who started his career as a TV anime director has made his way to be a world leading creator. What does he have in store for us next?
The Rise of Mamoru Oshii
Technique Developed in TV Anime
After graduating from the Fine Arts Education School of the Education Department of Tokyo Liberal Arts University ("Tokyo Gakugei Daigaku") he joined Tatsunoko Productions and started his career as an anime director, and under Hisayuki Toriumi making Ippatsu Kanta Kun. He long directed the Time Bokan Series which produced the legendary Yatterman and Zendaman. In 1980 he moved his base to Studio Pierrot and as a full time director worked on such anime as Nils no Fushigina Tabi ("Wonderful Adventures of Nils") and the TV animated version of Rumiko Takahashi's famous work Urusei Yatsura. His early work centered around TV animation and the word got around that he was a director with a gift for gags.

Radical change with the feature length animated version of Urusei Yatsura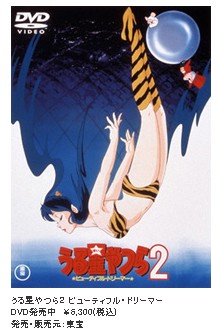 His turning point came in 1998.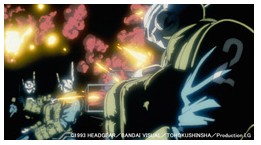 After his first feature length anime "Urusei Yatsura 1: Only You", he started on the sequel "Urusei Yatsura 2: Beautiful Dreamer", but this time adding his own interpretations to the original script. He became known as not just a mere director, but as a director-writer. His fictitious (or should I say absurd) themes began to appear around this time. (You should definitely watch Urusei Yatsura 2)
Mobile Police Patlabor 2 The MovieIn 1986, as a freelance director, he established a group called Headgear, succeeding with Mobile Police Patlabor The Movie, which won an award in the Seventh Japanese Animation Awards. He went on to make The GHOST IN THE SHELL, which was greatly influenced by the Wachowiski Brothers film The Matrix. And "Innocence" (2004) was the first Japanese animation entered in the Films in Completion section of Cannes Film Festival. Its release brought him to the world stage. Looking back, at that era, most animations stuck to the original script, but Oshii infused the technique he had been developing over the years.
In the late 90' – In Pursuit of Originality
Ohsii was active in working on (non-animated) films as well. He was involved from the original writing in the KERBEROS SAGA trilogy including JIN-ROH, as well as Avalon, in which emphasized that "All movies are Anime". His work with a wide variety of films ranging from anime to feature films led to exchange with creators such as Hayao Miyazaki, Yoshiyuki Tomino and Hideaki Anno etc. His animations began to include film-type camerawork, and the Oshii-Bushi (Oshii style) of using long monologues became standard.
From this period his films based on his own works became more conspicuous. One fresh in the memory is the cinema anime Innocence, a Masamune Shiro original which he developed in his own world of imagination. After Innocence came Tachiguishi-Retsuden, written by Oshii. His latest work, to be released in August 2008 is based on an original story by Hiroshi Mori of Crying Out Love In the Center of the World fame. It is bound to offer a something different to the ever developing Oshii flavor we have had over the past decade.
New Movie Has the World in his Sights
A Movie with a Message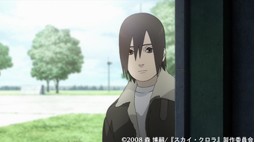 This month his latest work "The Sky Crawlers" will be released. It is a wonderful film for all those who lead empty lives asking them "what is the meaning of life?" Here we see a new side to Oshii, as in this film he worked with a number of others, and resisted using any of his past styles. As a result of the many personalities clashing in the making of the film a new aspect of the Oshii world appears.
The original story is by Hiroshi Mori, who has sold over ten million copies of the book series. Oshii attempts to make the youth of today – who seem to have lost their way because of our peaceful society – to reflect on themselves by showing a world where children (kirudore) remain adolescent and have been promised eternal life. He has brought to fruition his desire to get a message through to the young via the medium of film.
More Flexibility – is this the new Oshii style?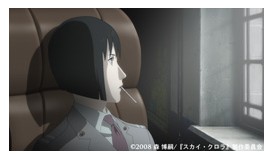 The Sky CrawlersIn order to create more emotive characters he has employed the services of newcomer screenwriter Chihiro Ito, of Crying Out Love In the Center of the World and Closed Note fame. This is to try and generate a realistic depiction of the emotions of the younger generation. Mirroring the present society, the work will tug at viewers' heartstrings.
There are many special features that deserve mention. In the scene where the lead role is pondering thoughts, hand drawn cell animation is employed to create subtle emotion, which is very rare in today's computerized age. In contrast, the cutting-edge 3DCG technology is incorporated in breathtaking air battle scenes.
This innovative combination of cinema craftsmen, with all their experience and talents put together makes this kind of production a reality. The ideal animation of the future is here.
Mamoru Oshii is one of the few Japanese writers that is world renown. It is certain that this animation masterpiece – of a type never been seen before, will leave its mark in animation history.
Feature Film「The Sky Crawlers」
In cinemas from August 2, 2008
Director: Mamoru Oshii Voices: Rinko Kikuchi, Ryo Kase, Chiaki Kuriyama, Shosuke Tanihara Distributor: Warner Brothers
http://sky.crawlers.jp/
Story:
Yuichi Kannami (one of the kirudore) has been transferred to the front line in Europe. He then meets the base commander Suito Kusanagi for the first time, but he has a strange feeling that they have met before. As the war intensifies, and many comrades fall, the two deepen their mutual understanding and reliance, and as they gradually realize the sad and tragic destiny of the kirudore, they face their destiny together.
The work has also been drawing attention because of its powerful voice actors, including Rinko Kikuchi and Ryo Kase. Don't miss it!