So many talented people. All came from Tatsunoko Pro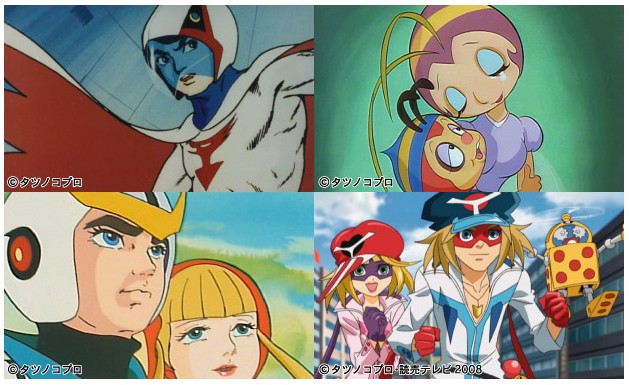 So many talented people. All came from Tatsunoko Pro
The era of Tatsunoko has arrived
Tatsunoko Pro is an Anime production studio that has etched its name in history with works such as Science Ninja Team Gatchaman and Yatterman from the Time Bokan Series, Neo Human Casshern and The Adventures of Honeybee Hutch.
In 2009 the game Tatsunoko V.S. CAPCOM CROSS GENERATION OF HEROES has been released, putting Tatsunoko anime in the spotlight again. In addition the new Casshern Sins, based on the classic original, the studio is in the news for its great production values. tatsunoko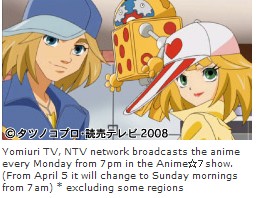 also,theyatterman series, back after 30 years, has been on TV for the past year and is rebuilding its fan base. The movie (non-animated) directed by Takashi Miike starring Sho Sakurai and a star studded cast will soon hit the silver screen, appealing to all generations.
The legendary anime Yatterman has made a comeback after 30 years. The out of this world Doronbo are back up to their tricks, and of course Gan and Ai are back. The colourful characters have not lost their luster and appeal to all generations. The movie is on the silver screen from Saturday March 7, 2009.
Big names from Tatsunoko
Tatsunoko Pro boasts a 40 year history. Not only have they put out numerous fantastic works, but they have produced a number of talented craftsmen. Their personnel have been the foundation of the "cool Japan" anime.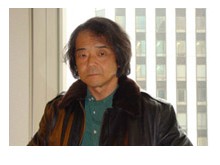 ● Mamori Oshii
GHOST IN THE SHELL / The Sky Crawlers

World renowned animator Mamoru Oshii, known for his serious topics, but it is hard to believe that he participated in the Time Bokan Series with a unique sense of humor. He is known as one of the "Four Kings of Tatsunoko" along with Mizuho Nishikubo, Koichi Mashimo and Hidehito Ueda.

● Yoshitaka Amano
Final Fantasy character design

Yoshitaka Amano is from Tatsunoko and his overseas exhibitions featuring his beautiful fantasy art have been popular. However when he was at Tatsunoko he worked on comical characters in series such as Time Bokan Series, Science Ninja Gatchaman and The Adventures of Hutch the Honeybee, showing his multi-faceted talent. tatsunoko


● Other artists from Tatsunoko
・Yuji Nunokawa (Producer) Established Studio Pierrot
・Mitsuhisa Ishikawa (Producer) Established Production I.G
・Yasunori Honda (Music producer) Chibi Maruko-chan, Super Dimension Fortress Macross etc.
・Hisayuki Toriumi (Director) Directed Dallos and Shimashima Tora no Shimajiro.
・Koji Nanke (Anime creator) Mrs. Pepper Pot and Anmitsu Hime character design/OP&ED anime etc.
・Kunio Okawara (Mechanic designer) Designed mobile suits for Gandam
・Akemi Takada (Character designer) Mobile Police PATLABOR etc.
・Mitsuki Nakamura (Artistic director) Crusher Joe, Nausicaa of the Valley of the Wind etc.
・Torao Arai (Artistic director) Dancouga – Super Beast Machine God, Samurai Pizza Cats etc.
・Mikiya Mochizuki (Manga artist) Himitsu Tantei JA, Wild 7 etc.
・Mamoru Uchiyama (Manga artist) The Ultraman, Little Kyojin Kun etc.

Tatsuko Pro today does not rely on original manga or novels, but puts its faith into original works. In the anime industry, rivals battle it out for time on television, and their appeal has crossed the generational border, with their creativity, making characters that will maintain their appeal to all. We will keep bringing you the latest from the anime industry.
PRESENTS
All the info. on asianbeat's present campaign!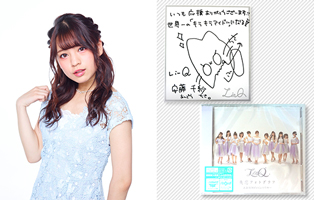 * Win a CD & a card signed by LinQ Chisa Ando!
[Details] Click
HERE
!