Introduciton of VOCALOID(1/3)

The original text of this article was written in Japanese in October 2011.
VOCALOID products are released by a number of companies and the series now consists of over 20 characters, ranging from virtual idols like Hatsune Miku, to virtual "vocalist" VOCALOIDs created using the voices of popular artists and voice actors, to VOCALOIDs that are based on other well-known characters. The VOCALOID series continues to grow and now
even convenience stores in Japan are getting involved in the franchise.
(Japanese only)
Here is a list of the more well-known products in the series. You can listen to popular songs from each of the characters here too!
* To be able to play the songs you first need to sign in or create a Niconico account.
Virtual Idols
Giving a body to a voice brings a dimension of reality to the overall experience; thus, this term refers to VOCALOID products that use characters to simulate the VOCALOID software.
Their voices are sampled from Japanese voice actress Asami Shimoda. The Kagamine twins can sing a variety of genres with ease: everything from pop to pop-rock to dance-electro.
●Birthday: 27th December
●Age:14 years (Rin, Len)
●Height: 152cm / 5ft Rin), 156cm / 5.14ft (Len)
●Weight: 43kg (Rin), 47kg (Len)
●Songs: "Kagamine Rin
-Melt Down
", "Kagamine Len
-Fire@Flower
", "Kagamine Len
-Servant of Evil
"
"Kagamine Rin (鏡音リン)" and "Kagamine Len (鏡音レン)" are registered trademarks of CRYPTON FUTURE MEDIA INC.
More details are at CRYPTON FUTURE MEDIA INC. HP
Her voice is sampled from the Japanese voice actress, Yū Asakawa, who was recorded in Japanese and English for the voice bank. With Luka you can create J-Pop style songs that mix both Japanese and English. Her voice is well suited to Latin, jazz, pop, house and electro-style dance songs.
●Birthday: 30th January
●Age: 20 years
●Height: 162cm / 5.4ft
●Weight: 45kg
●Songs: "
Luka Luka Night Fever
", "
Happy Synthesizer
with GUMI", "
Double Lariat
"
"Megurine Luka (巡音ルカ)" is registered trademarks of CRYPTON FUTURE MEDIA INC.
More details are at CRYPTON FUTURE MEDIA INC. HP
PRESENTS
All the info. on asianbeat's present campaign!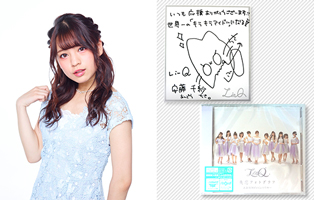 * Win a CD & a card signed by LinQ Chisa Ando!
[Details] Click
HERE
!