Vocaloid Cosplayer Diary ~PipiChu~

First Visit to Fukuoka
After passing the "Asia Vocaloid Cosplayer No.1 Tournament" qualifying round and being chosen as the representative for Hong Kong, I was invited to Fukuoka to take part in the final round. I arrived in Fukuoka late at night but still managed to find cup noodles, some sweets and cosmetics, and all the other items I forgot to bring with me at a nearby convenience store! Convenience stores in Japan are truly convenient!
On the second day, myself and all the other cosplayers took a trip to Dazaifu to do some sightseeing. Almost immediately after getting off the bus I bought a flower-design Japanese style umbrella and a cat pillow. They were so cute; my friend and I both bought one each. After that we crossed over a bridge and one person noted that the decorations over the bridge look just like "slimey." Is that how everyone else sees it? For lunch we had soba-sushi. Before leaving Dazaifu my friend and I bought a toffee apple to try. You can't get these in Hong Kong.。

At night all the cosplayers got together for a meet-and-greet style party. We all had to wear nametags and I discovered just how long my name becomes when written in Japanese. The purpose of the party was to establish friendships and also to decide on the performance order for the tournament the following day. We also got to meet the famous cospalyer, Kipi! She's so cute! She could even speak English and Chinese – so amazing! After the party I thought about going straight back to the hotel to rehearse, but decided on a bit of shopping at a nearby super market instead. I made it back to the hotel eventually though…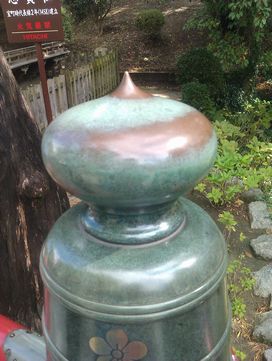 ● Bridge railing at Dazaifu Tenman Shrine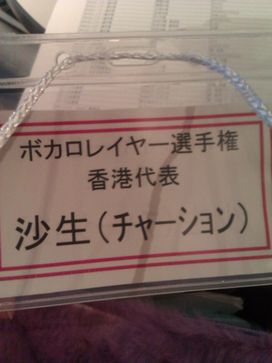 ● Nametags for the party
The Asia Vocaloid Festa Begins!
The third day of my stay was incredibly busy. I had rehearsal in the morning, followed by the "We Love Japan" interview, then we had our costumes examined by the judging panel for the competition and then we had to wait for our turn to perform. The contest finished at around noon, so after that I finally had a chance to breathe. We did a few group shots as we all ate our lunch.
The cosplayers all got to know each other a little better that night when we had a casual meeting and all ahared our experiences on how and why we came to be involved in cosplaying. At the farewell party after the meeting everyone seemed to get a little crazy! BL (Boy's Love) massage and SM massage in particular were hotly discussed topics. This was our last night together so at the end we exchanged business cards and took more group photos. Can you guess which of the hands in the photo is mine?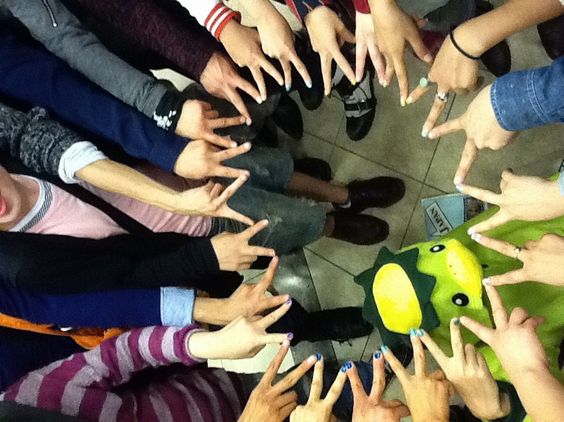 Making the most of the last day!
On my last day in Fukuoka I joined the two boys from South Korea on a trip to the game center and Mandarake. I bought a ton of figurines and anime goods at Mandarake and it all only came to 2000 Yen! I had far more stuff than my one suitcase was able to hold!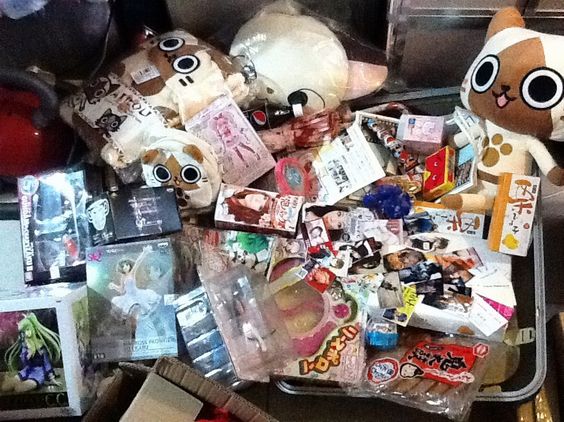 I'm so grateful to asianbeat for giving us this opportunity to visit Fukuoka and experience everything we did. I made a bunch of friends who share the same interests as me and had a ball hanging out with everyone. This was my first time travelling overseas to take part in an event such as this. No, I wasn't able to walk away with the trophy, but that doesn't matter. There'll always be another opportunity! Also, I got to catch up with Yuegene Fay, who I hadn't seen since I first met her at an event in Tottori, so that was another plus. I had the best time with everyone on this trip and I hope we all get the chance to see each other again!