Let's go to COMIKET! - Beginners Guide to Comiket -

With 35,000 clubs participating and 520,000 attendees over the three days (based on the numbers of the 2010 winter fair), Comiket is one monster of an event. If you just intend on walking around randomly you'll never get to the stalls you want to see. Thankfully we have expert Misamisa here to pass on a few tips to all the first time participants on how to make the most out of your Comiket experience!
Just what is Comiket?
It's easy to think that at an event like "Comic Market" you'll find a mass collection of 'doujin' (self-published) anime and manga (works usually created and published through the combined investment of members of private circles, etc) and not much else. Indeed the collection of doujin works is extensive – hence the reason for claiming the title of being a "world's largest" event, but Comiket in fact has much, much more to offer! One of the key points of Comiket is the promotion and cultivation of personal and cultural exchanges. Apart from anime and manga, clubs and groups from all over Japan and the world, of various genres and backgrounds such as politics, economics, sports, music, art, rail, automobile, video games, etc., gather at the event to sell a range of items, including magazines, photo collections, CDs, DVDs, self-made software, and you can even interact with professional artists (and maybe score a drawing as well!).

Something like this really has to be seen for oneself though!

Whether or not you lead a successful conquest of Comiket though is determinant of one thing: the catalogue! Get your hands on the catalogue from one of the
designated book stores or the cata-rom
(CD-ROM catalogue) online before the event, and go over the list of participating clubs. Work out which clubs you want to visit and plan a route that will get you around to all of them in the most straightforward way possible! That way you'll have a goal and a path to follow from the moment you arrive on the actual day! Plus the chances of getting lost will decrease significantly. The rules at Comiket always seem to change too, so for the purpose of making sure you're aware of all the what to/not to do's, then the catalogue is a worthy investment! You can buy it on the day at the event but if you know there's something you just HAVE to purchase then getting your hands on the catalogue prior to the actual day is a MUST! ★★★Catalogue price – presale 2400 Yen, or 2000 Yen if bought on the day. ★★★

Inside the massive convention hall. Generally, the company booths (i.e. the huge number of companies, from publishing companies to anime and game production companies, that attend the event and run their own promotion campaigns, etc.) operate in the West Hall and the 'doujin' booths are set up in the East Hall. There are traffic regulations in place for following the paths and riding the escalators when moving in between the East and West halls and at times a return trip could take up to, and even more than, one hour! Your best option would be to split your days into a company booth day and a 'doujin' booth day. So for example, on the first day stick to the company booth area and the next day check out the 'doujin' area. If getting to both areas in the one day is a must though, then drag a friend along with you and split up! Comiket is a battle. As the saying goes, if you run after two hares, you will catch neither!

Comiket is just like a dream-land for otakus. If you get too carried away you're likely to end up spending you're train ticket home! This is where a budget comes in handy! Set your limit beforehand and don't walk around with your lifesavings in your pockets. This year I took part in the summer Comiket with a budget of 3000 Yen for goods and 5000 Yen for CDs. I'll reveal my bounty to you in my next event report★

At its peak there could be up to 200,000 people all jostling inside the venue. The nearby conbini's (convenience stores) run out of supplies fairly quickly, as do the ATM's with their supply of cash. In the intense temperatures of the summer Comiket, a sweat cloud has even been known to form above the event hall from the heat and mass of people inside! Before you go make sure you have a drink (sports drinks are ideal), a towel, a hat to shade you from the sun (parasols are not allowed!), a light snack, and money (it would help if you got your money changed into 1000 Yen notes and 500/100 Yen coins as well). Also, you'll be walking around for a long time so you'll want to make sure you're wearing comfortable shoes. There's always a long wait to use the bathroom too, so try and plan things so nature only calls when you want it too.
Misamisa PROFILE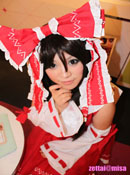 ●Chief editor of the free magazine "COOL JAPAN mag!";
●Self-proclaimed otaku;
●Cosplayer; and,
●Hypermedia university student.
Misamisa Blog★
,
FACEBOOK
,
Twitter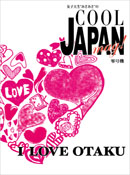 "COOL JAPAN mag!" brings you all the latest on what's creating buzz on the net and is a resource on all things Japanese pop-culture! We're currently distributing to Harajuku (Japan), Hong Kong, Taiwai, Singapore and Paris.
For our test run issue I infiltrated Nico Douga headquarters for some info sourcing and also conducted interviews with popular Nico Dou community members Kettaro and Shounen T, as well as jpop culture evangelist, Takamasa Sakurai! The reviews were all positive and the mag has the go ahead to continue! So stay tuned for our first issue, coming soon!!