Special Interview: AHO

Immediately after the event, AHO was a little pressed for time, but still kindly sat down with us for an interview. We heard before hand that she understood a little Japanese, and answering almost entirely in Japanese, AHO joined us for a casual talk.
"I forgot the wig at my sister's place, so I had to make a last minute change!"
Q: You must be so tired after the event! How was it?

AHO
: We've had such an enthusiastic response from all the Korean people.
Q: The whole vibe of your cosplay outfit is so sweet, can you tell us a little bit about it?

AHO
: I'm a character called Tsukushi Tsutsukakushi from "The "Hentai" Prince and the Stony Cat."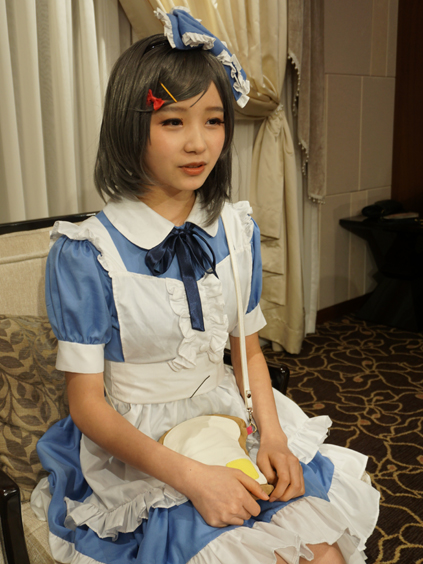 Q. What's special about today's outfit?

AHO
: Well... I'm just wearing your average maid outfit!
Q: (lol)! Well, can you tell why you chose this cosplay outfit?

AHO
: I love the character Kuroneko from the anime "Oreimo" (Ore no Imōto ga Konna ni Kawaii Wake ga Nai. Eng., My Little Sister Can't Be This Cute), and so I had orginally been planning on wearing a Kuroneko cosplay outfit, but I forgot the wig at my sister's place, so I had to make a last minute change.
Q: Oh, so that's what happened! Well, we would have loved to have seen you as Kuroneko, but the outfit for this character is so sweet!

AHO
: (in Japanese) Thank you!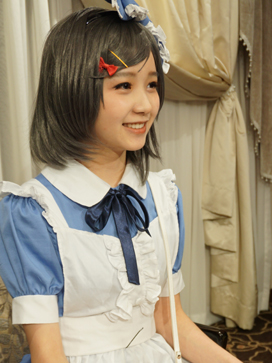 Q. We come from Fukuoka Prefecture, have you ever been to Fukuoka Prefecture or heard anything about it?

AHO
: I don't really know much about the place. I really love watching dramas, and I hear the names of so many different places getting said, but I don't know the specifics of where the characters are talking about.
Q: Oh by the way, you mentioned that you like Japanese TV dramas, right? Do you have any dramas that you would recommend?

AHO
:(In Japanese) There's a drama called "Himitsu" (Secret), it's quite a bitter story.
Q: Even though we live in Japan, we did't know about that drama!

AHO
: It's so interesting, you have to try and watch!
"I've loved Japanese anime my entire life!!"
Q: Some of Fukuoka Prefecture's famous foods include tonkotsu ramen and mentaiko, have you tried them before?

AHO
: (In Japanese) I haven't been to Japan yet, so I haven't had a chance to try any of the local delicacies.
Q: You haven't been to Japan!? But you're Japanese is so good!? How did you get your Japanese so good?

AHO
: (In Japanese) I've loved anime since I was a kid, and I love Japanese-style clothing (such as kimono). They are so lovely! I studied Japanese throughout prep school.
Q: We've brought some treats from Fukuoka with us today for you to try. We know you haven't heard so much about Fukuoka, so if you try some of them, we think you'll really take a liking to the place! That would make us so happy!

AHO
: Thank you so much! Wow, real authentic Fukuoka sweets!
Q: Finally, do you have a message for our asianbeat readers?

AHO
: I love Japan! I really want to go and enjoy myself. I've loved Japanese anime my entire life!!
Q: Please visit Fukuoka and have a great time!

AHO
: I will, definitely!! Thank you so much for the treats!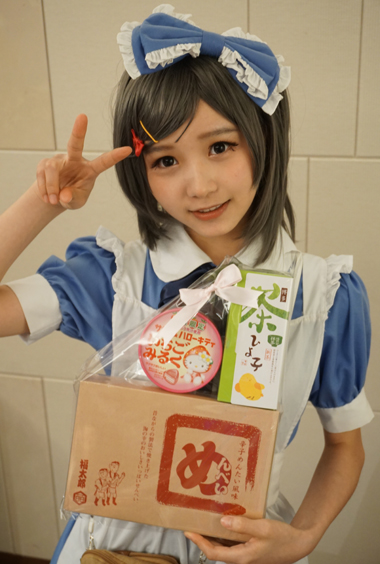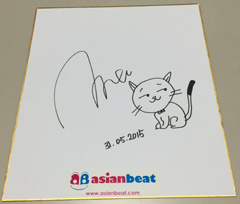 [Prize] We are giving away AHO autographed cards to TWO lucky asianbeat readers!
[Application Period]
Until August 2nd (Sunday), 2015 (Japan Standard Time)
The application period is now over. Thank you!
The two lucky AHO's autographed cards' winners are...
최제완 san
JelovY san
* Winners will be announced on the 4th August 2015!
(asianbeat will contact you directly, so please make sure to include your e-mail address!)
PRESENTS
All the info. on asianbeat's present campaign!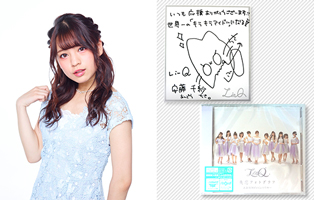 * Win a CD & a card signed by LinQ Chisa Ando!
[Details] Click
HERE
!